Tommy Pham had a breakout 2017, and while he remained above average in 2018, his stats took a significant hit. His past two seasons have been so good that his trade to the Rays is widely derided by Cardinals fans as one of the team's least-astute moves of the past few years. However, entering his age-31 season, there are questions about whether he can maintain his level of production at the plate. Twelve games and 56 plate appearances into the season, Pham needs to make some adjustments if he wants to repeat 2017.
His 2017 season was outstanding, as he became the first Cardinal to reach the 20/20 mark in 13 years. He ended that season with 25 stolen bases (fourth in the NL) and 23 homers. Pham's slash line of .306/.411/.520 was fantastic, and that .411 OBP was third in the league. His wRC+ of 148 was fifth in the league among qualified hitters and his 13.4% walk rate was ninth. However, there was a substantial dip in those stats last season.
Pham's Hitting
| Year | PAs | AVG | OBP | SLG | wRC+ | WAR |
| --- | --- | --- | --- | --- | --- | --- |
| 2017 | 530 | .306 | .411 | .520 | 148 | 6.1 |
| 2018 | 570 | .275 | .367 | .464 | 129 | 4.0 |
All of Pham's numbers took a step back in 2018, though they remained well above average. Since it was his second full season, there could be a few different reasons for that downturn. It could be pitchers adjusting to him. Maybe it was reaching his age-30 season, and the beginning of a decline. Or perhaps his struggle with injuries in the second half was a major contributor. Maybe it was all three! Whatever it was, we can conclude that Pham's ceiling is capable of more than what he did last season, even if his 2018 was pretty good!
The first thing to note about Pham in this young 2019 season is that he is maintaining his uptick in exit velocity. He continues to make hard contact, with his average exit velocity sitting pretty at 92.9 mph. That is virtually the same as it was last season, and is a 3.6 mph increase from his best season.
The two words most often used to describe Tommy Pham are "focused" and "intense." That really shines through in his plate discipline. Below are his swing and contact rates for pitches inside the strike zone.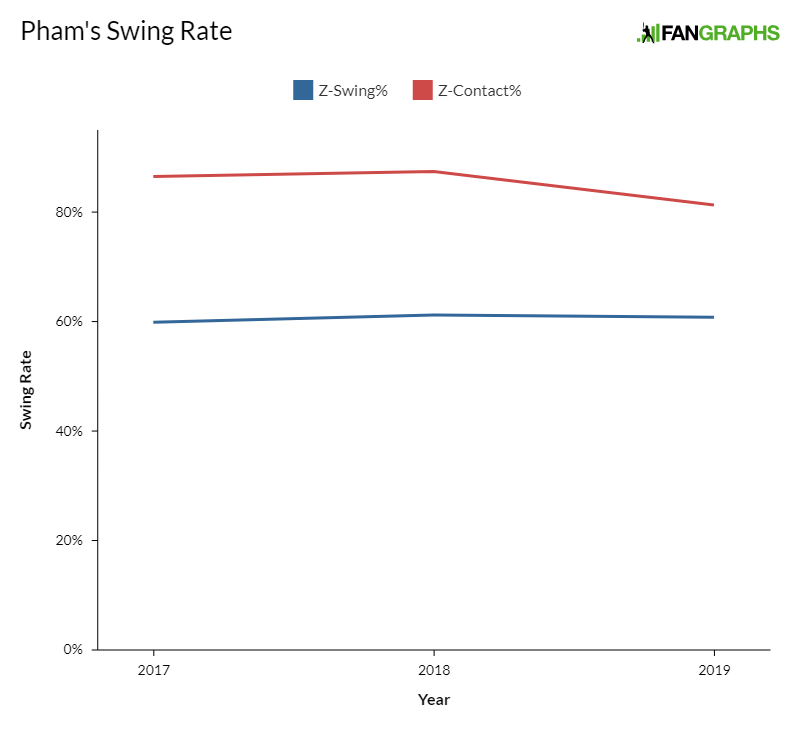 His swing rate in 2017 was about 60%, which went up by one percentage point last season. Those are good numbers. On those pitches, he made contact 86.5% of the time in 2017 and 87.4% last year. That has remained consistent over the first couple weeks of the season, as Pham has swung at 60.9% of pitches inside the strike zone and made contact on 83.0% of them.
Let's step away from batted balls and look at the other facets of plate discipline. Pham keeps taking walks at a similar rate; 11.8% of his plate appearances last year and 13.4% the year prior resulted in walks. In his first 12 games, Pham has split the difference and worked 10 walks, good for a 17.9% rate, about 10% higher than last year's MLB average. In addition to bases on balls, Pham's strikeout rate is fairly consistent, if a tad above the league norm. The average strikeout rate for all batters was 22.3% last season, and Pham fell in at 24.6%. He is at 17.9% so far this season. These first 12 games are a very small sample, but everything we have seen from him indicates he is still seeing the ball well.
We know he understands the zone, but what about results? What happens once Tommy Pham puts a ball in play?
His ground ball rate has been, at times, problematic. In 2015, 51.3% of the pitches he put in play were on the ground. That decreased to 45.5% in 2016, then jumped up more than 6% the following season. Are these numbers making you dizzy? In 2018, the ground ball rate fell to 48% but that roller coaster has swung back up to 57.1% this season, though again, it's early.
Pham has not proven himself to be a power hitter; all 12 of his hits this season have been singles. In 2017, only 35% of his hits went for extra bases, then 33% of his hits last season. The major league average is 36%; Pham hasn't reached that point even at his best. His wRC+ this season is 112. He relies on ground ball singles, which is not what he should be doing if he wants to repeat 2017. His batting average is above the mean, but all these singles do not generate runs at a high enough rate.
The counter-argument is that he bats second in the Tampa Bay lineup. His role is to get on base, not so much to be the guy driving in the most runs. Walks and singles suit his role. Pham already has four stolen bases after taking 15 last season. He has the ability to compensate for all these singles by stealing an additional base and is well on track to outpace his stolen base total from 2018. Whether the extra base hits will come in 2019, and how often, remains to be seen.
Looking at last season, however, it appears Pham tried to make some of these adjustments.
Pham's Team Splits
| Team | PAs | GB% | GB/FB | Hard% |
| --- | --- | --- | --- | --- |
| STL (2017) | 530 | 51.7% | 2.0 | 35.5% |
| STL (2018) | 396 | 52.4% | 2.0 | 47.4% |
| TBR (2018) | 174 | 37.3% | 1.2 | 51.0% |
Even during his fantastic 2017 season there were things Pham could improve. He needed to make more hard contact and did just that. After being traded to Tampa Bay, the hard contact increased even more. His ground ball to fly ball ratio was consistent in St. Louis, but was nearly cut in half during his time as a Ray. And his overall ground ball rate decreased fifteen percent! While only 29% of his hits went for extra bases during his time in St. Louis last year, that number jumped to 41% once he was traded to Tampa Bay. Something in that Florida water worked pretty well for Tommy Pham. If he gets back to that contact and fly ball rate over the course of this season, that wRC+ will increase and he could bounce back all the way to his 2017 numbers.
Pham's lack of extra base hits are cause for concern, as is his penchant for ground balls. Last year, however, he proved he could make the necessary adjustments to make harder contact and put more balls in the air. The question is whether he will do it again.
Pham appears to be maintaining the aspects of his game that made him dangerous at the plate. Since being traded to Tampa Bay, he has played in 51 games for the Rays and has been on base in 49 of them. He walks, he steals bases, and he hits for a good average. Pham is not the sort of person to swing wildly at anything and is fairly selective with the pitches he sees inside the strike zone. There are ways he can improve, but even if he just matches his 2018 season, he will be a great offensive asset this year. If he picks up where he left off last season, Pham might just be as good as he was in 2017.
Audrey Stark is a contributor to Fangraphs; she has written for SBNation outlets Beyond the Box Score and Federal Baseball. Self-professed Yadi stan and proponent of #HighSockSunday. You can follow her on Twitter @HighStarkSunday.