Making fun of the Mets' peripatetic approach to roster construction has become a cottage industry. This offseason was a bonanza. Look! A wild Edwin Díaz has appeared, and he brought Robinson Canó with him. Look! Dominic Smith is somehow playing the outfield in the major leagues on a team with Michael Conforto and Brandon Nimmo on the roster. Look! The team added Jed Lowrie to fully bury Jeff McNeil on the depth chart.
Over the last week before the trade deadline, it felt like more of the same. The Mets were going to ship out Noah Syndergaard, one of the most electric pitchers in baseball. They were trading Díaz, only half a season after paying a king's ransom for him. They were buyers! They acquired Marcus Stroman, after all. Maybe that was just a tactic, though — Syndergaard rumors continued to pop up, and there was enough smoke around Díaz to the Red Sox that it was easy to assume there was a fire somewhere.
When the dust settled on the trading deadline, the unthinkable had happened. The Mets held on to their most obvious trade chip, Zack Wheeler. Only two months from free agency, Wheeler won't be helping the Mets in 2020 without a new contract. He's also in fine form this year, and might bring back some prospects to replenish a farm system depleted by trades and graduations. When the deadline buzzer sounded and Wheeler was still wearing blue and orange, the take mills started up. What was Brodie Van Wagenen doing, and how could it best be played for comedy?
It might be time to put away your LOLMets kazoos and pom-poms. The Mets are surging, winners of 15 of their last 20 games, and they've run their playoff odds up from 3.9% to 32.7%. A team that earlier this summer felt like a punchline now has better odds of making the playoffs than offseason darlings like the Brewers and Phillies.
It's easy to forget that the 2019 Mets were supposed to be good — not the class of the NL East, but a competitive team. Four FanGraphs writers picked them to reach the postseason, nine picked a Mets pitcher to win NL Cy Young, and three picked Pete Alonso as Rookie of the Year. Like your data points more analytical? Our Depth Charts projections predicted 83.8 wins and gave them a 39.6% chance of making the playoffs, better odds than the Braves, Brewers, Twins, or Rays.
The good vibes didn't end in the preseason. The Mets began the season like a house on fire, 9-4 in their first 13 games. Our playoff odds gave them a 57.3% chance of making the postseason. Jacob deGrom was indomitable, Alonso was firing on all cylinders, and all looked right in the world.
The reason it's hard to remember the gangbusters start is because of what came next. They became the baseball equivalent of a burning dumpster, disintegrating to the tune of a 30-45 record over their next 75 games. On July 5, they were 39-49 and had a 5.6% chance to make the playoffs. This isn't a case of picking a convenient endpoint, either: over the next three weeks, they went 7-6, and their playoff odds bottomed out at 3.9% a week before the trade deadline.
Most teams, faced with 1-in-20 odds of making the postseason and in possession of valuable players like Syndergaard and Wheeler, would pack it up. The Mets had other plans. The first domino was the Marcus Stroman trade, a monumental upgrade. Stroman pushed Jason Vargas out of the rotation; our Depth Charts projected the upgrade to amount to around 10 runs over the 11 rotation turns left in 2019. Stroman will be on the Mets in 2020, but he also represented a serious improvement for the rest of this season.
Adding Stroman gives the Mets a superlative set of starting pitchers. It was far from a weakness beforehand — they had accumulated the fourth-most WAR (and 12th-most RA9-WAR) among rotations this year on the day they traded for the right-hander. Now, though, it's projects to be the best rotation in baseball for the remainder of the season per our Depth Charts projections:
Starting Rotation Projections (Rest of Season)
| Team | IP | ERA | FIP | WAR |
| --- | --- | --- | --- | --- |
| Mets | 296 | 3.68 | 3.68 | 6.1 |
| Nationals | 299 | 3.97 | 3.85 | 5.8 |
| Astros | 295 | 3.91 | 3.97 | 5.6 |
| Reds | 296 | 4.01 | 4.06 | 5.5 |
| Dodgers | 277 | 3.65 | 3.74 | 5.5 |
| Yankees | 288 | 4.37 | 4.41 | 5.0 |
| Cubs | 292 | 4.08 | 4.15 | 4.7 |
| Twins | 291 | 4.43 | 4.38 | 4.7 |
| Red Sox | 273 | 4.22 | 4.09 | 4.5 |
| Rays | 279 | 4.04 | 4.14 | 4.5 |
Adding a single player isn't enough, on its own, to bump a team's playoff odds from laughably low to eminently reasonable. Truth be told, even before adding Stroman, the Mets had started to right the ship. A four-game winning streak had them within five games of .500. Our ever-indispensable playoff odds gave them an 11.2% chance of making the postseason before adding Stroman.
Still, plenty of GM's with an 11% chance of playing in October would have throw in the towel and built for the future. With Stroman on board, the team climbed to a 14.5% shot, and a win on July 30 raised those odds to 16.5%. At this point, Van Wagenen made a decision I absolutely love. A 1-in-6 shot at making the playoffs isn't nothing, but the safe move would have been dealing Wheeler for a marginal return. Flip Wheeler for half of what you paid for Stroman, play out the string with marginally lower odds of making the playoffs, and laud yourself for building for today and tomorrow simultaneously.
That might be the best move from a publicity standpoint, but it ignores the specific spot the Mets find themselves in. Adding Simeon Woods Richardson or Anthony Kay to the current incarnation of the Mets isn't quite pointless, but it's close. The Mets, this year, are a good team. We project them as the 10th-best team by unadjusted winning percentage for the balance of the year, in a group of six teams (Cubs, Twins, Indians, Rays, Mets, and Braves) just below the true heavyweights. The Braves have enough games in hand that the NL East crown isn't in question, but the Mets are no joke.
The Mets are also incredibly well-constructed for the playoffs. If they end up with a Wild Card spot, they'll deploy one of the absolute best starting pitchers in the game and back him up with a bullpen that will add whichever of Wheeler or Steven Matz the Mets prefer in short stints. Their lineup looks formidable, especially with Robinson Canó and Michael Conforto hitting better over the past month. Absolutely no one wants to play the Mets in a short series.
Taking Wheeler out of the equation changes things. It not only makes the team less likely to make the postseason this year (by roughly 3%, if you think his value to the team roughly mirrors Stroman's), but it makes them less formidable in the playoffs. Trade Wheeler, and you don't get either him or Matz in the bullpen. Your high-leverage relievers are spread thinner, the underbelly of your bullpen comes up more in key situations — you get the idea.
The return for trading Wheeler wouldn't fit the Mets' timeline. The team has its key contributors under contract for next year, but their window starts to close after that. Stroman will be gone. Jacob deGrom is already 31 — he might age well, but he also might not, and it's never a great idea to bet on the continued health of a pitcher with Tommy John surgery in his rearview mirror.
Robinson Canó is on the books until 2023; ZiPS already thought he'd be a sub-1 WAR player by 2021 before his disappointing 2019. The young core of the Mets have reasonably similar free agency timelines: Conforto, Syndergaard, and Matz will all be in their last year of arbitration in 2021 and gone after that. The next rung down of Mets players aren't as young as you think — Jeff McNeil is 27, Brandon Nimmo and J.D. Davis are 26, and Seth Lugo is 29. Adding talent you expect to help you in 2022 and 2023 doesn't make that much sense if your core will be gone.
Given that backdrop, the Mets' approach around the deadline makes much more sense. They were rumored to want Harrison Bader in return for Wheeler, the kind of move that helps for 2019 while building for the future. The Cardinals rightly turned that deal down, but that style of trade, a need-filling swap that doesn't ding 2019 postseason odds much, is the only way I would have been willing to deal Wheeler without an overwhelming return.
It's hard to zig when the world thinks you should zag. It's not just the fact that you open yourself to criticism, though that certainly matters. Going against conventional wisdom is also difficult because conventional wisdom is often right. Teams with middling shots at the postseason turning expiring contracts into prospects isn't popular because it's dumb — it's popular because it's often a good decision.
Still, the Mets aren't every team. They're built to win in the next few years. Zack Wheeler does a better job of accomplishing that goal than a far-away prospect would, and if the team extends him a qualifying offer, they'll either get a compensatory pick or the pleasure of employing Zack Wheeler, a great starting pitcher, in 2020.
Of course, the decision to acquire and then hold wouldn't have been possible without the team getting white-hot at exactly the right time. Since July 24, the day when the Mets' postseason odds hit their low, they've been the best team in baseball, 11-1 with a +34 run differential. It's been an easy patch of the schedule — one against the Padres, six against the Pirates, three against the White Sox, two against the Marlins — but wins are wins, and the team is firing on all cylinders right now. Their playoff odds, so low mere weeks ago, have surged past Philadelphia's: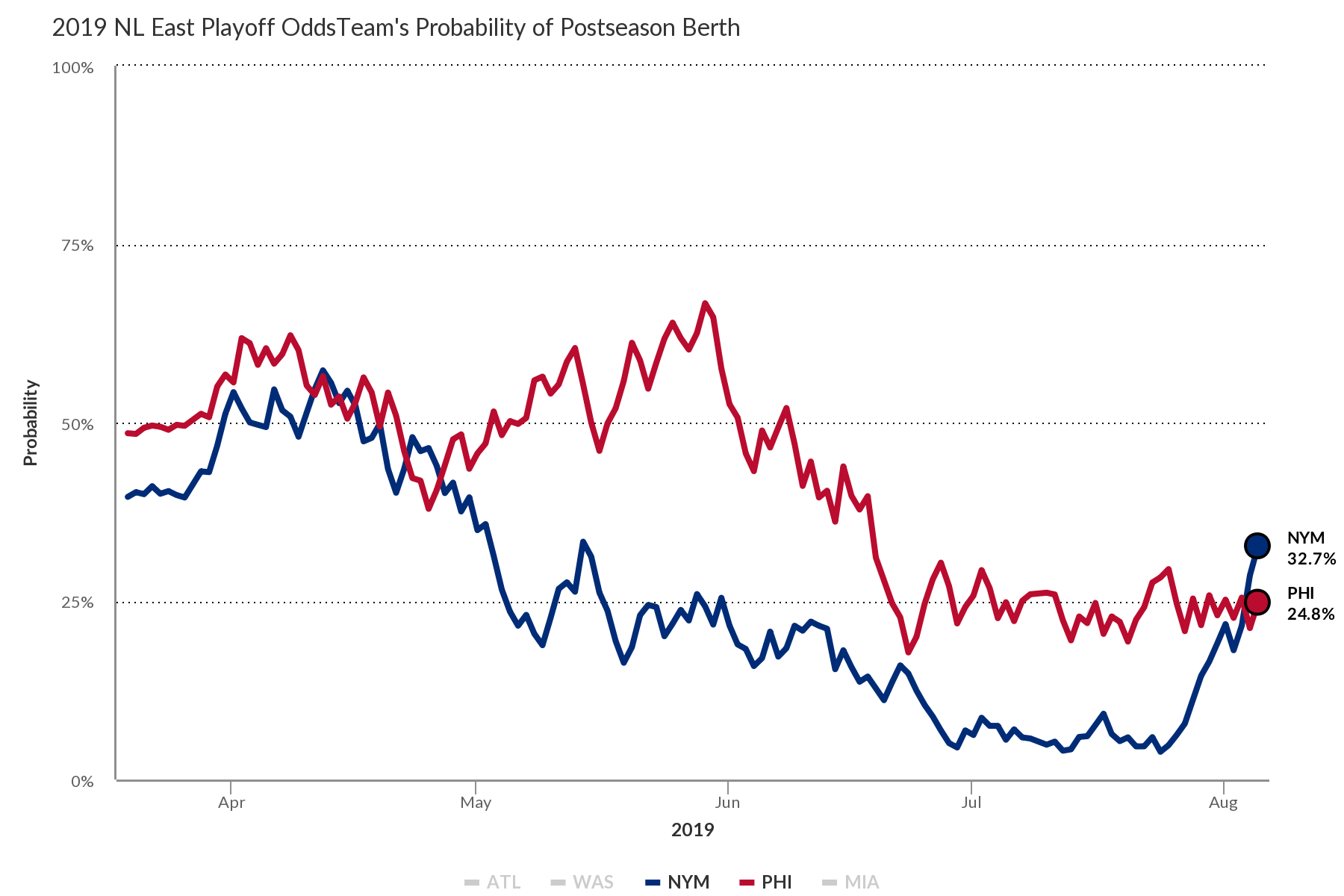 It feels strange to say, but the Mets' lineup doesn't have many holes. Amed Rosario's defense has regressed this year, but his offense has never been better — he's made improvements to his plate discipline and power (from a very low baseline) on his way to a 102 wRC+. The team still doesn't have a true center fielder, but Michael Conforto has done a shockingly good job faking it while providing his customary offense.
If and when Nimmo returns from a neck injury, he might find it hard to get on the field despite being a career 128 wRC+ hitter who had a 4.5 win season last year. Todd Frazier and Canó are playing well enough to push McNeil to the outfield, and J.D. Davis has more than earned everyday playing time. With Nimmo and the injured Dominic Smith in the fold, the Mets would be in the enviable position of deploying five above-average lefties against right-handed starters, which lines up well against the other teams they might meet in the wild card game — Max Scherzer, Jack Flaherty, Aaron Nola, and Brandon Woodruff are right-handed, and the Cubs have no clear ace.
The team's biggest hole on the hitting side is probably catcher, where letting Travis d'Arnaud leave has stung more than expected. Wilson Ramos has been bad this year, with much of the ugliness coming on the framing and defense side. If he can return to his previous form (admittedly a sketchy proposition), the Mets could combine an offense with no true holes with the best starting rotation in baseball.
The team's greatest overall weakness seems to be the bullpen, but even there, we project them to be the eighth-best bullpen in baseball the remainder of the year, and they'll get to add a starting pitcher to the mix if they make the playoffs. Turning replacement-level innings from Chris Mazza and the exquisitely named Brooks Pounders into relief-juiced Steven Matz outings is a recipe for improvement, and Edwin Díaz remains tremendous despite his shaky 2019.
The Mets didn't have to end up in their current position. They could have bowed out of the bidding for Stroman, shipped Wheeler off for prospects, and tried their luck in 2020 after giving up on 2019. Instead, they've turned two pitching prospects and a conveniently-placed hot streak into a new lease on the 2019 season. Right now, no one wants the Mets as a postseason opponent. Hats off to the team for maneuvering from the comedy of errors that seemed destined to define this season to their current position.
Ben is a contributor to FanGraphs. A lifelong Cardinals fan, he got his start writing for Viva El Birdos. He can be found on Twitter @_Ben_Clemens.