In last season's awards voting, there were 24 players who finished in the top-six of MVP and Cy Young in their leagues, with Jacob deGrom the only one to finish in the top-six in both categories. Of those 24 players, 10 have signed contract extensions this winter to push free agency further down the road. Ten of the best players in baseball have reached an agreement with their teams on contracts worth roughly $1.2 billion. Five of those players (Nolan Arenado, Paul Goldschmidt, Miles Mikolas, Chris Sale, and Justin Verlander) were set to become free agents after this season. Mike Trout became the first player this offseason to sign a major extension two years from free agency, and now Jacob deGrom has become the second, as first reported by Andy Martino.
The contract is set to pay deGrom a total of $137.5 million over the next five years, but it includes an opt-out after 2022 and a team option for 2024. The deal is further complicated by deGrom's arbitration status. His 2019 salary was already set at $17 million, and he receives the same amount of money this season but $10 million now comes in the form of a signing bonus, per Joel Sherman's breakdown, which looks like this.
DeGrom breakdown 10M signing
7M in 2019
23M in 2020
33.5M in 2021 and 2022
Opt out
30.5M in 2023
32.5M club option 2024

— Joel Sherman (@Joelsherman1) March 26, 2019
In one sense, it looks like there is $120.5 million in new money being guaranteed to deGrom, but that $23 million in 2020 is roughly what deGrom would have received in his final year of arbitration. In terms of free agent seasons, the Mets guarantee the equivalent of a $23 million team-option in 2020 and $97.5 million over the following three seasons. Comparing this deal to the one Chris Sale just signed presents some interesting similarities and differences. One interesting similarity is that both deGrom and Sale receive $90 million beginning in 2020 over a three-year period before an opt-out can be triggered. However, Sale has $55 million coming to him after the opt-out compared to deGrom's $30.5 million, which is a function of two big differences.
First, Sale would have been a free agent after this season. The potential immediacy in losing him provided more incentive for the Red Sox to lock Sale down. The Mets take on more risk in signing an extension now when they already had deGrom under control for two more years. The risk for the Mets drives down the guarantee. Second, Sale is one year younger than deGrom, which provides reasoning for both contracts ending after their age-35 seasons. Despite being two incredibly similar pitchers in production with nearly identical six-win projections this season, age and distance from free agency meant a difference of close to $50 million in the free agent seasons minus whatever value is placed on guaranteeing the final season of arbitration.
When deGrom's opt-out hits, he'll be heading into his age-35 season. That's hardly an optimal time to try and hit free agency, but with only one guaranteed year on his deal left at the time, a two or three-year deal for $25 million to $30 million per season would be a substantial win for deGrom and make that opt-out pretty valuable. As for what level Jacob DeGrom might be pitching at in 2022, I took a look at players within four wins of his 20.9 WAR from age-27 through age-30 since 1985 and at least half of deGrom's 9.0 WAR from last season at 30 years old. Here's how those players performed at 34 years old.
Jacob deGrom Comps at 34 Years Old
We see about a one-in-three shot at taking the opt-out and getting even more money. It's also worth noting that Smoltz would follow that season with three elite-level relief seasons and three more elite-level starting seasons while Sabathia would rebound to put up three more average seasons, so if deGrom isn't good enough to opt out, there's still some chance the Mets would end up picking up his option or deGrom would have some reasonable options in free agency even at age-35. These aren't necessarily great scenarios for deGrom, but he's a late-bloomer due to his conversion from being a position player, Tommy John surgery early on after than conversion, and a ton of development at the major league level by adding Johan Santana's changeup and the Warthen slider. Jacob deGrom's success is probably the biggest individual Mets success story in at least a decade.
For the Mets, while the team didn't have to do this deal, there isn't a whole lot of negative long-term risk. The team was already going to pay him around $23 million next season assuming they weren't going to trade him, which they can't now without his permission, so the next two seasons don't change much of the club's outlook. If deGrom is still pitching well in a couple seasons, then a short-term deal on a great pitcher like deGrom is a huge benefit to the club. If the deal goes sideways from 2021 to 2023, it shouldn't have too much impact on the club's ability to compete given that before this contract, the team only had $33 million in commitments for the 2021 season and only Robinson Cano's roughly $20 million for the two seasons after that. The team should have plenty of financial room to maneuver around any decline from deGrom, though given the Mets have averaged just 17th in MLB spending since 2012, there's a caveat to that expectation. Extending deGrom probably helps them contend in 2021 and 2022 and it provides a PR win for a team chided for its frugality.
As for players avoiding free agency, it's tough to say exactly what's happening given the large guarantees being given. In terms of number of guarantees for players approaching free agency, this season has provided more than it's share of late, though not an unprecedented amount as the graph below shows. Here are results from a search at MLB Trade Rumors.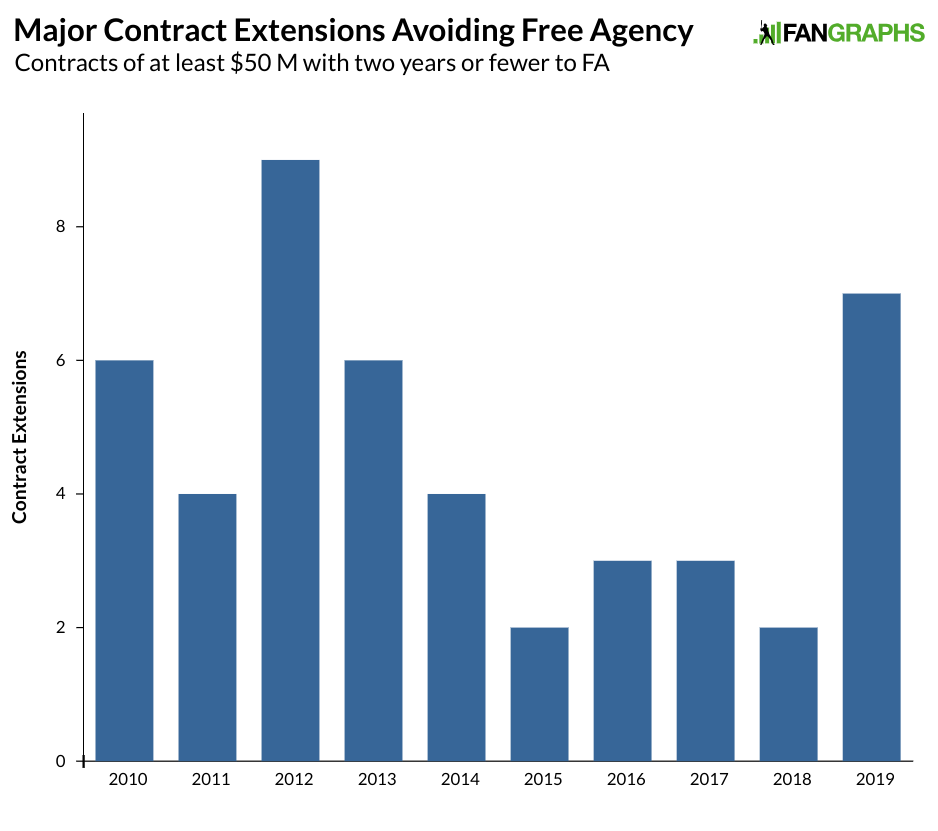 Maybe players are scared. Maybe owners just have so much money to throw around that it's hard not to extend players at something close to free agent prices. It could be cyclical. In any event, deGrom appears to have received a contract in line with the market. He's one of the best pitchers in baseball and he'll be paid like it through his mid-30s. Barring a seismic change in the next CBA or MLB's economy, this looks to be a pretty fair deal.
Craig Edwards can be found on twitter @craigjedwards.