The following article is part of Jay Jaffe's ongoing look at the candidates on the BBWAA 2020 Hall of Fame ballot. Originally written for the 2014 election at SI.com, it has been updated to reflect recent voting results as well as additional research. For a detailed introduction to this year's ballot, and other candidates in the series, use the tool above; an introduction to JAWS can be found here. For a tentative schedule, and a chance to fill out a Hall of Fame ballot for our crowdsourcing project, see here. All WAR figures refer to the Baseball-Reference version unless otherwise indicated.
Jeff Kent took a long time to find a home. Drafted by the Blue Jays in 1989, he passed through the hands of three teams who didn't quite realize the value of what they had. Not until a trade to the Giants in November 1996 — prior to his age-29 season — did he really settle in. Once he did, he established himself as a standout complement to Barry Bonds, helping the Giants become perennial contenders and spending more than a decade as a middle-of-the-lineup force.
Despite his late-arriving stardom and a prickly personality that sometimes rubbed teammates and media the wrong way, Kent earned All-Star honors five times, won an MVP award, and helped four different franchises reach the playoffs a total of seven times. His resumé gives him a claim as the best-hitting second baseman of the post-1960 expansion era — not an iron-clad one, but not one that's easily dismissed. For starters, he holds the all-time record for most home runs by a second baseman with 351. That's 74 more than Ryne Sandberg, 85 more than Joe Morgan, and 86 more than Rogers Hornsby — all Hall of Famers, and in Hornsby's case, one from before the expansion era (note that I'm not counting homers hit while playing other positions). Among players with at least 7,000 plate appearances in their career who spent at least half their time at second base, only Hornsby (.577) has a higher slugging percentage than Kent's .500. From that latter set, only Hornsby (1.010) and another pre-expansion Hall of Famer, Charlie Gehringer (.884), have a higher OPS than Kent (.855).
Offense isn't everything for a second baseman, however, and in a Hall of Fame discussion, it needs to be set in its proper context, particularly given the high-scoring era in which Kent played. For example, his 123 OPS+ is "only" ninth. Taking the measure of all facets of his game, he appears to have a weaker case with regards to advanced statistics than to traditional ones. On a crowded ballot chockfull of candidates with stronger cases on both fronts, he has struggled to gain support, maxing out at 18.1% in 2019, his sixth year on the ballot.
2020 BBWAA Candidate: Jeff Kent
| Player | Career WAR | Peak WAR | JAWS |
| --- | --- | --- | --- |
| Jeff Kent | 55.4 | 35.7 | 45.6 |
| Avg. HOF 2B | 69.4 | 44.4 | 56.9 |
| H | HR | AVG/OBP/SLG | OPS+ |
| 2,461 | 377 | .290/.356/.500 | 123 |
SOURCE: Baseball-Reference
Born in Bellflower, California (a suburb of Los Angeles) on March 7, 1968, Kent was most interested in motocross — a sport in which his father, a former motorcycle cop, competed — while growing up. He played baseball at Edison High School in Huntington Beach, but despite being an all-county selection as a shortstop, he was kicked off his team as a senior due to a personality conflict. Coach Ron La Ruffa called it "a bad case of senioritis," and the Los Angeles Times characterized it as an "attitude problem." Playing American Legion and Connie Mack League baseball that summer instead, he still secured a baseball scholarship to the University of California.
Kent helped Cal to the College World Series as a sophomore in 1988, but a broken wrist ended his junior season, scared away scouts, and dropped his draft stock. Nonetheless, he signed with the Blue Jays when they chose him in the 20th round of the 1989 draft. Splitting his first professional season between shortstop and third base, he struggled both in the field and at the plate but showed good power at every minor-league stop, and a greater aptitude for second base. He was set to start the 1992 season at Triple-A Syracuse, but injuries opened a roster spot in Toronto and playing time at third and second. He played 65 games for the Blue Jays, hitting .240/.324/.443, but on August 27 — mere days after Dave Winfield joked in the pages of Sports Illustrated that Kent was Wally Pipp-ing injured third baseman Kelly Gruber — they sent him and a player to be named later to the Mets for David Cone, who went on to help Toronto win the World Series.
Alas, the Mets were headed the opposite direction, bound for their second straight losing season after seven (1984–90) with at least 87 wins. The 1992 squad gained infamy as The Worst Team Money Could Buy (after the book of the same name), but the 1993 one truly stunk: New York went 59–103, the team's worst showing since 1965. The 25-year-old Kent spent most of that season as the starting second baseman, hitting a respectable .270/.320/.446 with 21 homers in 140 games, but he was terrible in the field (-20 runs, according to Total Zone), offsetting nearly all of his value with the bat; he finished with 0.3 WAR.
Kent maintained that offensive level over the next three seasons, hitting a combined .284/.333/.457 (108 OPS+) and averaging 15 homers a year from 1994-96, and his defense improved enough that he averaged 2.8 WAR across that stretch. Even so, he disliked a 1996 shift to third base, and it took its toll. As Franz Lidz wrote in a February 15, 1999 SI profile:
"I hated third," he says. It showed. Once, after a Shea Stadium ball girl backhanded a foul ball, a fan shouted, "Hey, Kent. You should trade positions with her." When errors — 21 in 89 games — began mounting faster than the national debt, Kent became defensive about his defense. "Bobbling a ball would so humiliate me that I couldn't speak," he says.
The Mets remained mired below .500, but Kent caught a break when he was traded to Cleveland in a four-player deal that sent Carlos Baerga to New York; the Mets, on the other hand, caught a falling knife in Baerga, but that's a story for another day. The Indians had won the American League pennant the year before and were bound for 99 wins and another postseason appearance. Kent filled in at first, second, third, and designated hitter down the stretch and started twice in a losing cause in the Division Series. On November 13, he was part of a six-player trade that sent him to San Francisco, with slugging third baseman Matt Williams headlining Cleveland's end of the deal.
Giants manager Dusty Baker wasn't wild about the trade because of Kent's temper, but he did return him to second base and batted him cleanup behind Bonds. Now 29 years old, Kent responded by setting career highs with 155 games, 29 homers, 121 RBIs, and 4.1 WAR despite a rather lopsided .250/.316/.472 line that equated to a modest 105 OPS+. The Giants won the National League West at 90–72, but they were swept by the Marlins in the Division Series despite a pair of solo homers from Kent in Game 3. He received down-ballot support in the MVP race, finishing eighth in the voting.
Thus began Kent's six-year run of 20-homer/100-RBI seasons, thanks in part to hitting behind Bonds, an on-base machine as well as an elite slugger. Kent matured at the plate, suddenly able to hit for both average and power after altering his stance by holding his hands higher — an epiphany that came from watching Edgar Martinez. In 1998, Kent hit .297/.359/.555 with 31 homers and 4.4 WAR, but the Giants lost a Game 163 play-in for the Wild Card — something they might have avoided had they not gone 11–13 while Kent missed most of June due to a hyperextended knee.
Kent earned All-Star honors for the first time in 1999, then took his game to a new level in 2000 as the Giants moved into brand new Pacific Bell Park (now AT&T Park) and won the NL West with a 97–65 mark; he hit .334/.424/.596 with 33 homers and 7.2 WAR that year, all career bests. The latter mark ranked fourth in the league, but thanks to his 125 RBIs, he beat out Bonds (who hit .306/.440/.688 with 49 homers, 106 RBIs and 7.7 WAR) in the MVP race. The Giants lost the Division Series to the Mets in four games despite Kent going 6-for-16.
The 2001 season was Bonds's turn to shine, as he bashed 73 homers to shatter the single-season record and won his fourth MVP award. By that point, however, tensions between the two stars were bubbling to the surface. In the August 27 issue of SI, Kent told Rick Reilly, "On the field, we're fine, but off the field, I don't care about Barry and Barry doesn't care about me. [Pause.] Or anybody else." Kent himself had a good year (.298/.369/.507, 5.2 WAR) and earned All-Star honors, but the Giants missed the playoffs.
The 2002 season saw highs and lows for the 34-year-old Kent. On March 1, he broke a bone in his wrist, initially claiming it happened while washing his truck. Soon it surfaced that eyewitnesses reported seeing a motorcyclist crash while doing a wheelie near Scottsdale Stadium in Arizona, the Giants' spring training home; further information showed that it was Kent, riding in violation of his contract. The incident became the butt of jokes, but the Giants showed leniency, and Kent wound up missing just four games. On June 25, after yelling at third baseman David Bell, Kent scuffled with Bonds in the dugout. Afterward, he dismissed the altercation, saying it wasn't a "big deal" and adding it to the "half-dozen times we've done it before." Even so, he was also reported as telling Baker afterwards, "I want off this team."
For all of the tension, Kent set a new career high with 37 homers, hitting .313/.368/.565 en route to 7.0 WAR (second in the league), helping the Giants win 96 games and the NL Wild Card; they proceeded to beat the Braves and Cardinals to advance to the World Series against the Angels. Kent hit .276/.290/.621 in 31 plate appearances in the Series, homering in a losing cause in Game 2, then homering twice and driving in four runs in a 16–4 rout in Game 5 that put the Giants within one win of their first championship since moving to San Francisco in 1958.
In Game 6, the Giants were up 5–0 with nine outs to go when all hell broke loose after a pair of three-run Angels rallies, the second keyed by a Bonds error. San Francisco lost the last two games, with Kent going 0-for-4 with two strikeouts in Game 7.
That was it for Kent's run in San Francisco. In December, he signed a two-year, $18.2 million deal with the Astros, bumping All-Star second baseman Craig Biggio to center field. Superficially, Kent's performance with Houston (.293/.350/.521 in 2003–04) looked a whole lot like his six years in San Francisco (.297/.368/.535), but in reality, hitter-friendly Minute Maid Park was masking his decline. He totaled just 6.7 WAR over those two years; his OPS+, meanwhile, went from 136 as a Giant to 121 as an Astro — good, but not outstanding. Kent missed four weeks in 2003 due to wrist inflammation, and again, his injury probably cost his team a playoff spot. Despite the presence of Biggio, Jeff Bagwell, and Lance Berkman, the Astros went 12–11 in his absence and lost the NL Central by one game.
Kent earned All-Star honors for the fourth time in 2004 and hit 27 homers. Career home run No. 300 came off St. Louis' Jeff Suppan on September 29, and No. 278 as a second baseman — the record-breaker at the position—came on October 2 off Colorado's Adam Bernero. Bolstered by the midseason arrival of Carlos Beltrán, the Astros won 92 games and the Wild Card, then beat the Braves to advance to the NLCS against the Cardinals. Kent homered three times in the series, with his three-run shot off Jason Isringhausen in the ninth inning of Game 5 providing all of the scoring and putting Houston one win away from their first trip to the World Series, but the team lost the next two.
A free agent again, Kent returned to California on a two-year, $17 million deal with the Dodgers, his favorite team growing up, and the NL West champs in 2004. Alas, he was one of the few bright spots on a squad that tumbled to 71–91 amid such a slew of injuries that he was one of just two players to reach 100 hits. Kent himself was limited to 115 games and 0.7 WAR the following year due to wrist and oblique injuries, not to mention deteriorating defense (-18 Defensive Runs Saved). His 14 homers and 68 RBIs ended a string of nine straight years of at least 22 homers and 93 RBIs, though his last homer was noteworthy. Hit on September 18, 2006 off the Padres' Jon Adkins, it was the first of four consecutive ninth-inning homers that allowed the Dodgers to tie a game they ultimately won. Los Angeles soon claimed the NL West flag, but despite Kent going bananas in the Division Series against the Mets — 8-for-13 with a double and a homer— the Dodgers were nonetheless swept.
In March 2006, Kent signed an extension to cover the '07 season with an option for '08. At 39, he had one more big year with the stick left (.302/.375/.500, 21 HR), though bad defense (-12 DRS) again offset much of his value, limiting him to 2.2 WAR. Late in the year, as the Dodgers' playoff hopes slipped away, he made waves by criticizing the professionalism of some of the team's young players, particularly Matt Kemp. Kent mulled retirement but returned for 2008, then hit just .280/.327/.418 with 12 homers. He needed late-August knee surgery before coming back for the playoffs — the Dodgers had won the NL West at 84–78 — but was limited to a bench role. In January of the following year, he announced his retirement.
…
Kent finished with respectable counting stats (2,461 hits and 377 homers) to accompany a hefty .290/.356/.500 line, particularly for a player who spent almost 90% of his career as a middle infielder. Among post-expansion players who spent most of their careers at the keystone, only Hall of Famers Biggio (3,060), Roberto Alomar (2,724), Robinson Cano (2,570), and Morgan (2,517) accumulated more hits. Cano's 324 homers is the next closest total, and he's heading into his age-37 season, with four more years under contract.
At a cutoff of 7,000 plate appearances for players who spent the majority of their careers at second base (of whom there are 46), Kent's slugging percentage is second, and his batting average 14th, but his on-base percentage just 22nd. Adjusting for the offensive environment of his era, his 123 OPS+ ranks ninth, though among post-expansion second basemen a more impressive fourth behind Morgan (132), Cano, and the unjustly bypassed Bobby Grich (both 125). From that vantage, his candidacy for Cooperstown certainly has credibility, particularly because second base is generally a defense-first position where the offensive bar is lower.
But that bar is lower because in the middle infield, defense counts, and Kent not only didn't add extra value with the leather relative to other post-expansion second basemen, he was in the red — and again, this is including those players' time at all positions. By Baseball-Reference's combination of Total Zone and Defensive Runs Saved, he's 42 runs below average for his career, with a Defensive WAR (dWAR) of -0.1 after accounting for positional adjustments. That ranks 40th among those 46 players, with Biggio (-2.9) the only Hall of Famer below him and Bill Mazeroski (24.0) the leader..
Coupling offense and defense, and adjusting for ballpark and era, Kent's total of 55.4 WAR ranks 19th among second basemen — respectable but nonetheless 14 wins below the average enshrined second baseman and better than just seven of the 20 enshrined, none of them BBWAA selections. Even among those below the Hall average, he's a mile behind Sandberg (68.0), Alomar (67.1), Biggio (65.5), and Utley (65.4), whose careers overlapped with his. Only twice did he even have a WAR that cracked the league's top 10.
That puts a dent in his peak WAR, which covers his best seven seasons; his 35.7 is tied for 26th, with José Altuve (36.9) having passed him in 2019. Kent's about nine wins behind the average Hall of Fame second baseman, and below 14 of the 20 enshrined. Kent had just three seasons of at least 5.0 WAR and two more seasons of at least 4.0. By comparison, Morgan had 10 seasons of at least 5.0 WAR, and Cano has seven and counting; Alomar, Grich, Ian Kinsler, Dustin Pedroia, Sandberg, and Utley had six apiece; and Biggio and Rod Carew each compiled five, the latter before moving to first base mid-career. Even at the 4.0-WAR bar, 11 post-expansion second basemen had more big seasons.
In the end, Kent's 45.6 JAWS is 11.3 points below the Hall standard for second basemen, 20th all-time, below 12 of the 20 Hall of Famers and too far to be made up for by the parts of his resumé that the system doesn't capture, mainly the awards and the postseason (a characteristic .276/.340/.500 with nine homers in 189 plate appearances). Outside of his 2000 MVP award, his highest finish was sixth; he made just five All-Star teams; and so on. Kent scores 122 ("a good possibility") on the Bill James Hall of Fame Monitor, but the average score for a Hall of Fame second baseman is 161.
When Kent debuted on the 2014 ballot, I noted that it's rare that my own system surprises me. While the distance between Kent and the Hall of Fame standard for second baseman is one of those cases where the data runs contrast to my gut feeling, it bears remembering that Kent played in such a high-offense era that 40 players with at least 5,000 plate appearances over the span of his career (1992–2008) surpassed his OPS+, in contrast to only six surpassing his RBI total. Moreover, while he accumulated 9,537 plate appearances, he reached 600 in only six seasons due to injuries and the players' strike, and only 500 in 11. Only some of that owes to being mishandled by the Mets; health is another factor.
Each of Kent's first five years on the ballot featured at least 10 players who score above the JAWS average at their position, the maximum that an individual can vote for under the rules. Last year, the count dropped to eight, and this year to seven. While granting that some of those players have PED issues attached to them, alongside them have been very good cases for players who don't quite measure up that way, such as the since-elected Vladimir Guerrero, Roy Halladay, and Trevor Hoffman, the still-eligible Todd Helton, Andruw Jones, Gary Sheffield, and Billy Wagner, and newcomer Bobby Abreu. Confronted with the hard choices of how to pare my (virtual) ballot down to 10 (an exercise I'll repeat before the December 31 deadline for ballots), I've never wanted to bump enough to include Kent because of how far below the JAWS standard he is.
As I suspected when he debuted, voters have had a hard time finding room for him as well. He debuted with just 15.2% of the vote in 2014, and he has ridden a very tiny rollercoaster since then, with a low of 14.0% in '15 and a high of 18.1% in '19. Worse for him, he now has only three more years after this one (instead of eight, thanks to the 2014 rule change) to make up the remaining ground. Since 1966, when the BBWAA returned to annual voting, 27 players besides Kent (including ballot-mate Larry Walker) have received 10-to-25% of the vote in their sixth year of eligibility. Of that group, only seven are now in the Hall of Fame, with Bruce Sutter and Bob Lemon the only ones elected by the writers, albeit in their 13th and 14th years of eligibility, respectively — time Kent doesn't have.
What he does have going for him is that freed-up ballot space, and voters who may finally be willing to find room. Via Ryan Thibodaux's Ballot Tracker, last year, 10 voters said that if they had room for more than 10 names, they would have included Kent, more than any candidate besides Scott Rolen and Wagner, suggesting they're primed to add him for 2020.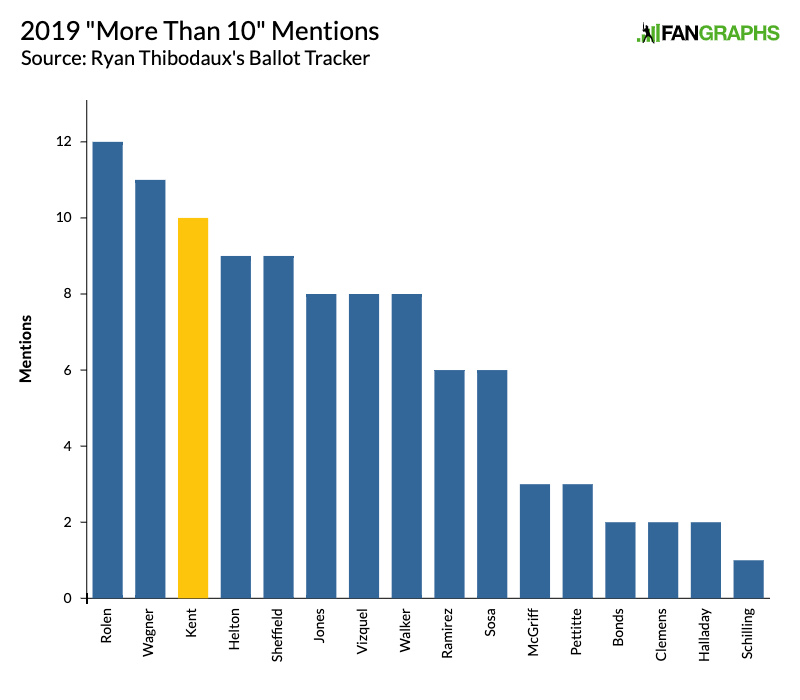 Though just 23 voters have revealed their 2020 ballots in the Tracker, five have added Kent already, though he's received just six total votes (26.1%). Even if he picks up considerable ground, he'll need an unprecedented climb to get to Cooperstown. While I remain open-minded on his candidacy, I'm not alone among those who will take far more convincing that he truly belongs.
Brooklyn-based Jay Jaffe is a senior writer for FanGraphs, the author of The Cooperstown Casebook (Thomas Dunne Books, 2017) and the creator of the JAWS (Jaffe WAR Score) metric for Hall of Fame analysis. He founded the Futility Infielder website (2001), was a columnist for Baseball Prospectus (2005-2012) and a contributing writer for Sports Illustrated (2012-2018). He has been a recurring guest on MLB Network and a member of the BBWAA since 2011. Follow him on Twitter @jay_jaffe.