Pitchers learn and develop different pitches, and they do so at varying stages of their lives. It might be a curveball in high school, a cutter in college, or a changeup in A-ball. Sometimes the addition or refinement is a natural progression — graduating from Pitching 101 to advanced course work — and often it's a matter of necessity. In order to get hitters out as the quality of competition improves, a pitcher needs to optimize his repertoire.
In this installment of the series, we'll hear from three pitchers — Jon Duplantier, Carl Edwards Jr., and Sal Romano — on how they learned and developed their curveballs.
——
Jon Duplantier, Arizona Diamondbacks
"I learned my curveball in college. Rice is a big breaking ball school — at least it was when I was there — and depending on where you are, you call it a different thing. It's a spiked curveball, but I know that at Southern Miss, they call it a Rice slider. Essentially, it's just a concept where you're looking for this general break. You spike the curveball, with the idea being that you want something hard, with depth.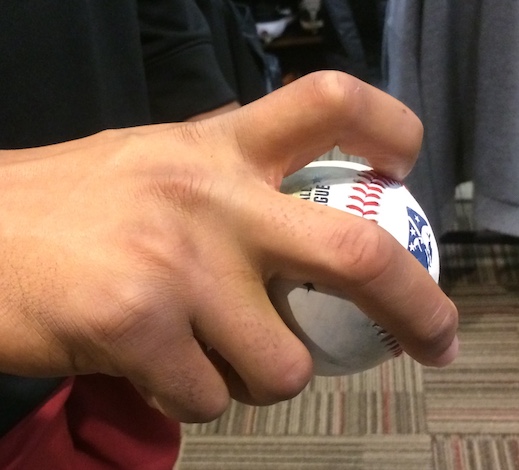 "My freshman year, I threw a slurve. The velocity on it was fine — it was 76-78 [mph] — but I would lose feel for it every now and then. When I'd lose feel for it, teams would start sitting on my heater.
"One day I was pitching against Louisiana Tech. It was a Sunday, and about three innings in, I can't throw a breaking ball for a strike. They're sitting on my fastball. They're airing me out. My pitching coach comes out for a mound visit and says, 'Hey, I want you to spike it, and to try throwing it. We'll work on it in the bullpen later, but right now we need to try something different. It can't be any worse than the curveball you're throwing right now.'
"This was in the middle of a game. It was the first time I'd thrown it, and it was horrible. But there was nothing else. I was getting aired out. Over time, it got better. It became a good pitch for me.
"The 'Rice slider' is kind of a mythology in college baseball — college baseball in the Wayne Graham era — and again, it's really a matter of terminology. Depending on where you are in the country, or even the world, it's a different dialect. But it's all the same breaking ball. Different people call it different things, and I consider mine a curveball. A spiked curveball."
Carl Edwards Jr, Chicago Cubs
"My dad taught it to me. He played college baseball at Allen University — my whole family played baseball — and I knew how to throw a curveball at the age of seven. I didn't really throw one until I got to Pony League, though. That's when I was 14 or 15.
"It's the same now as when I first learned it. Nothing has changed. It's a standard curveball grip, and I don't try to do too much with it. I just … I mean, it has one job, and that's to go down in the zone, or sweep the zone. That's all I focus on.
"I think the [quality] of the pitch kind of just came by itself. It came naturally. There's really nothing you can do to make your curveball nastier than it is. My dad had a good curveball. I kind of took after him. There's something in my wrist, I guess. I don't put pressure on the seams, or anything like that. It's just the grip and my wrist action."
Sal Romano, Cincinnati Reds
"The curveball that I finally found again… I've been throwing with that grip since I was 12 years old. It's distinctive. I throw it with my knuckle; I don't throw it with my nail. It used to be like a knuckle curve, but as I got older and stronger, it became faster.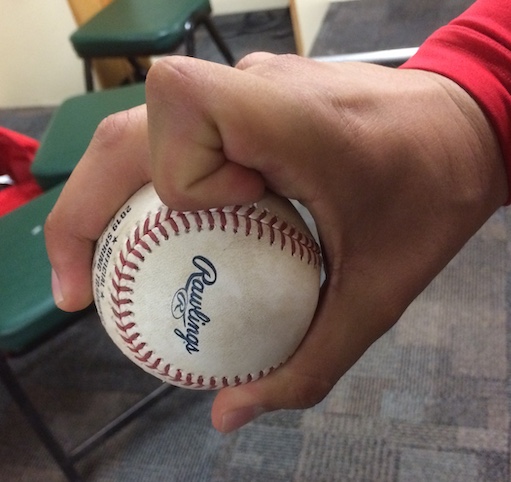 "I lost the loopy part of it — I kind of lost the release point of where it was loopy and slow — around age 19 or 20, when I started throwing harder. That's when it became more of a slider. This past offseason, I wanted to find the depth part of it again, in order to change the eye level of the hitters better. A lot of what I throw is hard, so instead of it being sideways and hard, I wanted to bring back a little more of that loop. That way, not everything the hitter is seeing isn't just hard, hard, hard. With a little bit of a loop, the hitter will be like, 'Oh, that was something slower.'
"I originally learned my curveball in Little League. One of my coaches taught it to me. I only threw fastballs when I was an even younger kid, and when the time came that I needed to do something different, he showed me the grip. I've thrown that way ever since.
"As for who helped me get it back — some of the loop — I work out with a guy named Kevin Rival, who played in the minors with the Yankees and the Brewers. He opened up a facility in Connecticut, back where I live. He worked with me on it a lot this offseason. I think having something slower than my slider will only help."
——
The 2018 installments of this series can be found here.
David Laurila grew up in Michigan's Upper Peninsula and now writes about baseball from his home in Cambridge, Mass. He authored the Prospectus Q&A series at Baseball Prospectus from December 2006-May 2011 before being claimed off waivers by FanGraphs. He can be followed on Twitter @DavidLaurilaQA.