After struggling for the first few months of the season, both José Ramírez and Cleveland broke out in a big way with Ramírez discovering his old form and Cleveland going on a big run to catch the Minnesota Twins for first place at one point this month. Cleveland couldn't quite keep up that pace over the last few weeks, falling a few games back of the Twins, but still looked to be in great shape for the wild card race. With news of a broken hamate bone and the resulting surgery for Ramírez, the team is losing their best hitter for the rest of the season, leaving a massive hole in the lineup and at third base. The club's path to the playoffs just got a lot more narrow.
Just two weeks ago, I discussed the remarkable turnaround Ramírez made in his game, eschewing an approach designed to be beat the shift but costing him power and going back to the pull-heavy, fastball-hunting approach that made him a star in the first place. In the second half of the season, Ramírez has put up a 168 wRC+ to go with 2.3 WAR that ranks behind only Anthony Rendon, José Altuve, Mike Trout, and Ketel Marte among position players. On the season, Ramírez had finally moved his wRC+ up to 100, and with solid baserunning and fielding, he was up to 2.9 WAR on the season. These totals are a huge drop from the 6.4-WAR average he produced over the three previous seasons, but 2019 was still shaping up to be a productive year despite his awful start. Unfortunately, Ramírez isn't likely to get any more time to improve his numbers further.
One month of any one player isn't likely to matter a whole lot to a team's playoff chances over the course of an entire season, but when there's only 31 games left and the player in question was set to be worth a full win over those 31 days and his substitutes are replacement level, that month can matter a great deal. To provide some sense of what Cleveland loses in terms of projections and playoff odds, here's where the club stood after Saturday's games compared to where they stand now with Ramírez's injury factored in.
Cleveland's Playoff Hopes Take Tumble
| | Projected Wins | ROS W% | Division | Wild Card | Playoffs | Make ALDS | Win WS |
| --- | --- | --- | --- | --- | --- | --- | --- |
| Saturday | 94.3 | .572 | 23.6% | 58.4% | 82.0% | 53.2% | 4.5% |
| Today | 93 | .550 | 13.2% | 63.4% | 76.6% | 44.3% | 2.7% |
| Change | -1.3 | -.022 | -10.4 | 5 | -5.4 | -8.9 | -1.8 |
Cleveland lost and Minnesota won yesterday, which contributed to some of Cleveland's fall in the division, but Ramírez made up a pretty good portion of that as well. Before the Ramírez injury, Cleveland was projected to win 57.2% of its remaining games. If applied today, that would put Cleveland with a projected win total of 93.7 games. Because their expected win percentage was adjusted down to 55% with Ramírez out, about half of the team's playoff odds losses were due to Ramírez.
Tampa Bay and Oakland, the other two teams in the wild card race, both lost on Sunday, but both saw their playoff odds increase due to Minnesota becoming more likely to win the division leaving Cleveland as their main competition combined with Cleveland's projected win total dropping.
Cleveland is fighting against three other teams for three playoff spots, and one good team is going to be left out. The playoff odds throughout the year provide a snapshot of where the teams have been and where they are right now.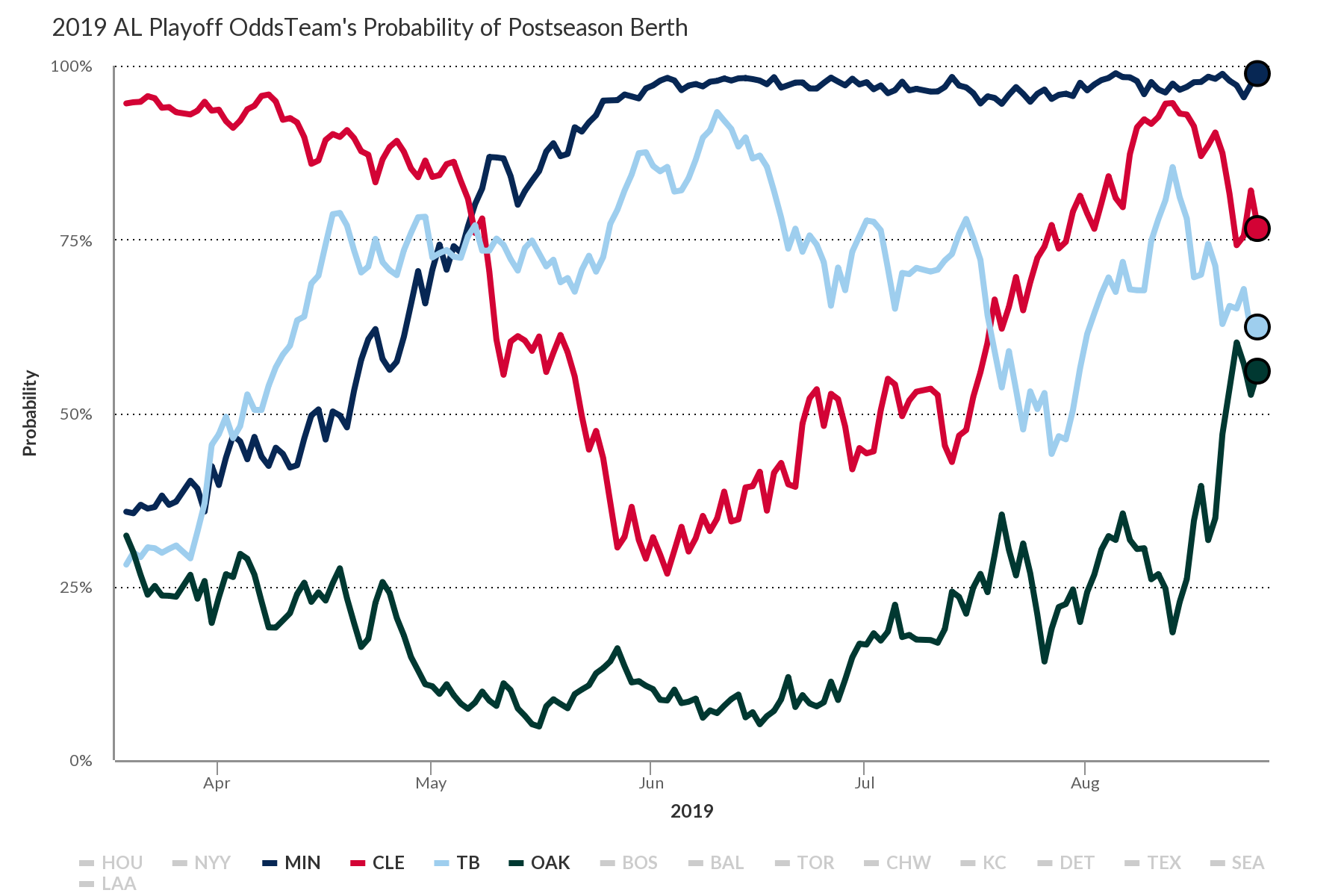 Cleveland has almost no margin for error with a half-game lead over the Rays and a full game over the A's but the same number in the loss column. This is what the graph of the expected wins for the three teams looks like since the beginning of the month.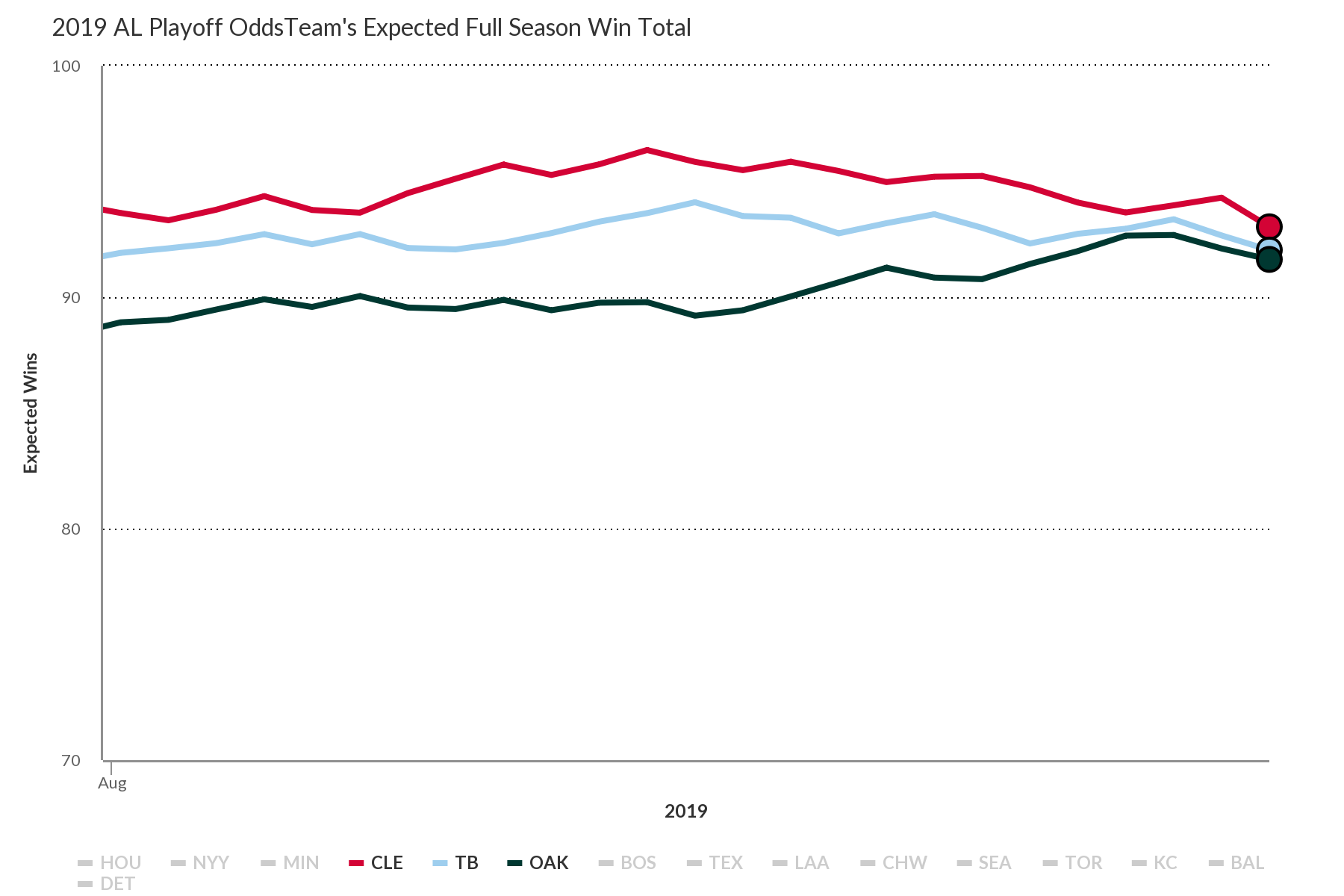 There is very little to separate these three teams going forward. If Corey Kluber doesn't come back, the graph above would actually be even tighter between the teams. As far as schedules go, both Cleveland and Oakland have pretty weak opponents compared to Tampa Bay the rest of the way. This weekend, Cleveland travels to play the Rays and have both Mike Clevinger and Shane Bieber going in what could be a pivotal series in shaping the wild card race over the next month. With Kluber still out and Trevor Bauer gone, the rotation is basically Clevinger, Bieber, and pray for your relievers with rookies Zach Plesac and the surprising Aaron Civale rounding out the rotation with 27-year-old Adam Plutko and his career 5.95 FIP in 157.2 innings.
Cleveland doesn't have a lot of options in replacing Ramírez, with Mike Freeman and Yu Chang likely to receive the bulk of the playing time.
"It's not going to be a straight platoon," he said. "I don't think that makes sense. Plus, we've moved Freeman around anyway. And Chang's been moving around at Triple-A. He's been playing three at short, three at third and three at second. So we have the ability to move guys around. We'll let them know the night before and we'll try to put two guys out there to try to take Josey's place.

"Freeman's done everything and more that we could have asked. So, I think we'll be OK."
The 32-year-old Freeman bats lefty and has put up a .281/.368/.439 line good for a 112 wRC+ in 138 plate appearances, but he appears to be benefiting from a good deal of luck based on his .368 BABIP and an xwOBA that is below .300 and 50 points lower than his actual production. The projection for Freeman gives him a batting line about 30% below the average hitter, which is more consistent with his xwOBA and his history in the minors.
Chang is slightly more promising long term, having just turned 24. Before the season, Eric Longenhagen and Kiley McDaniel had this to say about Chang, who they projected as a below-average regular.
He does have power though, and he's a viable defensive third baseman who'd be capable of moonlighting at short or second base if Cleveland needed him to. We like him as a versatile, bat-first prospect who can play all over the place.
As for what Chang is right now, he put up a .253/.322/.427 line in Triple-A this season, which is a bit below average. He made his debut in June when Ramírez was on the paternity list, but this will be his first extended shot at at least semi-regular playing time in the big leagues. His projected line isn't any better than Freeman's numbers. Together, they look to be replacement-level subs for one of the game's best players.
Cleveland has battled hard to get to the spot where they are now, and they added Yasiel Puig and Franmil Reyes at the deadline. Puig and Reyes cost them Bauer in the rotation and had them gambling on the return of Kluber, and to a lesser extent Danny Salazar and Carlos Carrasco, which doesn't appear to be paying dividends. Brad Hand's recent struggles aren't helping, either. Losing Ramírez makes it feel like the sky is falling in Cleveland. The team is still very much in the race, but their outlook has changed considerably in the last few days. The team still has a shot at the Twins with six more games against them, but it will be an uphill battle. In the wild card, the Rays and A's are in a near dead heat. Cleveland could ill-afford an injury like this one with every game in the standings so vital. They aren't out of it, but they are no longer above it, now stuck in the fray where one bad stretch could cost the team the playoffs.
Craig Edwards can be found on twitter @craigjedwards.