For the first time in several offseasons, a slow winter for free agency was not the theme of winter. Not that a slow winter wouldn't have been overshadowed by the Astros cheating scandal, but free agency activity started at a fairly brisk pace and nearly all the good players were signed by January. As camps open up, only Yasiel Puig remains unsigned from the FanGraphs Top-50 Free Agent list. The winter was notable not just for the pace of signings, but also for the amounts as well as Gerrit Cole, Stephen Strasburg, and Anthony Rendon all exceeded expectations. With nearly all spending complete this offseason, it's an appropriate time to check in on where teams stand with their payrolls and how much has been spent, including in comparison to 2019 figures.
First, here's a look at where every team's payroll is as of today, per our Roster Resource pages.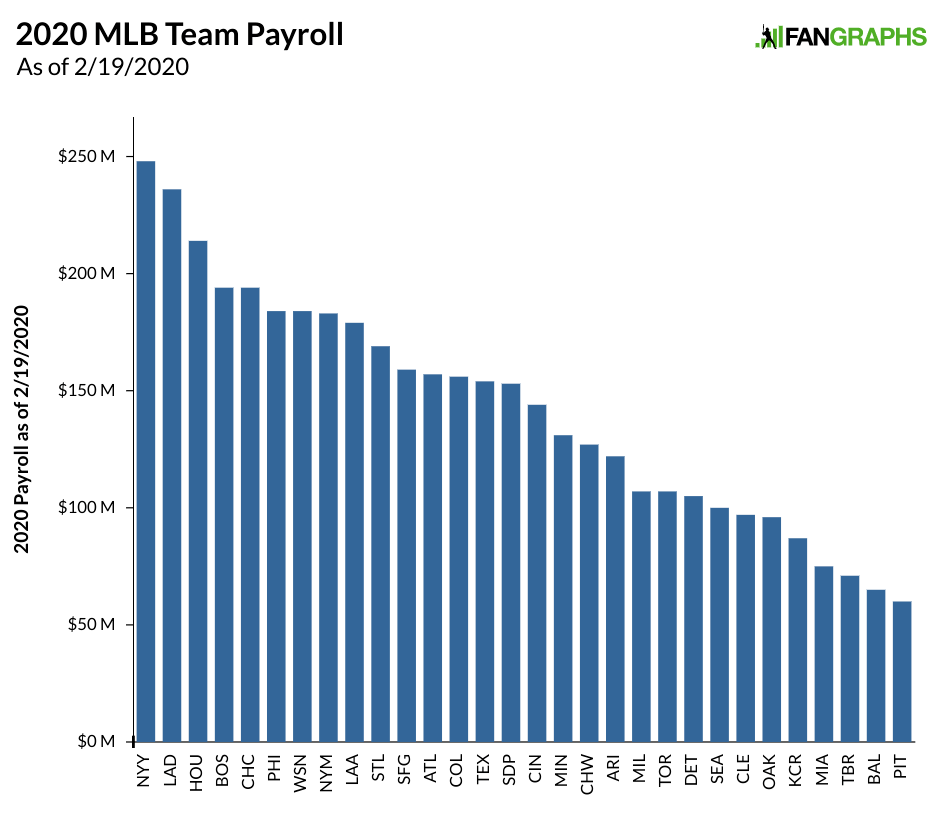 After finishing with the highest payroll in the sport from 2002-13, the Yankees have ceded the top spot to the Dodgers and Red Sox in recent seasons. The Yankees appear likely to return to the top of the heap in 2020, even if they aren't quite reaching the heights of a decade ago relative to the rest of baseball. It looks like the Dodgers will get past the competitive balance tax mark after a two-year hiatus, though also not to the 2014-17 levels when they averaged nearly $250 million on Opening Day. The Astros are likely to put together a $200 million payroll for the first time. The rest of the top 10 includes most of the biggest markets in the sport with the Giants rebuild sitting just outside that group. At the opposite end of the spectrum, we see Baltimore, Kansas City, and Pittsburgh packing it in early on the 2020 season with the Rays, A's, and Indians looking to compete with bottom-tier payrolls. As I noted last December when looking at potential payroll room:
The figures above represent what teams are spending this year on salaries; they are not the team payroll figures used for calculating the competitive balance tax, which can vary some, and include an extra $15 million or so for player benefits. (The competitive balance tax amount can be lowered through long-term deals that have a lower average annual value or, in the Red Sox case, by taking advantage of the Rusney Castillo loophole for players who were removed from the 40-man roster prior to the current CBA.)
As for how much teams have spent this winter, we can compare the numbers I had in December with what we see now. Some teams have cut payroll through trades or settling arbitration cases at lower amounts while others have gone big in free agency and made trades to further bolster payroll. Here's what winter spending looks like.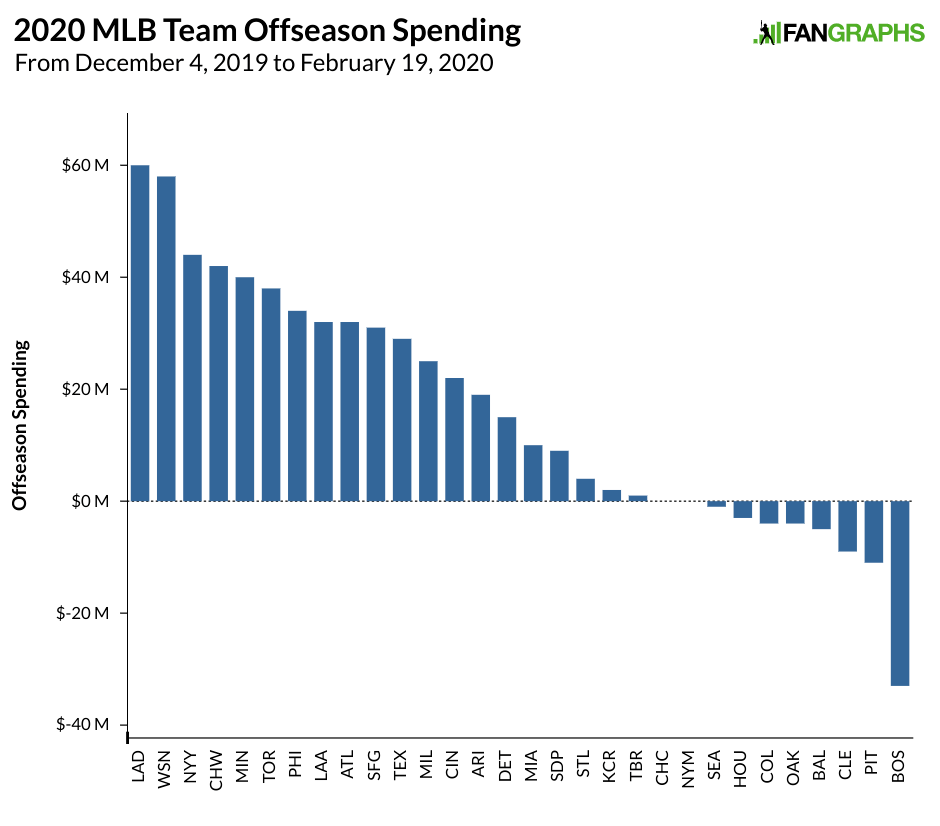 The Dodgers would not have been near the top of this list a few weeks ago, but Mookie Betts plus half of David Price's salary bumps them up in a hurry. The Nationals spent big to keep Strasburg, the Yankees brought in Cole, and the White Sox, Twins, and Blue Jays spread their money around. Down at the bottom, Boston's loss was the Dodgers' gain while Pittsburgh moved Starling Marte and Cleveland's small signings didn't offset the trade of Corey Kluber. There's nearly half a million dollars net spending up there, though that doesn't mean payroll is going to increase by half a million dollars this season. Expiring contracts created a bunch of the room that we see above. To see if a team is actually spending more or less, we need to compare current payrolls to 2019 amounts. Those numbers are represented below.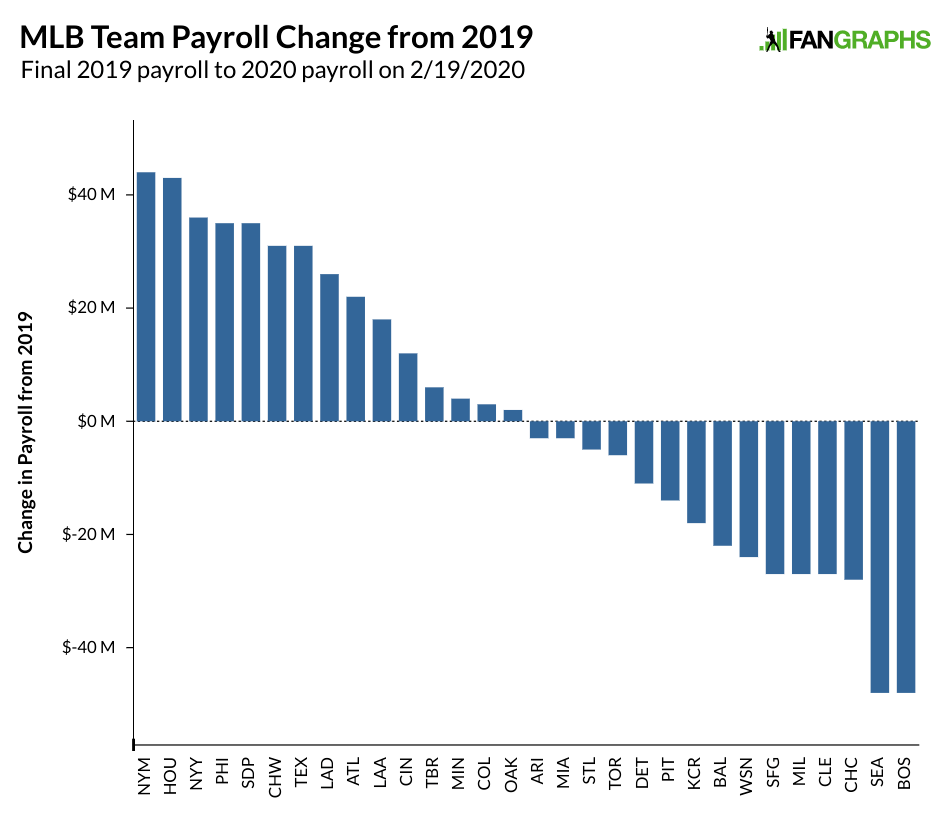 You can be forgiven if you can't quite remember the Mets making a big free agent splash this winter. About half of their increase comes from a massive raise to Jacob deGrom with the rest being spread out among free agents like Dellin Betances, Rick Porcello, and Michael Wacha, plus Marcus Stroman's salary and a bunch of other raises in arbitration. The team will actually have about $80 million coming off the books at the end of the 2020 season, so they theoretically could have a lot of room to spend next winter. Most of the Astros' increases were internal as well. The Phillies spent on Zack Wheeler and Didi Gregorius while Texas has held artificially low payrolls the last few seasons and even now are still below 2016 and 2017 payroll levels.
We see a $37 million increase over last season overall, less than a 1% change. We might see a slight increase over payroll last year, but MLB is still likely right in line with where it was in 2018 and lower than 2017. In comparing Opening Day payrolls (as opposed to the final 2019 payrolls) we'll use the following methodology from Roster Resource for minimum-salaried players, with players on the 40-man roster but in the minors expected to earn $2.25 million.
The "estimated salaries for players not yet eligible for arbitration" figure (which is included in luxury tax and "actual" payroll) presumes that, when factoring DL time, each team will need to pay for 33 player-seasons over the course of the regular season. This number is calculated by subtracting the number of guaranteed and arbitration-year contracts from 33 (the number of player-seasons) and then multiplying the number that remains (typically around 10-15) by the league minimum salary.
Here's where the numbers are over the last few years.
Change in Opening Day Payroll
| | AVG Payroll | Change From Prior Year |
| --- | --- | --- |
| 2017 | $142.9 M | 3.3% |
| 2018 | $142.0 M | -0.6% |
| 2019 | $139.9 M | -1.4% |
| 2020 | $141.9 M | 1.4% |
| AVERAGE | $141.7 M | 0.7% |
We'll have to see what these numbers look like at the end of the year, but even including the bump in payroll from 2016 to 2017, players are averaging under 1% gains every year while revenue grows at a pace more than five times that amount without even factoring in the billion-dollar sale of MLB-owned BamTech to Disney. Since 2017, when the current CBA started, players have lost close to 1% of Opening Day payroll despite the slight uptick this season. The big free agent class helped matters only a little while next year's free agent class isn't anywhere near as strong. There's some good news here for the players, but the offseason hasn't been a huge win.
Craig Edwards can be found on twitter @craigjedwards.