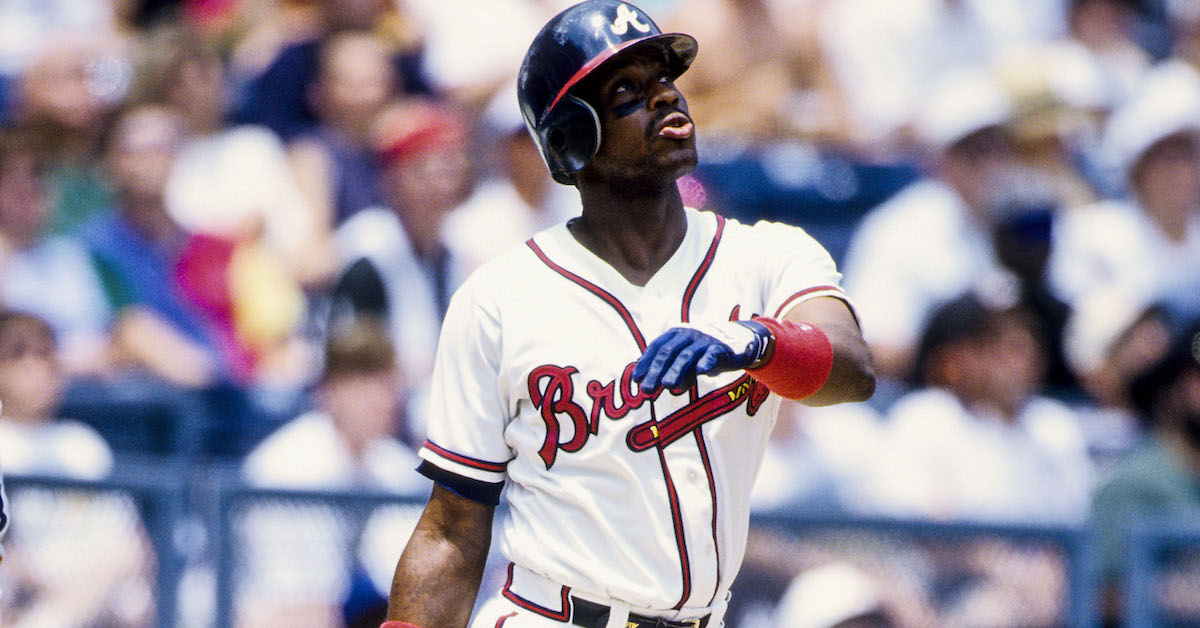 SAN DIEGO — The Crime Dog is going to Cooperstown. On Sunday, the Contemporary Baseball Era Committee unanimously elected Fred McGriff to the Hall of Fame, bypassing far more statistically impressive candidates — namely Barry Bonds, Roger Clemens, and Rafael Palmeiro — due to their connections to performance-enhancing drugs. On a panel that included two former teammates (Greg Maddux and Kenny Williams, with Chipper Jones appointed but replaced at the last moment due to illness) as well as former Blue Jays executive Paul Beeston, McGriff was the only candidate from among the eight to reach the necessary 75% of the vote.
Curt Schilling — who like Bonds and Clemens fell off of the BBWAA ballot after 10 years this past January having bled voter support after a seemingly endless string of noxious public comments that culminated with supporting the January 6, 2021 insurrection and comparing Dr. Anthony Fauci to a Nazi — also fell short, though he fared better than the Gruesome Twosome. Indeed it's not hard to see the results as a rebuke of PED-linked candidates, whether or not they actually tested positive and were penalized by Major League Baseball, by a committee seemingly engineered to keep them out.
Here are the final vote results:
2023 Contemporary Baseball Era Committee Results
| Player | Votes | % |
| --- | --- | --- |
| Fred McGriff | 16 | 100% |
| Don Mattingly | 8 | 50.0% |
| Curt Schilling | 7 | 43.8% |
| Dale Murphy | 6 | 37.5% |
| Albert Belle | <4 | <25% |
| Barry Bonds | <4 | <25% |
| Roger Clemens | <4 | <25% |
| Rafael Palmeiro | <4 | <25% |
And the full committee of voters:
Hall of Famers: Jones, Maddux, Jack Morris, Ryne Sandberg, Lee Smith, Frank Thomas, and Alan Trammell
Executives: Williams, Paul Beeston, Theo Epstein, Arte Moreno, Kim Ng, Dave St. Peter, and Derrick Hall (replacing Jones)
Media members/historians: Steve Hirdt, LaVelle Neal, and Susan Slusser.
This was the first year of the Contemporary Baseball ballot, open to players who made their greatest impact from 1980 to the present day. After six candidates were elected last year via the Early Baseball and Golden Days Era Committees, the Hall of Fame announced a restructuring of the process in April, one that reduced the number of committees from four to three, the number of eras under consideration from three to two, the number of candidates per ballot from 10 to eight, and the number of slots each individual voter could fill from four to three. Those reductions seemed designed to slow the flow of honorees, as Dan Szymborski helped me show via some Monte Carlo simulation modeling in July. Without a clear favorite and with a fair amount of ballast in the form of candidates who appeared chosen for the purpose of being easily bypassed, the odds of a shutout appeared high.
Even before the 16-member committee was named on Monday, one could see Sunday's top-line result as a likelihood. McGriff was a five-time All-Star who helped the Braves to back-to-back pennants and a championship in the mid-1990s and became the first player to lead each league in home runs since the Dead Ball Era. He racked up 10 30-homer seasons and eight 100-RBI ones, finishing his career with 493 home runs. But he received tepid support on a crowded ballot as BBWAA voters turned to more well-rounded candidates as measured by WAR and JAWS, debuting with just 21.5% in 2010 and surpassing that share (barely) just once in the next six years. He dipped as low as 11.7% and didn't break 25% until his final year, when he surged to 39.8. While nowhere close to election, that figure stood as the fifth-highest among unelected candidates who weren't on the 2022 BBWAA ballot:
Highest Share of BBWAA Vote Without Eventual Election… Until Sunday
Yellow = 2023 Contemporary Baseball Era Committee candidate. * = still eligible via BBWAA ballot. + = elected.
Between McGriff's finish and the 2019 Today's Game election of Harold Baines, you could read the handwriting on the wall regarding the Crime Dog's candidacy. In front of a sympathetic panel stacked in his favor via White Sox owner Jerry Reinsdorf, former White Sox manager Tony La Russa, and former Orioles executive Pat Gillick, Baines received the benefit of the doubt for missing out on a major milestone; his 2,866 hits might — might — have been 3,000 or more had he not missed time due to the 1981 and '94 player strikes. Likewise, when combined with his PED-free reputation, the presumption that McGriff would have gotten to 500 without the 1994 strike — thereby virtually guaranteeing him entry regardless of the strength of his full resumé — made for an attractive elevator pitch to a voting body more likely inclined toward old-school stats than new-school ones.
Here it should be noted that McGriff was a much stronger candidate than Baines, both according to traditional and advanced statistics. He has a 100–67 edge in the Hall of Fame Monitor, a good summary of the traditional accomplishments that WAR doesn't capture, such as awards, black ink, and postseason participation. He's only 32nd in JAWS among first basemen, with 52.6 career WAR, 36.0 peak WAR, and 44.3 JAWS (8.5 points below the standard), but those numbers tower over Baines, who's 76th among right fielders (38.8/21.4/30.1, the last of those 26.6 points below the standard). Only one non-Negro Leagues right fielder in the Hall ranks lower than Baines in JAWS; McGriff outdoes five enshrined first basemen, including Orlando Cepeda, who was elected by the Veterans Committee on the 1999 ballot, and Gil Hodges, who was elected by the Golden Days committee last year. McGriff is also within a point of David Ortiz, the lone BBWAA honoree from the 2022 ballot, as well as Tony Perez. There's ample precedent for electing a candidate of his ilk, and the fact that the biggest scandal he's connected to is an admission that he's never seen the Tom Emanski "Defensive Drills" instructional video whose ads made him a staple of late-night television is something of a relief, particularly given the possibility that he could be the only candidate elected this year unless the writers give Scott Rolen a healthy bump to put him past 75%.
Fred McGriff says that he's never actually seen the Tom Emanski defensive drills video (the instructional video that he said "gets results" in the commercial). pic.twitter.com/Of1iVCM5yM

— Awful Announcing (@awfulannouncing) May 25, 2021
As to whether this ballot's results represent some triumph of the so-called character clause ("Voting shall be based upon the player's record, playing ability, integrity, sportsmanship, character, and contributions to the team[s] on which the player played") that has generally been used as an excuse to bypass otherwise qualified candidates, the Hall might wish it to be read that way. Indeed, the placement of Bonds, Clemens, and Palmeiro opposite McGriff, Mattingly, and Murphy set this up to be something of a referendum on PED-linked candidates versus purportedly clean ones, particularly with the likes of Thomas, Sandberg, and Morris — all of whom were vocal about PED-linked players long before being tabbed for this committee — among the voters.
In that light, the Hall must be overjoyed that Murphy and Mattingly, generally regarded by the public in a positive light and without a whiff of scandal, received more support than the PED guys. Both candidates previously had two finishes of "fewer than X" votes on the 2018 and '20 Modern Baseball ballots, but notably, the BBWAA Historical Overview Committee that builds the ballot brought them back for another vote, and likewise Belle, who fell below the threshold on the 2017 and '19 Today's Game ballots. They have not done so to date for the PED-linked Mark McGwire, who also fell below the threshold in the first of those years. Given the close-but-no-cigar shares of the vote Bonds and Clemens received from the writers before falling off, their presence should be a constant on these ballots; there's no precedent for excluding such well-supported candidates, particularly given that past BBWAA support trumped past Era Committee support in building this ballot (hence the absence of one-and-done Lou Whitaker and three-and-out Dwight Evans). Even so, I wouldn't put it past the HOC to shy away from Bonds and Clemens in building the 2026 Contemporary ballot, and I expect it for Palmeiro.
As for Schilling, I've kept the receipts and won't clutter this space with them except to note that they also included his social media sharing of a t-shirt advocating the lynching of journalists, and his losing his ESPN booth job over repeated expressions of bigotry via his platform. That he tried to get himself taken off the 2022 BBWAA ballot after some number of voters publicly indicated either a desire to rescind their 2021 votes based on his January 6 support, or to drop him from their 2022 ballots, only to fall far short here…
Curt Schilling in letter to the Hall of Fame: "I will not participate in the final year of voting. I am requesting to be removed from the ballot. I'll defer to the veterans committee and men whose opinions actually matter and who are in a position to actually judge a player.''

— Bob Nightengale (@BNightengale) January 26, 2021
…well, you can't say he didn't set himself up for this kind of comeuppance. Maybe this will spur a bit of self-reflection that would pave the way toward his election, but then again, maybe not.
As I've spent the past two decades documenting, small committees are responsible for some of the Hall's most egregious mistakes and most frustrating outcomes. By no means would I put the election of McGriff in the first of those categories; though I myself would not have voted for him, the Hall has honored many players of his type, and one more isn't going to be the downfall of the institution. And hey, let's be happy for the Crime Dog, who's never done anything to deserve otherwise in this context. But as for the frustration, the particular ups and downs of this outcome suggests years of it ahead, because even if Bonds and Clemens are included on the 2026 ballot and every three years thereafter, they're likely to get the same runaround as they received this year while lesser candidates are elected. So it goes.
Brooklyn-based Jay Jaffe is a senior writer for FanGraphs, the author of The Cooperstown Casebook (Thomas Dunne Books, 2017) and the creator of the JAWS (Jaffe WAR Score) metric for Hall of Fame analysis. He founded the Futility Infielder website (2001), was a columnist for Baseball Prospectus (2005-2012) and a contributing writer for Sports Illustrated (2012-2018). He has been a recurring guest on MLB Network and a member of the BBWAA since 2011. Follow him on Twitter @jay_jaffe... and Mastodon @jay_jaffe.