Things didn't exactly go his way on Saturday, but Ryan Feierabend's start for the Blue Jays against the White Sox — a four-inning stint that resulted in defeat — was noteworthy, not just the kind of thing you don't see every day, but the kind of thing you don't see every decade. Not only had Feierabend, who began throwing the knuckleball during a four-year stint in the Korea Baseball Organization, not started in the majors since September 23, 2008 (when he faced the Angels' Vladimir Guerrero, ahem), or appeared in a major league game since July 27, 2014, but it had been nearly 19 years since a left-handed knuckleballer pitched in the majors, and more than 20 since the last one made a start.
As I noted in February, when the 33-year-old Feierabend, who found little success in parts of four major league seasons before going to Korea, signed with Toronto, the practice of throwing the knuckleball has fallen upon hard times during the pitch-tracking era: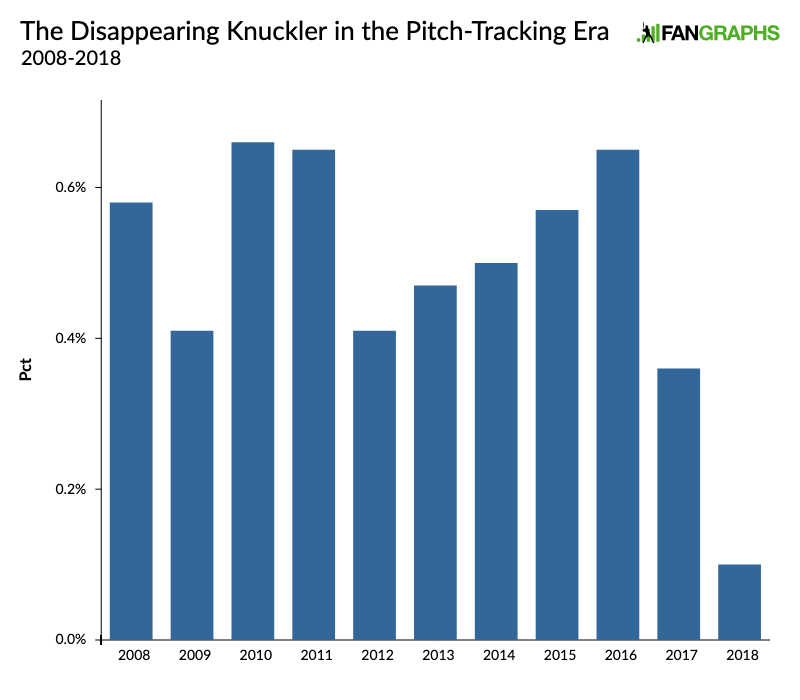 Last year, Boston's Steven Wright was the only pitcher (as opposed to the occasionally dabbling position player) to throw a knuckleball, but between complications stemming from left knee surgery and a 15-game suspension for violating the league's domestic violence policy, he threw just 53.2 innings. As he's currently serving an 80-game suspension for a PED violation — making him the first major leaguer to attain that dubious dual distinction — the pitch needs a new champion. Enter Feierabend, who by virtue of even one appearance resurrected a long-dormant line.
Updating research from The Neyer/James Guide to Pitchers and other sources, fewer than 100 major league pitchers have used the knuckleball as their primary pitch at one point in their careers. Just 20 of them have been lefties, beginning with Nap Rucker, one of four pitchers variously credited with inventing the pitch in the early 1900s. While 14 such pitchers dotted the majors from the 1920s through the '50s, the departure of former AL MVP Bobby Shantz in 1964 left Wilbur Wood as the only one of prominence for a long time. Wood threw 2,684 innings in a career that spanned from 1961 to '78. During his 1971-74 heyday with the White Sox, he topped 300 innings and 20 wins annually, with three All-Star appearances and three top-five finishes in the AL Cy Young race. On May 28, 1973, he pitched the end of a suspended game, then tossed a shutout in the regularly scheduled contest. On July 20 of that same season, he started both ends of a doubleheader, albeit in a pair of shellackings.
Post-Wood, the landscape has been nearly barren, and rather bleak. In 1986, Rich Sauveur debuted with the Pirates, but his sporadic career consisted of six seasons with between three and 10 appearances for six different teams stretching all the way to the 2000 A's. In those fleeting stops, he totaled just 46 innings with a 6.07 ERA and 6.39 FIP. During his protracted career, the major league-level portion of which ended on June 18, 2000, two more lefty knucklers came and went. Danny Boone, who had made a total of 57 relief appearances with the Padres and Astros in 1981-82, sans knuckleball, resurfaced while sporting the pitch for a four-game cameo with the Orioles in September 1990. Kirt Ojala, who started 19 times out of 57 total appearances for the Marlins from 1997-99, was the last left-handed knuckleballer prior to Feierabend to start. That he retired just one of the nine Phillies he faced on April 18, 1999 helps to explain why he didn't get another turn.
Fierabend's own professional baseball odyssey began in 2003, when he was drafted in the third round by the Mariners out of an Ohio high school. He spent parts of the 2006-08 seasons with Seattle, making 25 appearances (19 starts) and mostly getting pounded (7.21 ERA, 5.64 FIP). Before receiving another shot in the majors, he passed through the operating room of Dr. Lewis Yocum for Tommy John surgery, then spent time in the organizations of the Phillies and Reds and even the York Revolution of the independent Atlantic League before joining the Rangers, who used him for six games out of the bullpen in 2014. After that, it was off to the Korea Baseball Organization, where Feierabend spent the past four seasons, first with the Nexen Heroes (2015 to mid-2016) and then with the KT Wiz.
That might have been the last most MLB followers heard of him if not for his success integrating a knuckleball — which he had been throwing since age 13, albeit not in games — into his arsenal in 2017. Sung Min Kim covered Feierabend in March 2018. The knuckler essentially replaced his slider as his third offering, an out pitch behind his four-seam fastball and change-up; he threw it 20.9% of the time in 2017, and 13.5% of the time in 2018, according to Statiz. The rebuilding Blue Jays saw enough to sign him to a minor league contract with a non-roster invitation in February, a move I highlighted here at FanGraphs. He showed enough in spring training to be assigned to Triple-A Buffalo, where he had started three times with some success.
Meanwhile, the Blue Jays quickly blew through their rotation depth. While the oft-injured Aaron Sanchez and Marcus Stroman have each taken their full complement of turns (though the former's next start is endangered by yet another blister), Matt Shoemaker is done for the season due to a torn left ACL, and neither Clayton Richard nor Ryan Borucki has made an appearance yet; the former has been sidelined by a stress reaction in his right knee, the latter by elbow soreness that has knocked him to the 60-day Injured List. Never one to bypass a cavalcade of injuries, Clay Buchholz was recently diagnosed with a Grade 2 strain of his teres major. Needing yet another live body after having already called upon the most itinerant one in major league history, Edwin Jackson, the Jays recalled Feierabend to start on Saturday.
His first knuckleball — the first knuckleball thrown by any pitcher this year, in fact — was demolished by White Sox leadoff hitter Leury Garcia, who, after fouling off an 84.8 mph four-seam fastball, hammered a high floater over the left-centerfield wall:
Man, that ball got outta here in a hurry. Exit velocity: 103.2 mph. Undaunted, Feierabend managed to sandwich a pair of knuckler-induced groundouts around an eight-pitch walk of Jose Abreu, who was subsequently picked off at second base. Not a pretty inning, but hardly fatal. In the second, after Feierabend missed inside to Yoan Moncada, the 23-year-old Cuban scorched a meatball changeup all the way to the left field wall for a double; at 110.2 mph, this was the fastest ball off the bat Feierabend surrendered. When he left a knuckler in the middle of the zone, Yonder Alonso followed with a hard-hit RBI single to right field.
At that point, one had to wonder how committed Blue Jays manager Charlie Montoyo was to the bit, but he stayed with Feierabend, who retired Jose Rondon via a groundout, then, after a passed ball by catcher Luke Maile (his only passed ball of the day, though Feierabend also had one wild pitch), he allowed an RBI single to Charlie Tilson to put Toronto in a 3-0 hole. Facing the number nine hitter, Ryan Cordell, Feierabend fell behind 3-0 on two knucklers and a changeup, but got a pair of called strikes, one with a fastball and the other a changeup. Finally, he got his first swinging strike with the knuckleball:
Roll over, Phil Niekro, and tell Hoyt Wilhelm the news.
Here it should be noted that while this was going on, Statcast had no idea how to read Feierabend's knuckleball, which he was using to a far greater degree than he had in the KBO, registering the pitch as spinless sliders. At Brooks Baseball, they were initially sliders, sinkers, and knuckle curves. "He's essentially making his MLB debut," tweeted MLBcom's Mike Petriello of Statcast's interpretations. "It'll be better as the game progresses and cleaned up after fully."
The third inning didn't go too well for Feierabend, as Anderson, Abreu, and Alonso all singled — the first on a fastball, the other two on the knuckler — to produce yet another run, putting the Blue Jays behind 4-1. In the fourth inning, with the skies darkening to the point of requiring Guaranteed Rate Field's lights, Feierabend finally retired the leadoff hitter of an inning, striking out Tilson. He induced Cordell to ground out, and looked as though he might complete a clean inning, but the big hop of Garcia's grounder eluded third baseman Vladimir Guerrero Jr., who appeared of a mind to barehand the ball, which, no, not with rain starting to fall. E-5. Garcia stole second as Maile dropped the ball, but Anderson grounded out, giving Feierabend his first scoreless frame of the day.
It would also be his last. Under heavy showers, White Sox starter Lucas Giolito struck out the side on 11 pitches, after which the tarp came out. The game was eventually called, with Chicago winning 4-1. Thus, Feierabend became just the 17th pitcher since 1908 to throw a four-inning complete game that did not involve a forfeit. Unfortunately, by definition, all of those pitchers wound up on the short end of things. Only six such outings have occurred since World War II, and only once since the turn of the millennium:
The Short End: 4-Inning Complete Games Since World War II
| Pitcher | Date | Team | Opp | IP | H | R | ER | BB | SO |
| --- | --- | --- | --- | --- | --- | --- | --- | --- | --- |
| Don Larsen | 7/30/1958 | Yankees | Athletics | 4 | 4 | 2 | 2 | 2 | 1 |
| Dick Drago | 7/30/1971 | Royals | Orioles | 4 | 1 | 1 | 1 | 0 | 3 |
| Ross Grimsley | 9/15/1977 | Orioles | Blue Jays | 4 | 5 | 4 | 4 | 3 | 1 |
| Pete Smith | 5/9/1990 | Braves | Cubs | 4 | 6 | 4 | 4 | 0 | 2 |
| Steve Trachsel | 5/11/2006 | Mets | Phillies | 4 | 6 | 2 | 2 | 2 | 3 |
| Ryan Feierabend | 5/18/2019 | Blue Jays | White Sox | 4 | 7 | 4 | 4 | 1 | 2 |
SOURCE: Baseball-Reference
So there's that. As to Feierabend's performance, the line wasn't pretty. According to Statcast's accounting, he threw knuckleballs for 44 of his 74 pitches, but that number probably shouldn't be taken as gospel. On the strikeout of Tilson, for example, Blue Jays play-by-play voice Buck Martinez called the pitch "a pretty good knuckleball," and Statcast recorded no spin for the pitch (knuckleball spin can't properly be tracked by Trackman), but it was somehow coded a changeup. That wouldn't stand out so much if not for the fact that, eek, Feierabend recorded just three other swinging strikes with his new signature pitch. Counting Statcast's two spinless "changeups" as knucklers means an 8.7% swinging strike rate for the pitch; by comparison, Dickey's knuckler generated a 10.5% swinging strike rate, with a high of 13.7% in 2012; he was at 9.4% or better in all of his seasons as a starter.
Pitch identification aside, Feierabend's knuckler averaged 74.5 mph according to Statcast, which puts him third among the eight pitchers (as opposed to position players) who have thrown more than 25 knuckleballs since 2008:
Knuckleball Velocity in the Pitch-Tracking Era
SOURCE: Baseball Savant
Since 2008.
While interesting, and noteworthy given the success and survival of the two pitchers above Feierabend, velo only tells us so much about a knuckleball, and pitch tracking can't capture the offering's true magic. Thus we're left to sift through the results, small-sample though they may be. Perhaps the most hopeful is that he got a 38.9% chase rate, according to Pitch Info, though that 85.7% O-Contact% rate is unsustainable, suggesting hitters were happy to give it a whack whether or not it was a strike. On plate appearances ending with the pitch, batters generated a .250 BABIP (yay), .340 wOBA (ouch), and a 50% HR/FB (oof). Including his pedestrian fastball (which he threw 21 times, with an average velo of 85.7 mph) and changeup (seven of them if we exclude the two spinless ones), he had just a 6.8% swinging strike rate and a 25.7% chase rate; on contact, he yielded an average exit velocity of 85.7 mph, which isn't bad, though his .387 xwOBA and .414 xwOBA on contact should be described with a "yikes."
As a novelty for those of us into such things, Feierabend's return to the majors was a very cool one, even if it does leave questions about whether he can survive with the pitch at this level. As a milepost in one persistent pitcher's journey, hopefully it isn't the end of the story. "It's all about the ultimate goal of being here and being a regular in the big leagues," he told reporters. "That's kind of why I sort of re-invented myself as a knuckleballer when I went overseas the last couple of years and had some success over there."
For what it's worth, he hasn't shuffled off to Buffalo yet, and the plan appears to be to pair him with the now-rehabbed Richard in some fashion on Thursday "to mitigate #RedSox righties one time through," according to SportsNet's Shi Davidi. In other words, he's being thrust into the lion's den. Let's hope his floater cooperates.
Brooklyn-based Jay Jaffe is a senior writer for FanGraphs, the author of The Cooperstown Casebook (Thomas Dunne Books, 2017) and the creator of the JAWS (Jaffe WAR Score) metric for Hall of Fame analysis. He founded the Futility Infielder website (2001), was a columnist for Baseball Prospectus (2005-2012) and a contributing writer for Sports Illustrated (2012-2018). He has been a recurring guest on MLB Network and a member of the BBWAA since 2011. Follow him on Twitter @jay_jaffe.