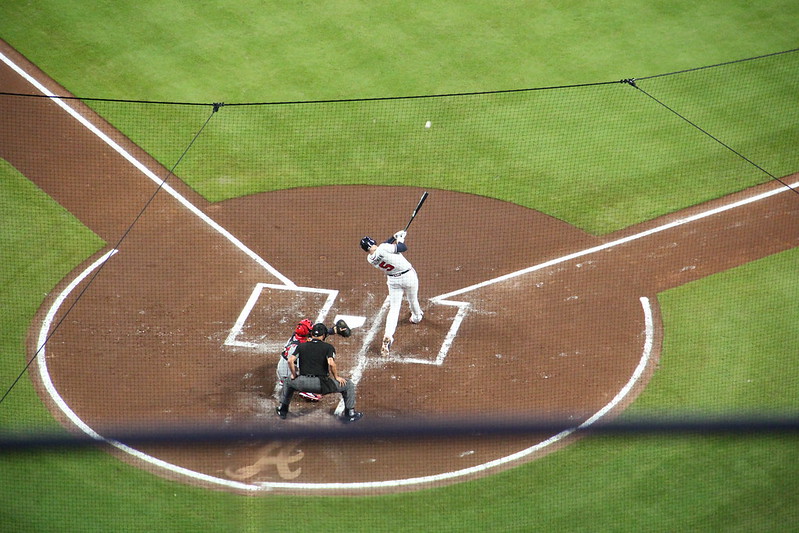 "Success is a science; if you have the conditions, you get the result." – Oscar Wilde
Sometimes, the path to success is circuitous. Success in baseball is a zero-sum game, and your fortune is inevitably linked to the demise of your competitors. Those competitors strive to not make it easy, at least in those seasons where they haven't decided to suddenly get their team payroll under, I don't know, let's say $208 million. Trials and tribulations make stories more interesting; Frodo and Sam going on a casual, uneventful stroll to Mt. Doom would make for painfully dull books and film adaptations.
Atlanta's success hasn't yet earned them a World Series, but just as in the early years of the 1990s Braves dynasty — yes, it was a dynasty — this team has emerged with a strong core that ought to win at least 85 games with almost any supporting cast. Atlanta decided to rebuild, and now they're built. Ronald Acuña Jr. and Ozzie Albies are both tied up by club options until up to 2028 and 2027, respectively, on very team-friendly contracts (the Albies deal painfully so), which gives the Braves a gigantic head start on their NL East rivals. Atlanta's farm system remains as strong as the parent club, giving the Braves a real shot to do what teams salivate about but frequently fail to achieve: competing while continually rebuilding.
The Setup
The 2018 Braves literally flipped their 2017 record, going from 72-90 to 92-70, winning the NL East before being bounced by the Dodgers in the NL Divisional Series. 2018 was no mirage, as the team's success generally came from contributions that appeared neither illusory nor temporary. Acuña, Albies, Freddie Freeman, and Dansby Swanson, the team's offensive foundation, combined for 14.7 wins, and Mike Foltynewicz's slider made him an ace.
Atlanta's challenge last winter wasn't getting themselves into contention, but keeping the team there. The team didn't bid for Manny Machado or Bryce Harper, but they did make one of the best short-term signings I can remember in Josh Donaldson. Donaldson and the Braves were just about the perfect union of mutual interest; the team need a third baseman to bridge the gap to Austin Riley, and Donaldson wanted a short-term deal to prove that he was healthy, and got one that was more lucrative than the typical pillow contract.
Signing Donaldson gave the team massive upside at the hot corner for 2019 and time to figure out Riley's position while playing Johan Camargo in more of a super-utility role. Some teams would have overrated the probability of Camargo repeating his .272/.342/.457, 3.3 WAR 2018 season, but Atlanta set up a situation where that was a nice-to-have rather than a must-have. I was less of a fan of the return of Nick Markakis, but Atlanta kept him cheaply and like Camargo, wasn't reliant on him repeating his blazing hot start to 2018.
Outside of a reunion with Brian McCann, Atlanta's offseason was otherwise a quiet one. Though one could say that philosophically, Kevin Gausman and Darren O'Day were 2019 additions that just happened to take place in July instead of December, the winter still felt a little light. In our yearly preseason positional power rankings, Atlanta's bullpen ranked 18th of 30 teams, undesirably low for a top-tier contender. Another corner outfielder, one good enough to challenge Markakis for playing time, would have also been a welcome addition as well. Instead, Atlanta opted to hold their powder for a later date.
The Projection
ZiPS saw the NL East as a real dogfight, with the Phillies, Braves, and Mets all projected to average 87 wins, a bit behind the Washington Nationals' forecast of 93. The computer saw star seasons for Albies, Acuña, and Donaldson, and of the starting lineup, only predicted right field to be below league-average. The starting pitching projections weren't quite as exciting, suggesting a rotation that was very deep, but without star power; no individual pitcher projected to be worth three wins. ZiPS wasn't wholly sold on Foltynewicz, and while it believed that the Braves would inevitably get breakouts somewhere from the group of Touki Toussaint, Mike Soroka, Bryse Wilson, Luiz Gohara, Kolby Allard, and Kyle Wright, it wasn't sure who was the most likely.
The Results
Initially, the team's belief that a more aggressive winter was unnecessary looked ill-founded. The optics of getting swept in their first series of the season, against rival and rebuilding-mate Philadelphia, weren't great. Atlanta finished April 2018 with a 16-11 record, but in 2019, didn't get permanently above the .500 mark until mid-May.
I'd argue the team's seasonal low point was their 3-2 loss in 10 innings against the Arizona Diamondbacks on May 9; the team had just peeked above .500 after sweeping the Marlins, before dropping three straight to Dodgers going into the Arizona series. Tied 1-1 in the ninth, the rare intersection of Greg Holland with a strike zone resulted in a screaming line drive homer, giving the Braves a 2-1 edge:
But Luke Jackson blew the save and A.J. Minter the tie, and the Braves dropped their fourth straight game. Foltynewicz had an ERA near six after three starts, and the bullpen had walked more than five batters a game and ranked ahead of only the Orioles and Marlins in WAR. Atlanta dropped to 18-20. Just a week later, a back injury sent the team's starting center fielder, Ender Inciarte, to the IL, thinning out an already stretched outfield.
Rather than being dead in the water, however, the Braves quickly put their 2019 nadir behind them. There was an admirable effort to fix what was broken, and over the next three months, the team acquired Anthony Swarzak, Chris Martin, Shane Greene, and Mark Melancon. Instead of waiting for Kevin Gausman to get his ERA back under six, the Braves signed Dallas Keuchel after the draft. Not a lot of teams would option their Cy Young contender from the prior season to the minors, but that's what the Braves did with Folty, and he returned with his slider more or less working. The outfield never truly became a strength outside of a certain superstar, but Adam Duvall and Matt Joyce slugged over .500, and the team even got a .375 on-base percentage out of Billy Hamilton, albeit in limited playing time.
Everything went swimmingly, at least until Game 5 of the NLDS, in which Foltynewicz and Fried combined to dig a 10-0 hole against the Cardinals before the Braves even came to the plate.
What Comes Next?
One of Atlanta's more significant challenges going forward — keeping Acuña and Albies well into their free agent years — has already been addressed with the aforementioned long-term contract extensions. The next big signpost will be retaining Freddie Freeman, who is a free agent after the 2021 season.
Foltynewicz is the only starting pitcher even remotely close to free agency, with most of the young pitching at least a half-decade away from being able to hit the road. The starting pitching is more stable than it's been in years, with Rookie of the Year runner-up Soroka, Foltynewicz, Fried, and Cole Hamels all practically guaranteed to be in the 2020 rotation. That leaves roles for Newcomb, Wright, Wilson, and Toussaint up in the air, but dealing some of their advanced pitching prospects last summer actually makes for a less unwieldy situation than in past years. And with the addition of Will Smith and the return of Chris Martin, the team's bullpen ranks seventh in our depth charts, a tremendous improvement from last winter.
The Donaldson Stratagem didn't go quite according to plan. Donaldson's part did, but Riley's short-term future remains uncertain. After a blazing .356/.397/.746 line with seven homers in his first 15 games in Atlanta, Riley's bat disappeared. Hitting .191/.248/.395 after that initial stretch, Riley lost the left field job in July. When he returned from a minor league assignment, he spent September as a role player rather than as a starter.
One larger question remains: When does team ownership, Liberty Media, go all-out for a huge free agent addition? The Phillies didn't reap as much from their farm system as the Braves did, but that team is determined to make up the difference with their wallets. The Braves have a new stadium, healthy revenue streams, and a strong fanbase, meaning that it can hardly claim penury. If Donaldson doesn't re-sign, there's not much remaining in free agency. If the Braves fall short in what should be a brutal NL East mêlée while being tens of millions below the first luxury tax threshold, there will be some very legitimate questions. Atlanta's 1990s teams were largely homegrown, but Greg Maddux was a giant free agent signing.
ZiPS Projection – Freddie Freeman
While I suspect the Braves would be fine not bidding to the moon to keep Foltynewicz, Freddie Freeman is another story. After all, the team expressly didn't trade him during their extensive rebuild, with the hope that he would still be a top-notch first baseman by the time Atlanta was good again. That gamble paid off handsomely. Would the Braves actually let Freeman go with the team at their peak? I think that's a clear no. The more interesting question is whether they should.
ZiPS Projection – Freddie Freeman
| Year | BA | OBP | SLG | AB | R | H | 2B | 3B | HR | RBI | BB | SO | SB | OPS+ | DR | WAR |
| --- | --- | --- | --- | --- | --- | --- | --- | --- | --- | --- | --- | --- | --- | --- | --- | --- |
| 2020 | .299 | .389 | .545 | 558 | 98 | 167 | 38 | 3 | 31 | 108 | 78 | 123 | 7 | 141 | 3 | 4.6 |
| 2021 | .297 | .389 | .546 | 535 | 92 | 159 | 37 | 3 | 30 | 103 | 75 | 118 | 6 | 141 | 2 | 4.4 |
| 2022 | .292 | .381 | .528 | 517 | 86 | 151 | 35 | 3 | 27 | 95 | 70 | 113 | 6 | 135 | 2 | 3.7 |
| 2023 | .286 | .373 | .503 | 493 | 78 | 141 | 32 | 3 | 23 | 85 | 64 | 104 | 5 | 127 | 2 | 3.0 |
| 2024 | .282 | .365 | .485 | 468 | 70 | 132 | 29 | 3 | 20 | 76 | 57 | 94 | 4 | 120 | 2 | 2.4 |
| 2025 | .277 | .357 | .464 | 440 | 63 | 122 | 25 | 3 | 17 | 68 | 51 | 83 | 4 | 113 | 1 | 1.8 |
| 2026 | .269 | .342 | .425 | 412 | 55 | 111 | 21 | 2 | 13 | 58 | 42 | 71 | 3 | 100 | 0 | 0.8 |
ZiPS says yes, projecting Freeman to hold up as at least an average first baseman for the next six seasons. But it does suggest that the Braves should start to move soon. With two years remaining on Freeman's contract, taking the risk and locking him up now with a handsome four-year extension might prevent the Braves from guaranteeing those late 30s years that never seem to end well for teams that invest in their first basemen. Something along the lines of Paul Goldschmidt's five-year, $130 million extension, at least on an annual basis, strikes me as a reasonable target for both sides.
Dan Szymborski is a senior writer for FanGraphs and the developer of the ZiPS projection system. He was a writer for ESPN.com from 2010-2018, a regular guest on a number of radio shows and podcasts, and a voting BBWAA member. He also maintains a terrible Twitter account at @DSzymborski.