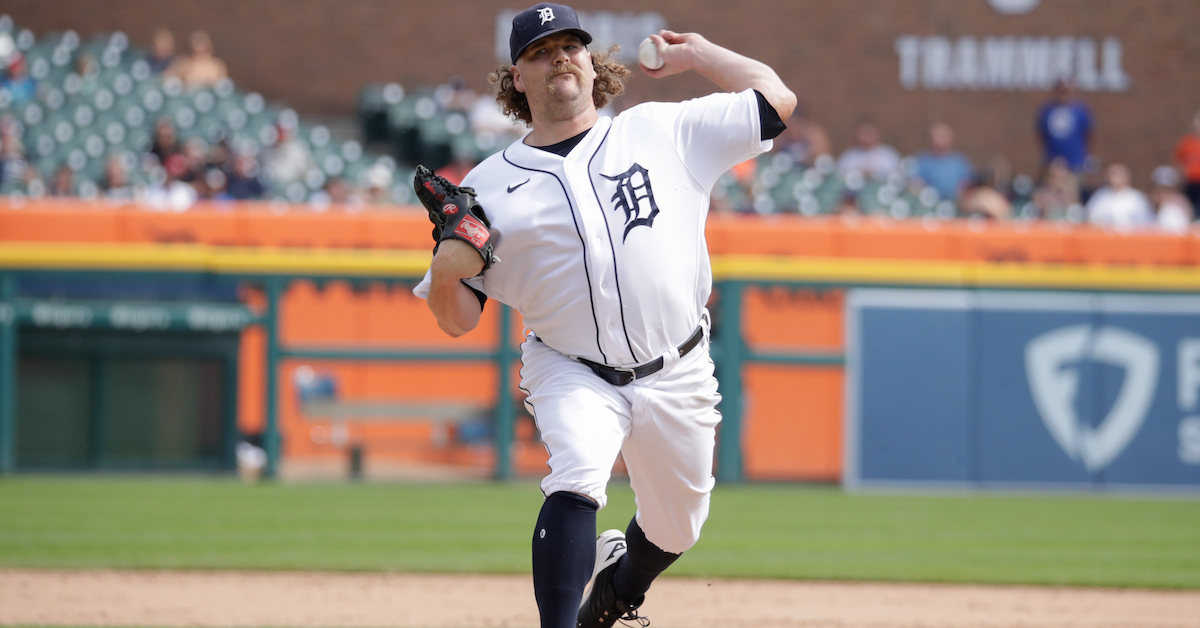 Back in 2020, MLB implemented a number of rule changes, both planned and forced by the pandemic-shortened season. Among them, none had the potential for dramatic change but with little actual effect on the game as the three-batter minimum rule. It was an inelegant solution to an infrequent problem: Subsequent investigation after its implementation has shown that the rule hasn't addressed the pace-of-play issues at the heart of its intended effects.
Where the rule has had an outsized effect is in roster construction. Upon implementation, the value of a certain type of reliever — the Lefty One Out Guy (LOOGY) — was extinguished. Not that there were many LOOGYs left anyway, and the impact they had on games was fairly negligible in the grand scheme of things. This side effect of the rule was foreseen but still unfortunate nonetheless.
While the left-handed specialist has all but disappeared from major league rosters, left-handed relievers in general have felt the effects of this rule change as well. In 2022, southpaw relievers pitched around a quarter of all relief innings, which is right in line with the previous decade of usage. Unsurprisingly, more and more of those outings have come against right-handed batters. In 2013, nearly half of the batters left-handed relievers faced were left-handed as well. Last year, that rate fell to just over a third.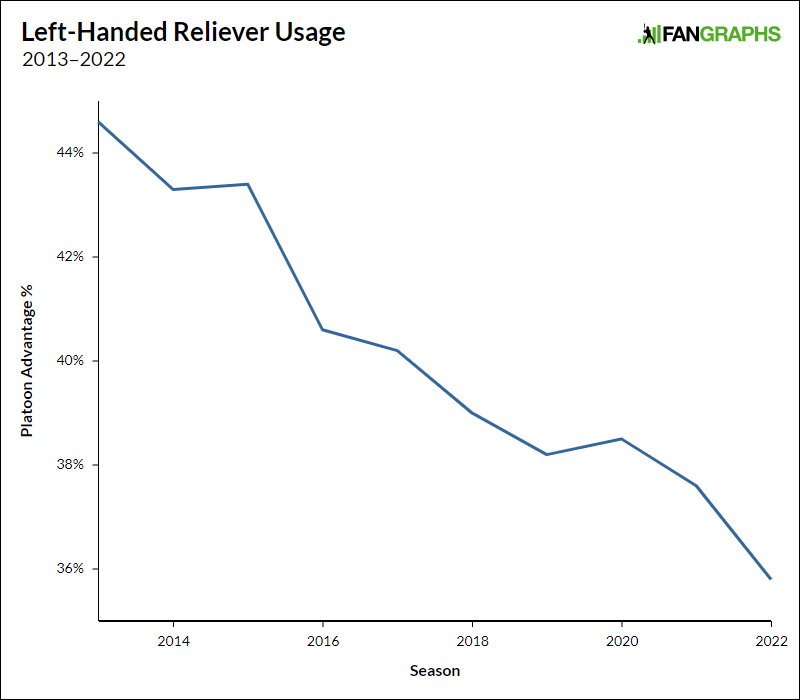 Without the flexibility to utilize relievers in a way that maximizes their platoon advantage, managers have had to rely on left-handed relievers to get right-handed batters out more than ever, and their overall performance has dipped as they've had to reckon with pitching to opposite-handed batters more than ever. Below is a table showing a few key metrics for left-handed relief pitchers, normalized for league-context over the last decade:
Left-Handed Relievers, 2013–22
| Year | ERA- | FIP- | wOBA+ | K%+ | K-BB%+ |
| --- | --- | --- | --- | --- | --- |
| 2013 | 94 | 98 | 99 | 103 | 101 |
| 2014 | 96 | 100 | 101 | 100 | 97 |
| 2015 | 100 | 99 | 100 | 101 | 97 |
| 2016 | 97 | 99 | 100 | 100 | 97 |
| 2017 | 92 | 100 | 99 | 96 | 91 |
| 2018 | 91 | 95 | 99 | 101 | 99 |
| 2019 | 98 | 100 | 101 | 98 | 96 |
| 2020 | 92 | 99 | 98 | 103 | 106 |
| 2021 | 96 | 97 | 99 | 100 | 99 |
| 2022 | 101 | 102 | 101 | 99 | 97 |
In 2022, left-handed relievers performed worse relative to their right-handed compatriots in nearly every significant category. They didn't experience a dramatic dip in strikeout rate or strikeout-minus-walk rate, but their ERA and FIP were at a ten-year high. Even when you isolate their performance when holding the platoon advantage, left-handed relievers performed worse last year than they had since before the three-batter rule was implemented; their league-adjusted ERA against left-handed batters rose 11 points from 2021 to '22, and their FIP- and wOBA- both saw smaller rises as well.
Without the ability to guarantee a run of left-handed batters, teams have had to reconsider the value of rostering a lefty in their bullpen when a potentially more effective right-handed reliever could be available instead. There will always be a place in the game for genuinely effective left-handed relievers, but those with significant platoon issues or a spotty track record are facing a tough future.
This trend has had an impact on the free-agent market this year. Among the 25 left-handed relievers listed on our offseason tracker, just five have signed a major league contract thus far, and only two have been multi-year pacts. Nearly half (12) of those southpaws have yet to sign with a team. This isn't an artifact of a generally slow market either; just four of our top 50 free agents remained unsigned, and it appears that the hot stove has reduced to a simmer just a few weeks ahead of spring training.
The quality of those dozen unsigned left-handed relievers varies, but I thought it would be worth checking on their ability to thrive in this new three-batter frontier. We're looking for pitchers with a small platoon split who have shown that they can get batters out from both sides of the plate. Since relievers accumulate so few appearances during a single season, I'll be using five-year splits alongside their Steamer projections for 2023. I've also included the five lefty relievers who have already signed big league contracts for comparison's sake.
Free-Agent Left-Handed Relievers
Steamer Projections
Of the eight unsigned relievers listed above, most of them have a small or even reverse platoon split over the last half decade. Norris, Smith, and Hand are the outliers — not a huge surprise, considering their reliance on a slider as their primary weapon in their pitch arsenals. That Chafin hasn't signed a contract yet is the biggest surprise. Not only does he possess a reverse split, but he's also projected to post a better ERA and FIP than three of the other left-handed relievers who have already signed this offseason. Moore is another interesting case. He was legitimately fantastic out of the Rangers' bullpen last year, finding MLB success for the first time since 2016. The projections are probably having a tough time deciphering whether that was a late-career breakout or just a single blip in a long career. It should be noted that he did run a 35-point platoon split last year in full-time bullpen work.
Curiously, four of the signed bullpen arms have a significant platoon split and yet thrived in spite of it; their overall performance has been good enough to overcome that flaw. Besides Rogers, who was obviously the best left-handed reliever on the market this offseason, Strahm is the only one who received a multi-year deal — a two-year pact with the Phillies — and the only one to run a reverse split. As Ken Rosenthal tells it, that deal Strahm signed — the sixth-largest total spent on a reliever this offseason – collapsed the market for left-handed relievers.
A number of these unsigned southpaws have long histories of high-leverage work, even if the majority of that work is a few years in the past. Those are exactly the types of veteran relievers that teams like to bring in to compete during spring training, but they have yet to find the right team calling. It's not as though there aren't teams looking for left-handed relievers, either; Rosenthal names ten different clubs with varying degrees of interest in adding a southpaw to their bullpen. I count three teams without a lefty in their projected 'pen on our Roster Resource depth charts: the Astros, Mariners, and Nationals, though only the first two could reasonably be considered players in this market.
Interestingly enough, since 2020, Houston and Washington have used left-handed relievers the least in the majors, comprising just 16% and 13% of their total batters faced during that period, respectively. Seattle is carrying over the majority of their fantastic bullpen from last year, but considering the recent trauma at the hands of Yordan Alvarez, it's a surprise the team didn't add a left-handed reliever this offseason. Among the other teams named in Rosenthal's report, the Yankees, Red Sox, Blue Jays, Cubs, and Cardinals make the most sense as landing spots; each of those five teams is projected to carry a single left-handed reliever in their bullpens.
If Rosenthal is to be believed and the deal that Strahm signed passed on outlandish contract expectations to his peers, then teams are likely waiting on someone to falter and accept what they perceive to be their market value right now. There are too many teams with a need for a decent left-handed reliever that these guys can't stay unsigned for too long. Market dynamics and wider trends within the game are working against them, but it would be genuinely surprising to see all of them go unsigned much longer.
Jake Mailhot is a contributor to FanGraphs. A long-suffering Mariners fan, he also writes about them for Lookout Landing. Follow him on Twitter @jakemailhot.