Since August 1, 2018, the Tampa Bay Rays have compiled the third best record in the majors, winning just over 60% of their games. Their pitching staff has been the stingiest in all of baseball during this period, allowing just 3.5 runs to score per game. Their rotation deserves a ton of credit, as their starting five— and openers —posted a league and park adjusted FIP 24% better than league average. But their bullpen, including their bulk pitchers, has been almost as effective, posting a league and park adjusted FIP 11% better than league average. That's even more impressive when you consider the sheer number of innings their relievers have thrown due to their opener strategy.
Here's a list of relievers who have thrown 20 or more innings for the Rays since the beginning of August last year, with bulk pitchers removed:
Rays Relievers, Aug 2018–June 2019
| Player | IP | K% | BB% | ERA | FIP | gmLI |
| --- | --- | --- | --- | --- | --- | --- |
| José Alvarado | 43 1/3 | 37.9% | 12.4% | 2.70 | 1.91 | 1.70 |
| Emilio Pagán | 29 1/3 | 32.4% | 7.2% | 1.23 | 2.44 | 1.27 |
| Adam Kolarek | 53 | 16.7% | 5.9% | 3.40 | 3.36 | 1.25 |
| Hunter Wood | 31 1/3 | 17.3% | 6.3% | 2.87 | 3.78 | 0.82 |
| Chaz Roe | 38 1/3 | 26.3% | 12.9% | 4.23 | 4.14 | 1.38 |
| Diego Castillo | 48 | 27.7% | 9.7% | 3.38 | 4.26 | 1.49 |
| Serigo Romo | 20 | 28.2% | 4.7% | 5.40 | 4.61 | 1.53 |
(min. 20 IP)
With Sergio Romo off in Miami, José Alvarado and Diego Castillo have been handling most of the high-leverage opportunities this year. But with Castillo sidelined with a shoulder injury and Alvarado still working his way back after spending most of this month in Venezuela to attend to a personal matter, the Rays are suddenly without their two best shutdown relievers.
Enter Emilio Pagán. Cast aside by two West Coast teams over the last two years, Pagán had to earn his way onto the Rays roster. He was optioned to Triple-A to start the year and was yanked up and down a couple of times before finally sticking on the major league roster in late April. All he's done since then is hold opposing teams scoreless in 23 of his 26 appearances. His strikeout-to-walk ratio is a very good 4.5, and his league and park adjusted FIP is 13th in the majors among all relievers.
While he was with the Mariners and the Athletics, Pagán relied heavily on his excellent four-seam fastball. His high-spin heater has a ton of ride and good velocity, and he threw it around two-thirds of the time before this season. He's dropped his usage of his fastball to around half the time this year, but the effectiveness of the pitch has increased. In years past, opposing batters would swing and miss against his fastball around a quarter of the time they offered at it, a good rate but not elite. This year, they're whiffing a third of the time they swing, a mark that sits in the 97th percentile among all four-seam fastballs thrown this year.
A strength and conditioning program during the offseason has helped him boost his average velocity by a full tick, from 94.6 to 95.7 mph. That alone could explain why he's getting more whiffs with the pitch. But he's also locating it more effectively too: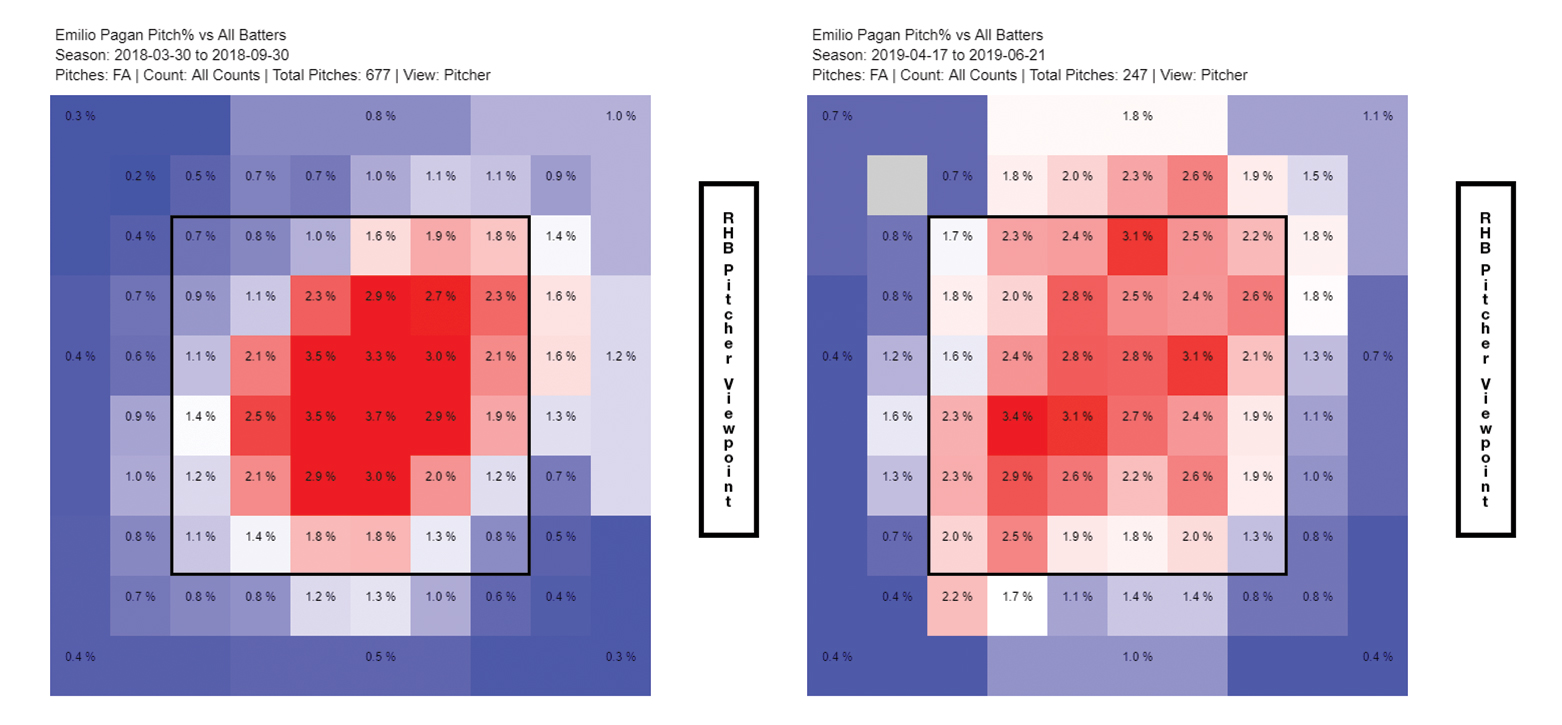 Last year, he was grooving a few too many fastballs and he paid the price in home runs allowed. This year, he's elevating his fastball more often and batters just can't barrel it up anymore. When a batter makes contact with his heater this year, the expected wOBA is just .243, a 113 point improvement over last year and the second best mark in the majors.
Pagán has also added velocity to his slider, going from 85.8 to 88.1 mph. But besides the added velocity, it appears as though the pitch has been slightly redesigned:
Emilio Pagán, slider
| Year | Velocity | Spin Rate | V Move | H Move |
| --- | --- | --- | --- | --- |
| 2018 | 85.77 | 2431 | 0.6 | 2.86 |
| 2019 | 88.07 | 2377 | 1.64 | 2.04 |
| Change | 2.3 | -54 | -1.04 | -0.82 |
SOURCE: Brooks Baseball, Baseball Savant
Even though he's throwing it with more oomph, he's throwing it with a little less spin than before. We know there's a positive relationship between spin and velocity, so we'd expect to see a higher spin rate on his slider after adding more than two ticks to its average velocity. Instead we see the opposite along with a corresponding change in vertical movement. That tells me his slider is a little less spin efficient (which might be a good thing for sliders).
What's more important than the minutiae of pitch design are the results he's generating with his slider. His whiff rate is still impressive at 33% but he's inducing much more contact on the ground with his new slider despite less vertical movement. Because he's throwing his slider more often this season, he's actually moved his overall groundball rate from well below average to right around league average. Perhaps all those additional groundballs are a result of him locating his slider lower in the zone: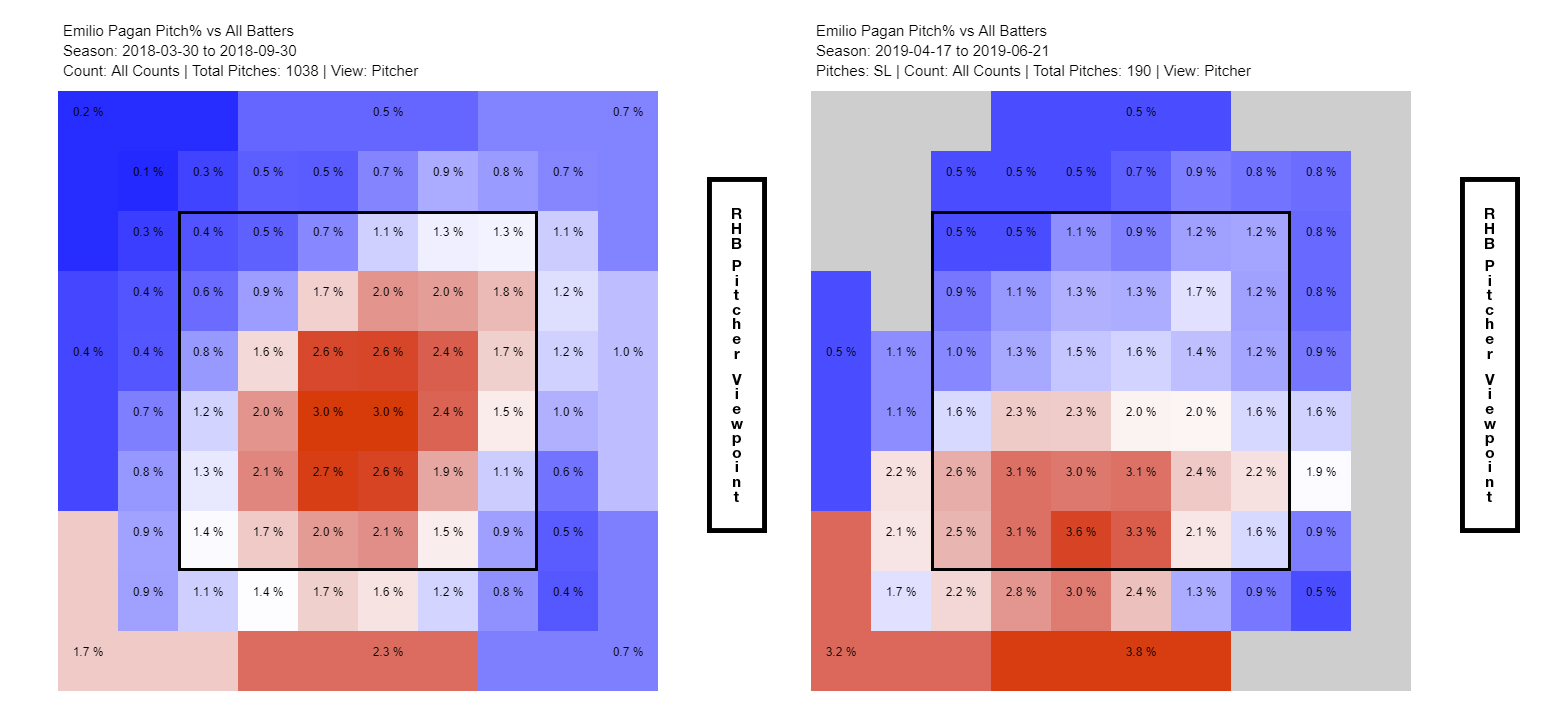 Pagán was decimated by the home run last year; since joining the Rays, he's allowed just two. All of the adjustments he's made to his pitch selection and his pitch location seem like they're geared towards trying to avoid the long ball. Batters already had a tough time simply making contact against him, but now when they do, it's mostly weak contact. That's helped him become one of the best relievers in the majors this season.
José Alvarado should be returning from his long absence soon. When he does, he'll likely slot into the back of the Rays bullpen. But Diego Castillo's shoulder injury doesn't have a diagnosis or a projected timetable for recovery. The Rays have always been flexible with their reliever usage. Pagán's improvements this year have given them another elite option to use in high-leverage situations.
Jake Mailhot is a contributor to FanGraphs. A long-suffering Mariners fan, he also writes about them for Lookout Landing. Follow him on Twitter @jakemailhot.