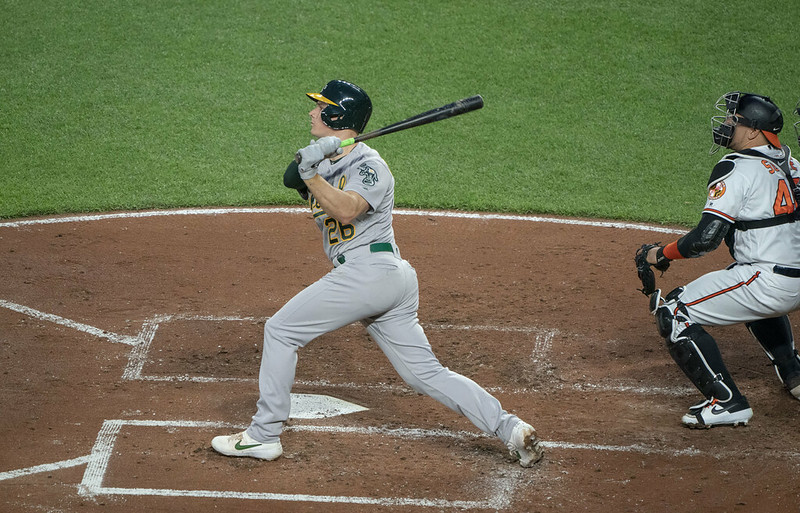 "Don't let yesterday use up too much of today." – Will Rogers
The successes of the Moneyball era sowed the seeds of Oakland's later struggles. While the modernization of baseball's front office structure was an inevitable process, the success of the Moneyball A's and the fame that resulted from their efforts likely sped up this evolution. How many movies about a company's improvement in personnel management get made into a film starring Brad Pitt?
But as more franchises cast off the shackles of baseball beliefs from the 1940s, the A's quickly found themselves less able to easily leverage knowledge as a considerable advantage over other teams. I tend to believe that teams' overwrought claims about the Dickensian workhouse state of their finances are unadulterated nonsense, but I don't think it's controversial to say that the A's are one of the poorer organizations in the league. Adding plodding, OBP-heavy Ken Phelps All-Stars and grabbing pitching prospects on the cheap was never going to be a sustainable strategy long-term in a world where the Yankees and Dodgers are rich and smart.
Instead, the A's have been forced to reinvent their win conditions repeatedly. In their latest iteration, the team has relied on churning out defensive superstars, whether by drafting them (Matt Chapman), helping them improve (Marcus Semien), or by finding under-appreciated defensive talent just as they once drooled over walks (Ramón Laureano).
The Setup
The Beane-led A's never looked bleaker than after the 2016 season. While the organization always had fallow years between their 90-win bursts, 2015-2016 were the first years of the 21st century in which they failed to win 70 games. It was even more humiliating coming off of a 2014 season during which the team collapsed after the trade deadline, going 22-33 in August and September and just barely surviving, only to lose to the Royals in the Wild Card game.
By the end of 2016, only Sonny Gray remained of the A's last successful core. The 2017 season saw the team trade Gray and struggle defensively. By DRS, the 2017 Athletics ranked 27th; by UZR, they were dead-last. 2018 was a completely different story, with the A's adding 72 defensive runs by UZR, 109 runs by DRS. Placing emphasis on defensive data was nothing new for Oakland, but this level of success was, with five key players mainly driving the improvement.
Matt Chapman was always expected to be an elite defensive third baseman, so it's hard to call this a data success per se, but rudimentary minor league data suggested his glowing scouting report was warranted. ZiPS uses a coordinate-based system to estimate minor league defense using Gameday (trajectory, location, hit description), which I informally call ZDEF. This is obviously not going to be as useful as UZR or DRS are for major leaguers, but it does give us a data-based opinion in large sample sizes. From 2014-2017, Chapman led minor league third basemen in ZDEF at +16 runs per 150 games, peaking at +22 runs in 2016 across Double-A Midland and Triple-A Nashville. It was a definite outlier; because of the quality of the data, ZDEF has relatively low magnitudes, and only two other third basemen (Matt Dominguez in 2016 and Ke'Bryan Hayes in 2017) had seasons of +10. Suffice it to say, Chapman performed as advertised.
Blocked in Houston, Ramón Laureano was picked up after the 2017 season for Brandon Bailey. A .227/.298/.369 line for Double-A Corpus Christi meant his bat wasn't ready yet, but ZDEF pegged his defense as more than capable at four runs a year better than average in center field, with three of those coming from his throwing arm. Similarly, Matt Olson projected as an above-average first baseman in the minors. Among the returners, Khris Davis saw less time in the field, where he played about as you'd expected from a slugger nicknamed "Khrush."
The last improvement was from shortstop Marcus Semien. Error-prone as a prospect and a young major leaguer, the White Sox had practically given up on using him at short. Acquired in the Jeff Samardzija trade, the A's took a different tack. Through a lot of hard work and the guidance of Ron Washington, Semien accomplished the rare feat of going from being a lousy defender to a very good one in his late 20s.
Winning 97 games in 2018 didn't change the team's basic thriftiness, but Oakland did make quiet moves to take advantage of this strength. Jurickson Profar was acquired as Jed Lowrie's successor at second, with the team hopeful that he would be less stretched than at short. The A's had reunions with Mike Fiers and Brett Anderson, both pitchers who allow a lot of balls to be put in play, and picked up Marco Estrada as a reclamation project for similar reasons. Most of the offense was unchanged from 2018, with the exceptions of adding Profar and Robbie Grossman, and increasing Josh Phegley's playing time.
The Projection
Coming into 2019, the ZiPS projections saw the A's as a 86-76 team, enough wins to place them as the second Wild Card spot and a coin-flip to make the playoffs. ZiPS was also confident about the team's starting lineup, forecasting eight players to pass the two-win mark, with Chapman leading the team in wins and projecting as the third-best third baseman in the American League (behind Jose Ramirez and Alex Bregman). Where ZiPS had concerns was in the rotation; the two pitchers with the best projection either weren't going to start the season in the majors (Jesus Luzardo) or were going to miss significant time due to a torn labrum (Sean Manaea).
The Results
In terms of final results, 2019 looked a lot like 2018. The team again won 97 games, again fell short in the division, again earned a Wild Card spot, and again was knocked out of the playoffs with a single loss. While their [stuff] may not work in the playoffs, it's hard to get there if your [stuff] doesn't work in the regular season.
History may rhyme, but it doesn't repeat. Oakland had to endure two surprising dropoffs from big 2018 stars. In a year that saw home runs explode, the juicyball ought to have been a perfect fit for Khris Davis. But after krushing 48 homers in 2018, his third consecutive 40-homer season, Davis had the worst season of his career, and his .220/.293/.387 line can't even be blamed on a funky BABIP. Meanwhile, Blake Treinen suffered from lapses in control and allowed more runs by the end of May than he did in all of 2018.
Fortunately for the A's, they were able to make up for these disappointments elsewhere. Semien became a fastball-crushing machine and finished third in AL MVP balloting. Olson, like Semien, simultaneously increased his zone-swing percentage while decreasing his out-of-zone swings. Mark Canha and Laureano both had legitimate star-level seasons. Profar disappointed but not enough to prevent the A's from ranking fifth in baseball in position player WAR.
Frankie Montas was suspended after testing positive for a performance-enhancing substance but rode his splitter to 3 WAR in just 16 starts. And Liam Hendricks seamlessly replaced Treinen's missing performance, adding two ticks on his fastball from 2018 and striking out 37% of batters he faced. The team even got a full, healthy season from Brett Anderson, which might be the biggest miracle of all.
Oakland's odd habit of struggling for a long stretch and then suddenly destroying the league as the summer progressed persisted. After 45 games, the A's were 20-25 and in last place in the AL West. Over the rest of the season, they went 77-40, tied with the Dodgers for the second-best record in baseball. Unfortunately, the leader was the Houston Astros, who coasted to the division title.
What Comes Next?
The 2020 A's will look very similar to this year's team. Of the full-season contributors, only Brett Anderson is a free agent. Manaea struggled in the Wild Card game, but was generally sharp in his injury return, and will pair nicely at the top of the rotation with Montas and Jesus Luzardo. I can see Oakland making a low-key starter signing, but I think it's more likely they target a budget-friendly reliever or two. An outfield upgrade would be nice, but it's hard to see where a free agent would fit with as long as Stephen Piscotty is on the roster. Prospect Sean Murphy looks to push Josh Phegley at catcher, one of the team's other remaining weaknesses.
Longer-term, it's hard to see Oakland being financially aggressive and behaving like, say, the Chicago White Sox have, in (unsuccessfully) pursuing Manny Machado and then signing Yasmani Grandal. The big question will be what happens when they eventually get their new ballpark. The A's have used their admittedly poor stadium situation as an excuse not to spend money for decades; will they actually spend more when they do get their new park? That's a question we won't be able to answer for years.
The Absitively, Posilutely, Way-Too-Early ZiPS Projection – Marcus Semien
Can Semien do it again? There are a lot of good signs. The bump from batting averages of .249 and .255 to 2019's .285 was done the hard way, with Semien dropping nearly a third off his strikeout rate. His .294 BABIP was actually slightly worse than his .296 in 2018, suggesting that there's substance to his gains. And while his xSLG was "only" .495 (ZiPS had his 2019 at a .488) instead of his actual mark of .522, with his legitimately excellent defense and improved approach at the plate, he's a star slugging .450, and ZiPS projects he'll slug better than .450.
ZiPS Projection – Marcus Semien
| Year | BA | OBP | SLG | AB | R | H | 2B | 3B | HR | RBI | BB | SO | SB | OPS+ | DR | WAR |
| --- | --- | --- | --- | --- | --- | --- | --- | --- | --- | --- | --- | --- | --- | --- | --- | --- |
| 2020 | .272 | .345 | .478 | 607 | 96 | 165 | 36 | 4 | 27 | 81 | 69 | 109 | 11 | 121 | 5 | 5.0 |
| 2021 | .271 | .343 | .482 | 575 | 91 | 156 | 35 | 4 | 26 | 78 | 64 | 100 | 11 | 122 | 4 | 4.7 |
| 2022 | .268 | .341 | .477 | 556 | 86 | 149 | 33 | 4 | 25 | 74 | 62 | 96 | 10 | 120 | 4 | 4.3 |
| 2023 | .265 | .336 | .462 | 533 | 79 | 141 | 31 | 4 | 22 | 68 | 58 | 91 | 9 | 115 | 3 | 3.6 |
| 2024 | .261 | .330 | .447 | 510 | 73 | 133 | 27 | 4 | 20 | 62 | 53 | 82 | 8 | 109 | 2 | 3.0 |
The trouble on Oakland's horizon is that Semien is unsigned past the 2020 season. Even at age 30 for 2021, Semien's going to make a lot of money in free agency if he comes anywhere near his projected 2020 numbers. With a new stadium looming, inking Semien to an extension would be a sweet investment in the future of the franchise, and would show fans that while the team will never be the Dodgers or Yankees, ownership will put more of their financial skin in the game. I remain pessimistic, simply because nobody's ever gone broke betting on major league owners being misers.
Also, can we please bring back the sweet yellow jerseys?
Dan Szymborski is a senior writer for FanGraphs and the developer of the ZiPS projection system. He was a writer for ESPN.com from 2010-2018, a regular guest on a number of radio shows and podcasts, and a voting BBWAA member. He also maintains a terrible Twitter account at @DSzymborski.