The following article is part of Jay Jaffe's ongoing look at the candidates on the BBWAA 2020 Hall of Fame ballot. Originally written for the 2019 election, it has been updated to reflect recent voting results as well as additional research. For a detailed introduction to this year's ballot, and other candidates in the series, use the tool above; an introduction to JAWS can be found here. For a tentative schedule and a chance to fill out a Hall of Fame ballot for our crowdsourcing project, see here. All WAR figures refer to the Baseball-Reference version unless otherwise indicated.
Baseball at high altitude is weird. The air is less dense, so pitched balls break less and batted balls carry farther — conditions that greatly favor the hitters. Meanwhile, reduced oxygen levels make breathing harder, physical exertion more costly, and recovery times longer. Ever since major league baseball arrived in Colorado in 1993, no player put up with more of this, the pros and cons of playing at a mile-high elevation, than Todd Helton.
A Knoxville native whose career path initially led to the gridiron, ahead of Peyton Manning on the University of Tennessee quarterback depth chart, Helton shifted his emphasis back to baseball in college and spent his entire 17-year career (1997-2013) playing for the Rockies. "The Toddfather" was without a doubt the greatest player in franchise history, its leader in every major offensive counting stat category save for triples, stolen bases, caught stealing, and sacrifice hits, none of which were major parts of his game. He made five All-Star teams, won three Gold Gloves, a slash line triple crown — leading in batting average, on-base percentage, and slugging percentage in the same season — and served as a starter and a team leader for two playoff teams, including Colorado's only pennant winner. He posted batting averages above .300 12 times, on-base percentages above .400 nine times, and slugging percentages above .500 eight times. He mashed 40 doubles or more seven times and 30 homers or more six times; twice, he topped 400 total bases, a feat that only one other player (Sammy Sosa) has repeated in the post-1960 expansion era. He drew at least 100 walks in a season five times, yet only struck out 100 times or more once; nine times, he walked more than he struck out.
Because Helton did all of this while spending half of his time at Coors Field, many dismiss his accomplishments without second thought. That he did so with as little self-promotion as possible — and scarcely more exposure — while toiling for a team that had the majors' sixth-worst record during his tenure makes such dismissal that much easier, and as does the drop-off at the tail end of his career, when injuries, most notably chronic back woes, had sapped his power. He was "The Greatest Player Nobody Knows," as the New York Times called him in 2000, a year when he flirted with a .400 batting average into September.
Thanks to Helton's staying power, and to advanced statistics that adjust for the high-offense environment in a particularly high-scoring period in baseball history, we can more clearly see that he ranked among his era's best players — and has credentials that wouldn't be out of place in Cooperstown. But to an even greater extent than former teammate Larry Walker, a more complete player who spent just 59% of his career with the Rockies, Helton's candidacy is off to a slow start. He received just 16.5% of the vote in his first year, 3.8% less than Walker did in his 2011 debut. Hopefully, he can benefit from a less crowded ballot than Walker faced for much of his candidacy, but he's a long ways from Cooperstown right now.
Born in Knoxville, Tennessee on August 20, 1973, Helton is the son of former minor league catcher Jerry Helton, who spent 1968-69 in the Twins' organization but retired to work as a chemical salesman and support his family. When Todd was five, Jerry built a tee from a washing machine hose and instructed his son how to hit in the family's garage, modeling Rod Carew's opposite-field approach; if Todd pulled the ball, he hit a fiberglass fishing boat parked in the corner.
Helton quickly became known for his baseball prowess, earning the nickname "The Blond Bomber." By the time he reached Knoxville's Central High School, he was a multi-sport star, starting at quarterback and defensive back for the varsity football team as a freshman and soon joining the varsity baseball team, playing the outfield, first base, and pitching. As a senior, he was the Player of the Year for his region in both football and baseball; on the gridiron he passed for 22 touchdowns, scored 11 more, produced 2,455 yards of total offense, and intercepted seven passes, while on the diamond he hit .655 with 12 homers.
The Padres drafted Helton in the second round of the 1992 draft, offering a $450,000 bonus, but he instead chose to accept a football scholarship to the University of Tennessee. After serving as backup to future NFL quarterback Heath Shuler as a freshman and sophomore in 1992 and '93, he took over for the injured Jerry Colquitt when the latter tore knee ligaments in the first drive of the opening game in 1994. Though he rallied the Volunteers to three fourth-quarter touchdowns, they lost 25-23, and he suffered his own knee injury in the season's fourth game, opening the door for freshman Peyton Manning.
Meanwhile, Helton was a walk-on on the baseball team, playing first base and pitching (coach Rod Delmonico called him "the best pitcher I ever coached"). In his junior year (1995), he won the Dick Howser Trophy, given to the national college player of the year. The Rockies chose him with the eighth pick in that year's draft — another football player, Nebraska punter Darin Erstad, was picked first — and signed him for a bonus of $892,000.
Helton began his pro career at A-level Asheville but hit just .254/.339/.333 with one homer in 54 games. Even so, Baseball America ranked him 32nd on their Top 100 Prospects list the next spring. Ditching a pull-happy style that didn't suit him, he improved to .336/.427/.492 with nine homers split between the Rockies' Double-A New Haven and Triple-A Colorado Springs affiliates, rising to 16th on BA's list. After a sizzling .352/.434/.564 with 16 homers in 99 games at Triple-A, he joined the Rockies, debuting on August 2, 1997 — as a left fielder, since first base was occupied by the popular and productive Andres Galarraga — by going 2-for-4 against the Pirates, with a single off Francisco Cordova and a homer off Marc Wilkins. He went 2-for-4 with a homer off Jon Lieber, the next day, and collected a total of seven hits over his first four games. Spending most of his time in the outfield corners, he finished at .280/.337/.484 with five homers in 101 PA, few enough to retain his rookie eligibility.
Though Galarraga had earned All-Star honors with 41 homers and a league-high 140 RBI in 1997, the Rockies let the 36-year-old Big Cat depart as a free agent to make room for the 24-year-old Helton. While he doubled twice on Opening Day, he didn't hit his first homer of the season until May 5, but settled in respectably, hitting .315/.380/.530 with 25 homers, a 119 OPS+, excellent defense (+9 runs according to Total Zone) and 3.2 WAR. In a tight NL Rookie of the Year race, he received 15 first-place votes, but Cubs starter Kerry Wood, the 21-year-old phenom who had dazzled with a 20-strikeout performance on May 6 and finished the year with 233 strikeouts, received 16 votes and won.
In the spring of 1999, the Rockies underscored their commitment to Helton with a four-year, $12 million extension. He responded by launching 35 homers, though the across-the-board improvements in his batting line (.320/.395/.587) amounted to just a three-point gain in OPS+, as NL scoring rose from 4.60 runs per game to 5.00. Meanwhile, his defense dipped to average, and his WAR to 2.9. Not thrilling, but nice.
The thrills came in 2000. Helton opened the year with a 10-game hitting streak, kicked off May 10 with the first of two career three-homer games, and finished the month hitting .512/.588/1.000 with 11 homers in 102 PA.
He made his first All-Star team, and after putting up similarly video game-like numbers in August (.476/.548/.848), Helton carried an overall .395/.484/.717 line into September, with more plate appearances (570) than George Brett had in 1980 (515), the year he finished at .390 after being above .400 as late as September 4. The national media took notice of Helton's run at the magical mark; in Sports Illustrated, Rockies manager Buddy Bell and hitting coach Clint Hurdle both compared Helton to Brett, with the former saying, "Their passion, their work ethic and their respect for the history of the game are similar."
Hurdle, a former teammate of Brett's who would manage Helton from mid-2002 to mid-'09, made a similar comparison, but Helton, in typical fashion, rejected the notion. From the New York Times' Ira Berkow:
"It is such a flat-out sweet swing," Hurdle said. "I'm reminded of Don Mattingly or George Brett."

Helton said he knew people were impressed with the grace of his swing. "But I don't see it," he said. "I watch films and think: 'That could be better. It wasn't as pretty as it felt.' And I watch films of Brett, and think, 'Now that's a beautiful swing.'"
Helton hit "just" .274/.370/.613 for September, but did bash seven homers in his final 11 games to finish with 42. His .372/.463/.698 line gave him the slash-stat triple crown, just as Walker had done the year before with a .379/.458/.710 line. In Colorado's high-scoring environment, his 163 OPS+ was merely third in the league behind Barry Bonds (188) and Gary Sheffield (176), but his 8.9 WAR was tops, as were his 216 hits, 59 doubles, 405 total bases, and 147 RBIs.
Nonetheless, voters completely discounted his season, in part due to the Rockies' absence from the postseason picture (though their 82 wins marked their only time above .500 from 1997-2006) and in part due to the Coors factor. Helton finished fifth in the NL MVP race behind Jeff Kent, Bonds, Mike Piazza, and Jim Edmonds. As was perennially the case, Helton did hit better at home (.391/.484/.758), but his road numbers (.353/.441/.633) would have placed second (by two points, behind Moises Alou), first, and sixth, respectively — still a monster season.
In March 2001, the Rockies signed Helton to a nine-year, $141.5 million extension — the fourth-largest in major league history to that point, after those of Alex Rodriguez, Derek Jeter, and Manny Ramirez — covering the 2003-11 seasons. Helton's contract surpassed that of new teammate Mike Hampton, whom the team had signed to an eight-year, $121 million deal; that same winter, the team signed Denny Neagle to a five-year, $51 million deal. Fortunately for the Rockies, Helton's contract turned out a whole lot better than either of the two lefties' did, but those are horror stories for another day.
Helton's raw slash stats fell off in 2001 (.336/.432/.685), but with the league scoring rate dropping from 5.00 runs per game to 4.70, his 160 OPS+ was nearly on par with the previous year, though still only good for seventh in the NL. He finished second in batting average, fourth in OBP and homers (49, a career high, but miles behind Bonds' 73), and fifth in WAR (7.8). Not only did he make the All-Star team again, he won his first Gold Glove. He continued to produce at a similar level over the next three seasons, hitting a combined .345/.452/.609 for a 159 OPS+ while averaging 32 homers, 194 hits, 112 walks and 6.9 WAR. He placed in the top five in OBP in all three years (second in both 2003 and '04) and in OPS+ twice in that span, and in the top 10 in WAR, with a high of fifth in 2004, with 8.3. He made three more All-Star teams, running his streak to five in a row, and won Gold Gloves in the bookend years. Helton's 37.5 WAR for the five-year period from 2000-04 ranked third in the majors, behind only Bonds (51.2) and Rodriguez (43.5). Yet the Rockies continued to go nowhere. Their 94 losses in 2004 marked their highest total since their inaugural season in 1993. Late that season, they traded away Walker, who had missed 11 weeks due to a groin strain.
Though he led the NL with a .445 on-base percentage, the 31-year-old Helton's performance took its first downward turn in 2005. He began the season in a funk, and in June conceded, "I've changed my stance 42 times in 42 games. I haven't allowed myself time to see the baseball." Just as he was heating up in July, a left calf stain sent him to the disabled list for the first time, ending his streak of seven straight seasons with at least 152 games played (he averaged 157 for the 1998-2004 span). He hit just 20 homers, though between his 144 OPS+ and 4.6 WAR (tied for 14th in the league), it was still a very respectable season. For him, at least; the Rockies lost 95 games and had just one other regular with an OPS+ above 100.
A bout of acute terminal ileitis, a painful inflammation of the small intestine, sent Helton to the DL in April 2006, and his production slipped to the lowest levels of his career to that point (15 HR, 118 OPS+, 2.3 WAR), though the Rockies did improve to 76 wins. The nucleus of a much better team was coming together, as productive regulars such as left fielder Matt Holliday, right fielder Brad Hawpe, and third baseman Garrett Atkins helped boost the offense, while homegrown starters Aaron Cook, Jason Jennings, and Jeff Francis showed it was possible to prevent runs at altitude. In late 2006, shortstop Troy Tulowitzki, the team's first-round pick just a year earlier, arrived and added another dynamic bat to the mix, as well as an excellent glove.
Though he only homered once, Helton hit .384/.518/.500 in April 2007, walking 25 times while striking out just five. He couldn't maintain that clip, but he did hit .320/.434/.494 with 17 homers, a 133 OPS+ and 4.5 WAR. The Rockies, who hadn't finished above fourth place in the NL West since Helton's cup-of-coffee 1997 season, were in fourth well into September. They were 76-72 on September 16, four and a half games back in the Wild Card, when Helton hit his 300th home run of his career, off the Marlins' Mauro Zarate as part of a 13-0 rout. After a sweep of the Dodgers in a doubleheader two days later, capped by Helton's walk-off homer off Takashi Saito, the two teams were tied for third. The Rockies eventually stretched their winning streak to 11 in a row and 13 of 14, pushing them to 89-73 after 162 games, tied with the Padres for the Wild Card.
In the Game 163 tiebreaker, played in Colorado, Helton drove in two early runs with a sacrifice fly and a solo homer, both off of Jake Peavy, but the game ultimately went into extra innings. Scott Hairston's two-run homer in the top of the 13th pushed the Rockies to the brink, but they rallied against Trevor Hoffman with three straight extra-base hits, tying the score. After Helton was intentionally walked, Jamey Carroll's sacrifice fly brought home Holliday with the winning run, albeit on a play that's still disputed.
With the Rockies back in the playoffs for the first time since 1995, Helton got his first taste of postseason baseball. He went just 4-for-26 in the Division and League Championship Series against the Phillies and Diamondbacks, respectively, but the Rockies swept both. Helton made the final out of the NLCS via a throw from Tulowitzki on an Eric Byrnes grounder, thrusting his hands skyward for an iconic photo that symbolized the franchise's 14-year wait for a shot at the World Series.
While Helton went 5-for-15 with a pair of doubles in the World Series against the Red Sox, the series was nasty, brutish and short; the Rockies were swept in four games, outscored 29-10.
Helton's 2008 was all too brief as well. Having dealt with chronic back problems since 2002, he began experiencing leg problems as well and was hitting just .266/.393/.391 with seven homers in 81 games when he was diagnosed with a degenerative disc in early July. Activated in September, he made just two pinch-hitting appearances, then underwent surgery at month's end. Healthy enough to play 151 games the next year, he returned to form (.325/.416/.489, 127 OPS+) while helping the 92-70 Rockies to another Wild Card berth, but went just 3-for-16 in a Division Series loss to the Phillies.
In the spring of 2010, Helton and the Rockies reworked the tail end of his mega-contract (which included a $23 million club option and $4.6 million buyout for 2012) into a guaranteed deal running through 2013, with over $13 million deferred. His final four years weren't much to write home about. While he hit for a 117 OPS+ and 2.2 WAR in 2011, he totaled -0.1 WAR in the other three seasons, and managed just a 97 OPS+ for the four-year period. He made annual trips to the DL over that span, the most notable of which came in 2012, when he underwent season-ending surgery to repair the labrum in his right hip, followed by a left knee meniscus repair.
On September 1, 2013, with the Rockies hosting the Reds, Helton doubled down the left field line off reliever Curtis Partch for career hit number 2,500, the last major milestone of his career. Play stopped while the Coors Field crowd of 30,594 gave the 40-year-old first baseman a lengthy, rousing ovation. Two weeks later, just before the Rockies' final homestand, Helton confirmed his plans to retire at season's end. He hit .342/.350/.658 with a pair of homers over his final nine games at Coors, the second of them — along with the 592nd double of his career — coming off Peavy, then of the Red Sox, in his final start.
…
Helton's final years were not very productive, but they did pad out his career stats to produce totals that aren't out of place in a Hall of Fame discussion. No, he wasn't a 500-homer slugger, but that's true of 15 out of 21 first basemen already in the Hall, even if two of the three most recent inductees at the position, Frank Thomas (2014) and Jim Thome (2018), were. Likewise for the 3,000 hit plateau, which just two of the 21 enshrined first basemen have reached (three if you're counting Rod Carew, who for the purposes of JAWS is considered a second baseman). Indeed, Helton's totals of 369 homers and 2,519 hits are both above the median among Hall first basemen.
From a rate-stat standpoint, Helton was a perennial presence on the leaderboards, with seven top-five finishes in batting average and eight in on-base percentage; in addition to leading the league in both in 2000, he was runner-up in each category three times and had two other top-10 finishes. Slugging percentage-wise, he had four top-five finishes and two more in the top 10. Overall, he's one of just 19 hitters with at least a .300 batting average, .400 on-base percentage, and .500 slugging percentage in at least 7,000 career plate appearances; Thomas, Dan Brouthers, Jimmie Foxx, Lou Gehrig, and Joey Votto, who reached the PA threshold in 2019, are the others among first basemen.
Of course, one can't get too deep into such comparisons without acknowledging the impact of Helton's ballpark and the era in which he played. For his career, Helton hit .345/.441/.607 with 227 homers in 4,841 PA at Coors Field, and .287/.386/.469 with 142 homers in 4,612 PA on the road. His home OPS of 1.048 is the sixth-highest among players with at least 3,500 PA in such a context:
Twenty-two of the top 30 players in home OPS are in the Hall of Fame. The rest are either outside due to their links to performance-enhancing drugs (Bonds, Ramirez, and McGwire), aren't yet eligible (Cabrera, Ortiz, and Holliday), or spent the majority of their careers with the Rockies (Helton and Walker). It's almost as though taking advantage of one's home park is a key element towards reaching Cooperstown.
As noted within my Walker profile, Helton also has the fifth-largest gap between his home OPS and road OPS:
Seven of the top 10 players there are Hall of Famers, but outside that, the list isn't as saturated with such players as the first one; many denizens of Coors Field, Fenway Park, or Wrigley Field dot the list. The problem for Helton is that we now have tools to put this stuff into context, where voters of the past lacked them, hence the disproportionate extent to which players from the high-offense 1920s and '30s are enshrined (thanks in part to the Frankie Frisch/Bill Terry Veterans Committees).
By OPS+, Helton doesn't stand out quite as much. For example, he had five top-10 appearances in OPS+ (three of them in the top five), and his career mark of 133 is excellent, but not world-beating. He trails 14 of the 21 enshrined first basemen and is tied with another (Orlando Cepeda) and ranks last among the aforementioned 19 .300/.400/.500 hitters, eight points behind the two players tied for 17th, Walker and Chipper Jones.
If that's the bad news, the good news is that Helton's longevity was worth something in this context, even given his end-of-career struggles. His 424 batting runs, the primary offensive component of WAR, is 14th among all first basemen, only nine of whom are enshrined. He's 33 runs better than no-doubt Hall of Famer Eddie Murray, for example, and 24 runs better than Fred McGriff, whose eligibility on the writers' ballot expired last year. He'd rank even higher had his final four years amounted to more than a combined -6 batting runs, but them's the breaks.
By the other components of WAR, Helton was 14 runs below average in baserunning and 11 below average in double play avoidance, but 72 above average with the glove, confirming his reputation as a strong fielder. In fact, he's 11th all-time there, with Roger Connor and Bill Terry the only Hall of Famers higher.
With all facets of his game taken together, Helton's 61.2 career WAR ranks 17th among first basemen, 5.6 WAR below the standard, and below 12 of the 21 enshrined including Bagwell, Thome, and Thomas, whose careers overlapped with his. At the heart of that total is an impressive 12-year run, from 1998-2009, where his 59.2 WAR ranked sixth in the majors behind A-Rod (90.9), Pujols (73.8, starting in 2001), Jones (64.5), Scott Rolen (59.7), and Derek Jeter (59.6) — all Hall-caliber talents, even if not all of them will be elected. Just below him are plenty of others in that category including Bobby Abreu, Carlos Beltrán, Andruw Jones, Manny Ramirez, Vlad Guerrero, and Ichiro Suzuki (with the late start in 2001). That's impressive company.
Helton's seven-year peak WAR of 46.5 is more robust than his career mark, 10th at the position and 3.8 wins above the standard; of the nine players above him, only Bagwell and Pujols were contemporaries, with the latter the only one from that top 10 outside the Hall. In terms of JAWS, Helton's 53.9 is tied for 14th with Murray, 0.9 below the standard and smack dab in the middle of the other 20 enshrinees.
JAWS isn't intended to give a binary yes/no, end-of-discussion answer to the question of enshrinement, where above it you're in, below it you're out. Being within one point of the standard, among the top 15 at the position overall and — most notable as far as I'm concerned — in the top 10 in terms of peak makes Helton a reasonable choice for Cooperstown. Yes, his raw stats were propped up by Coors Field, inflating his Hall of Fame Monitor score to 175, but the adjustments for park and league, and the inclusion of his defensive prowess, tells us he was more than just a mile-high mirage.
Even so, Helton is hardly a slam dunk. Last year, I voiced my expectation that voters might see him as a borderline pick, somebody to be considered for the last spot on the ballot but not a must-vote, and conceded that my own preliminary triage put him there, too, as I had more than 10 candidates under consideration for 10 spots on my virtual ballot. In that respect, his case is not unlike that of Andruw Jones, who ranks 11th among center fielders, 3.2 points below the JAWS standard but 2.1 above the peak standard, with a brilliant 11-year run (1997-2007) followed by a rough denouement. Thus far, he's gotten in the 7-8% range twice, just under half of Helton's first-year support. As it was, I had to get creative to fit Helton onto my virtual ballot, but I think he'll be an easier call this time around given a less crowded field. He did reasonably well among voters who reported (via Ryan Thibodaux's indispensable Ballot Tracker) that they would have included him on their 2019 ballots if given the space, which portends at least some growth: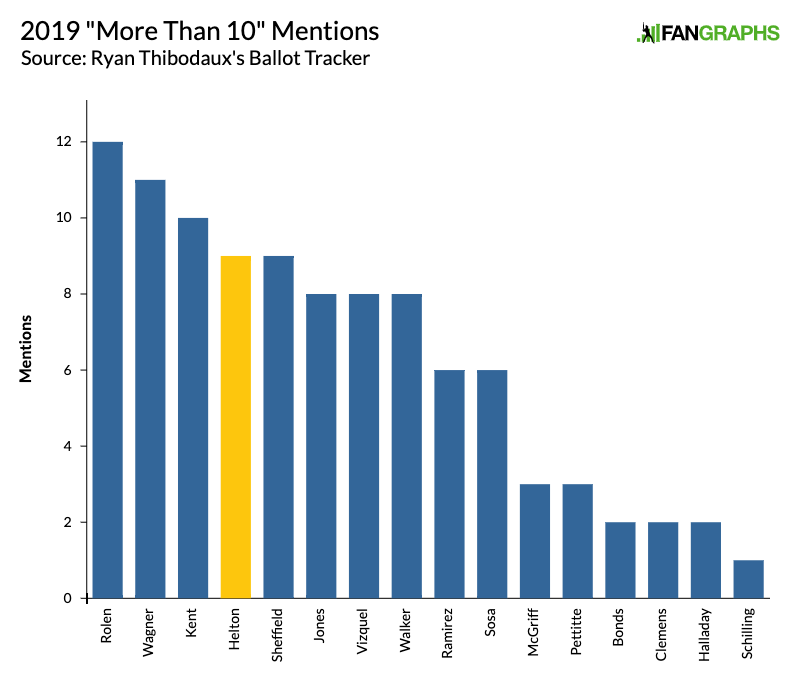 Like Walker before him, Helton's supporters are going to have to stick around for the long haul. He won't face anything close to the same crunch for space on the ballot as Walker did, either this year or in the next few, but his case also isn't quite as strong. One way or another, this isn't going to happen overnight.
Brooklyn-based Jay Jaffe is a senior writer for FanGraphs, the author of The Cooperstown Casebook (Thomas Dunne Books, 2017) and the creator of the JAWS (Jaffe WAR Score) metric for Hall of Fame analysis. He founded the Futility Infielder website (2001), was a columnist for Baseball Prospectus (2005-2012) and a contributing writer for Sports Illustrated (2012-2018). He has been a recurring guest on MLB Network and a member of the BBWAA since 2011. Follow him on Twitter @jay_jaffe.