If your favorite team is one of the few looking to improve itself via free agency this offseason, there's a good chance they could use bullpen help. Every team except the Yankees could, after all, and even they could use another good reliever on the margin. There's only one problem — the cupboard is somewhat bare.
Our list of the top 50 free agents features only one reliever, Will Smith, among the top 20 players. Miss on Smith, and the next tier is in the mid-20s: Dellin Betances, Will Harris, Drew Pomeranz, and maybe Chris Martin if you're into that kind of thing. None of those players are the type of impact reliever fans dream of signing to turn the bullpen from a weakness to a strength.
Or at least, none of them are now. Pomeranz, who is likely a full-time reliever now after two years as a swingman, has the potential to be an absolute star, the kind of game-changing reliever you pencil in for four big outs whenever you need them, or maybe six big outs in a key playoff contest.
That would be a wild sentence to read after 2018, when Pomeranz signed a one-year contract with the Giants after a dismal season in Boston. It's mildly less surprising after 2019, when he excelled in Milwaukee. But still, the dude had a 4.85 ERA in his good season, and he's 31. Rather than lean too hard into a half-season of ERA in Milwaukee, let's build a more detailed case for the Pomeranaissance.
Jake Mailhot dug into Pomeranz's performance in Milwaukee and had one key takeaway: switching from the rotation to the bullpen unlocked his fastball. The pitch, which sat 91-93 mph in the rotation, was suddenly more like 94-96 in the bullpen. Want to start missing bats? Add three miles an hour to your fastball and swap out some marginal pitches for more heaters.
And that's exactly what Pomeranz did. As a starter from 2016 to 2019, he threw his four-seam fastball 44.9% of the time. When he dabbled in relief with the Red Sox in 2018, he kept that number more or less constant, coming in at 43.8%. But when he switched to the bullpen this year, he let the fastball eat: it made up 72.6% of his pitches, with two separate 26-pitch outings that featured 25 fastballs.
That might not sound like a great plan — aren't fastballs usually the pitches you want to avoid? But for Pomeranz, his newly nitro-boosted offering was a weapon rather than a hindrance. He generated swinging strikes on 15.6% of the four-seamers he threw, a rate that would have been in the 94th percentile for four-seam fastballs last year if he'd spent the entire season in relief.
He does it in the normal way that people get misses with a fastball — with a deceptive delivery and a lot of movement. That's always been Pomeranz's calling card — even as a starter, he generated tons of ride — but adding velocity to an already hard-to-hit fastball has a compounding effect. Fastballs with great movement can be hit, and 95-mph fastballs can be hit, but 95-mph fastballs with great movement are another story altogether.
Throwing 75% fastballs had another benefit; it indeed let Pomeranz excise marginal pitches from his repertoire and focus on his strengths. As a starter this year, he threw five pitches, including a pedestrian two-seamer: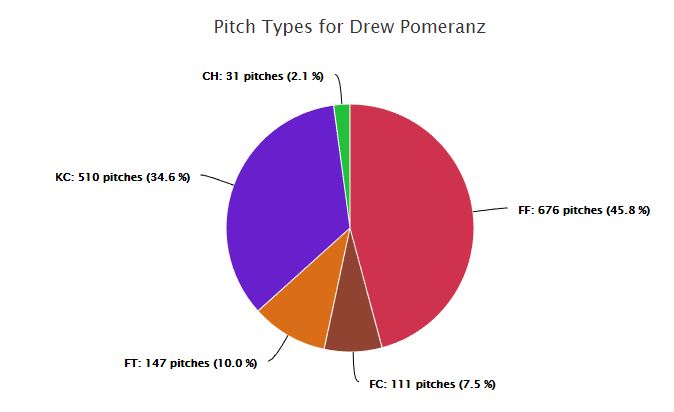 That's a lot of ephemera, and other than the curve, none of the secondary pitches showed much separation from his fastball: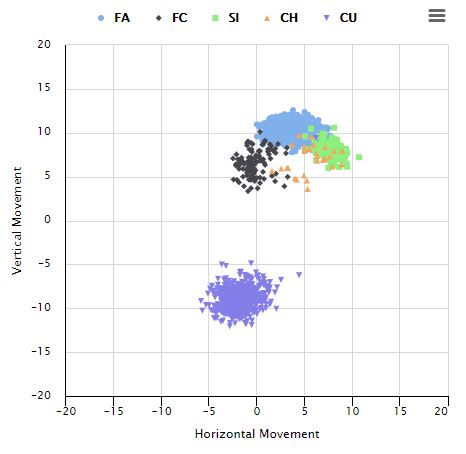 No matter which metric you prefer, the sinker, change, and cutter were clearly his three worst pitches. They generated the least swinging strikes, the least whiffs per swing, and had the worst linear run value per pitch. Batters turned more batted balls into line drives against his cutter than his four-seamer, which is hard to do.
By throwing so many fastballs, Pomeranz could cut out the junk and focus on what he does best: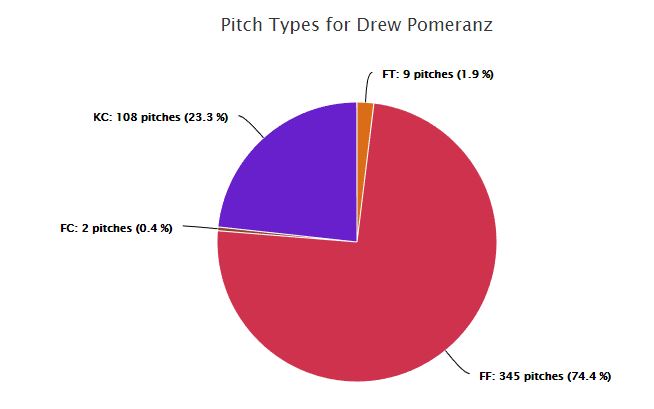 That curveball, by the way, is no average secondary pitch. It's nearly a perfect 12-6 rainbow, and he generates excellent movement despite middling spin. In fact, his combination of drop and velocity is quite rare. Take a look at every pitcher who throws a faster curveball with more drop (excluding gravity):
That's an excellent list, and also Colten Brewer. And even these numbers undersell Pomeranz, because they include the curveballs he threw as a starter. In his time as a reliever, he added velocity and started missing more bats. In fact, only Cole and Glasnow would remain on the list if we used Pomeranz's relief numbers as a baseline.
There's something deceptively simple about Pomeranz's transformation. Throw two pitches, and throw them well. It shouldn't be that easy. Shouldn't he suffer against opposite-handed batters now that he doesn't use a changeup? Shouldn't batters be able to sit on one of the two pitches?
But baseball doesn't need to be complicated. Pomeranz has two pitches that are head and shoulders above the rest. They also pair well — they break in nearly opposite directions, and while spin mirroring is far from a settled science, it stands to reason that it's harder to pick up opposite spin than skew spin.
And while gifs can lie, it sure does look difficult to tell the two apart. Eric Hosmer looks lost on this curveball:
While that was a good pitch, it surely doesn't hurt that Hosmer had fastball on the brain after the previous pitch:
So if Pomeranz has ascended to this new level of excellence, why isn't he a bigger ticket free agent? It's not as though no one saw his improvement: it's everywhere on the baseball internet. The problem is that this isn't some random reliever; it's Drew Pomeranz, the same pitcher who was below replacement level as recently as this June.
Our brains are slow to incorporate new information, and usually that's good. Jordan Zimmermann had two excellent starts at the beginning of this season, and our brains discarded it as irrelevant. But in Pomeranz's case, I think our rational minds are missing something. There was never a question of whether his best two pitches were good enough — no one has ever looked at his fastball or curveball and thought he wasn't a big league pitcher. The issue was always with the other pitches, or with the command and durability, or with his inability to end at-bats with a low-90s fastball.
All those things are still relevant, but they're less relevant out of the bullpen. If he was simply a rookie reliever with the numbers he posted — 47.2% strikeout rate, 1.88 ERA, 1.67 xFIP, and a .220 wOBA allowed — we'd be calling him Baby Kimbrel and the Mets would be lining up to trade their top five prospects for him. Is the weight of Pomeranz's former struggles enough to offset this?
If I were signing players, I'd take the gamble that this new Pomeranz is here to stay. Could he turn back into a pumpkin next year? Absolutely. But he could also turn into peak Andrew Miller, or left-handed Nick Anderson, and it would hardly be surprising. Kiley projected Pomeranz for a two-year, $16 million contract, and the crowd had him at 2/12. I'd be willing to go well past either of these numbers, and I suspect that some team with a bullpen hole and an eye for upside will as well.
Ben is a contributor to FanGraphs. A lifelong Cardinals fan, he got his start writing for Viva El Birdos. He can be found on Twitter @_Ben_Clemens.