It's still April, so it may be premature to talk about the year's most extreme events. If a home run was hit on a high pitch, there will likely be a higher pitch that gets hit for a home run later on. Think an umpire called a perfect pitch a ball? We've got plenty more time for an even better pitch to be missed. However, I think we may have already seen the best pitch frame of the year.
I don't mean the pitch furthest outside the strike zone that gets called a strike — there's still plenty of time for that to change. I'm talking about full dedication to the craft of pitch framing. Francisco Cervelli sold a pitch against the Cubs not just with his glove and his positioning, but with his whole being. You'll probably see worse pitches sold for strikes this year. Heck, you might see Cervelli get more egregious calls than this. You won't see better framing, though — I can pretty much guarantee it.
Let's set the backdrop for the play: April 11, a Pirates-Cubs game at Wrigley. Cervelli was catching Joe Musgrove, who's off to a tremendous start to the year — coming into the game, he'd thrown nine scoreless innings over two games. Home plate umpire Mike Estabrook had called an expansive zone all evening. By the bottom of the third, he'd already had words with two batters. One had been Cervelli himself — he struck out on three straight pitches, all looking, in the first inning.
Take a peek at the location of the pitch that led Cervelli to bark at Estabrook: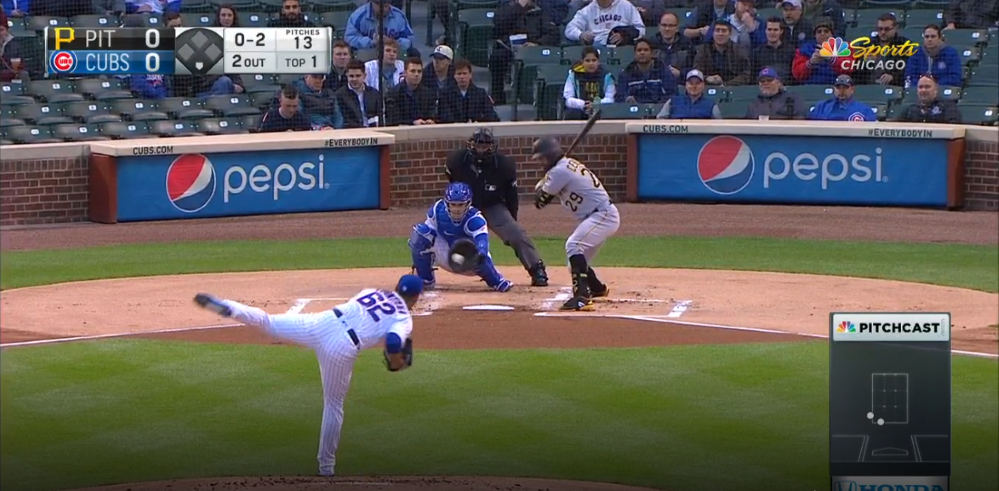 It's safe to say that Cervelli had low pitches on the brain. After all, he probably thought every single pitch he saw in that first at-bat was low, out of the strike zone. By the third inning, Cervelli was working the same low strike Jose Quintana had used so effectively against him. He pulled a curveball from Musgrove to the bottom of the zone for a strikeout of Daniel Descalso:
Musgrove started Victor Caratini, the next batter up, with a fastball inside. Cervelli barely made an effort to frame it — he knows what he can and can't get to, and there wasn't much point in trying to make that pitch look good. Cervelli, it should be said, knows how to frame. He had a down 2017 and 2018 (a combined -11.5 framing runs per Steamer), but at his peak he was tremendous. In 2015 alone, he put up 20 framing runs. Now, emboldened by his own strikeout in the first inning and the curveball to Descalso, he was ready to frame a low pitch for a strike.
Watch a good-framing catcher receive a low pitch, and you can start to appreciate their craft. It's not about grabbing the ball and then jerking your glove up into the zone; umpires are onto that trick. Instead, look at Cervelli set up low, way below the strike zone and surely below where Musgrove is aiming:
You might think it's a weird place to set up for a pitch you'd like to be a strike, but there's a plan behind it. Start low, and your glove will be rising when you catch the pitch. The impact of the ball might even push your glove up further, without any unnecessary sudden movements. Recent Pirates catchers have excelled at framing in this exact way. It's part and parcel of the inside-and-down-in-the-zone philosophy Ray Searage has so famously espoused. By the time the ball is halfway home, Cervelli has already started to lift his glove: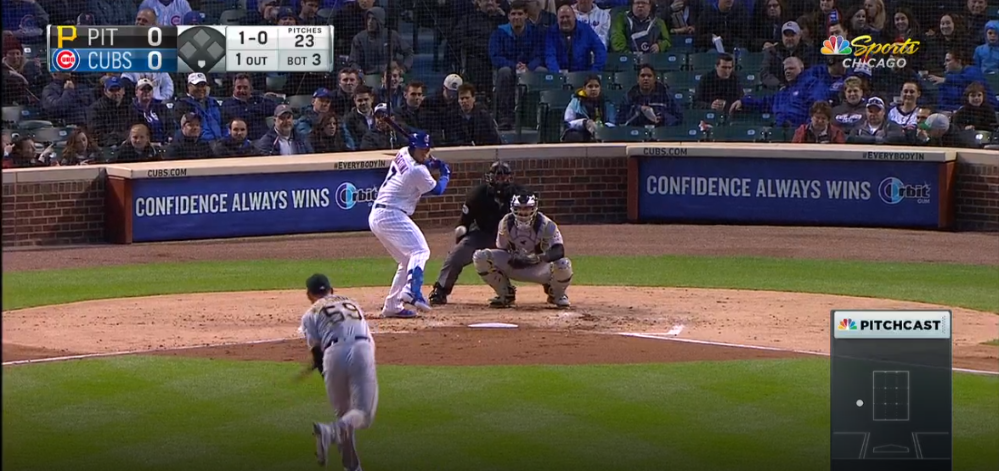 Hey, maybe this pitch will be in the strike zone and maybe it won't. Either way, it never hurts to present it to the umpire as cleanly as possible. That's just workmanlike. Suddenly, though: disaster! Cervelli misjudged the pitch. Maybe he and Musgrove got crossed up, or maybe the slider just dropped more than Cervelli expected. Either way, he has to stop with the rising-glove trick and stab below the strike zone: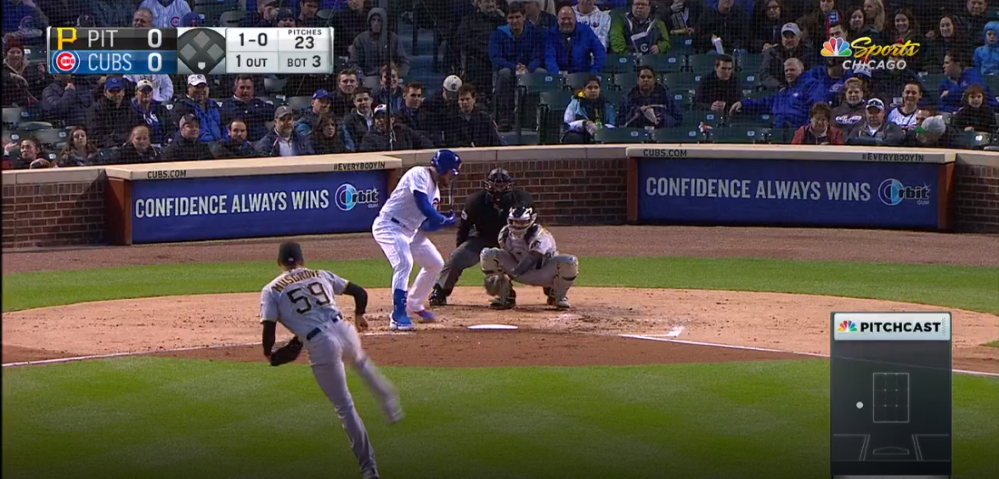 Now, on some days, this would be the end of the story. Some pitches just aren't there to frame. Maybe if he'd stayed low the entire time he could pull it off. Even then, this pitch is low. Cervelli wasn't done, however. He pulled out the emergency don't-try-this-at-home move of pulling the glove up to the bottom of the zone. Maybe the umpire was blocked for a brief second and the glove's finishing location will trick him. It's not ideal, but it beats doing nothing:
Now, was this move subtle? Not really. Look at the strike zone on the bottom right and you can see that Cervelli is taking some liberties. It's Mike Estabrook behind the plate though. He's been calling these all day. Strike one!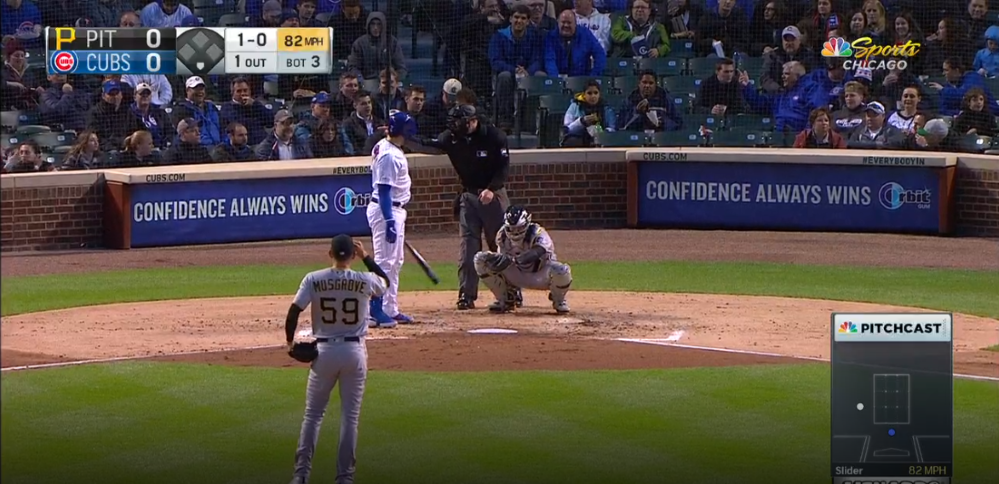 This picture contains a multitude. Even as Estabrook calls the strike, Caratini is turning around to argue with him. He knows what just happened, and he doesn't like it. Cervelli, meanwhile, is still holding the frame. It's been a second since the ball crossed the plate. He doesn't need to keep his glove there! He's just doing it to further sell the illusion.
If this play ended here, you'd be justified in asking what all the fuss was about. That was a nice little receiving job, but it's not unprecedented. Heck, every catcher in baseball is great at framing now. Most of them probably have the same start-low-end-high trick in their books, and they definitely all have the emergency glove relocation move. Wait a second though. Our story isn't over: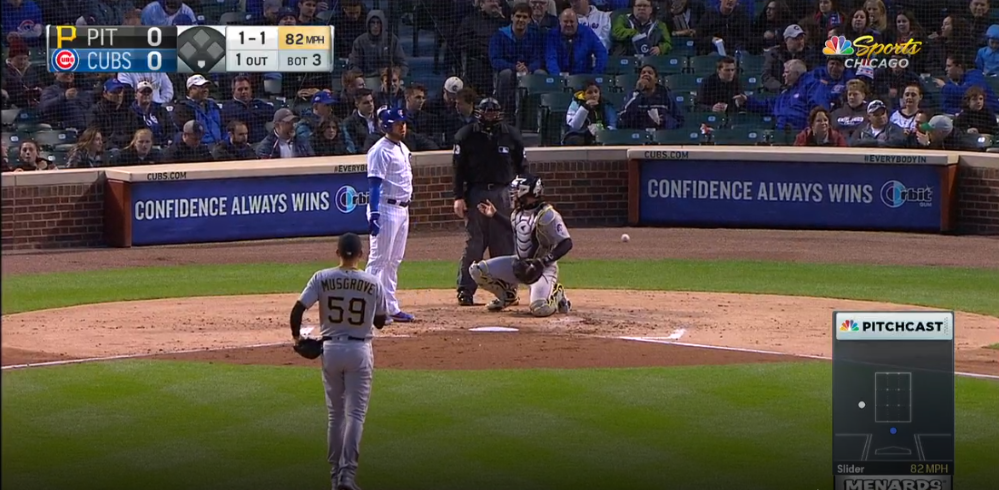 Why is Cervelli asking for a new ball? This last pitch was purportedly in the strike zone, and he allegedly caught it cleanly. Even more importantly, what's that baseball doing back near the backstop? That wasn't there earlier! It must be dawning on Estabrook that he's been had. This is an Ocean's Eleven-level reveal. Estabrook was watching Cervelli's hands when he should have been watching the ball. It's sleight of hand at its finest.
Here, watch the play live instead of in a series of stills:
You can see how it happened. The ball goes out of Estabrook's field of vision as it crosses the plate. Cervelli's shoulder is blocking him right at the time of catching it. Why would you think anything is amiss? There's the catcher, holding the ball in the zone as catchers often do after receiving a pitch with no one on. The ball's in the glove, obviously. Where else would it be?
Think of how quickly Cervelli reacted. He's spent his whole life catching, and when you miss a ball, you turn to look for it. Maybe there's no one on base, but those instincts get drilled into you at a young age. Even if you manage not to look for the ball, you certainly don't squeeze your glove like you caught it and hold the zone looking for a call. There's no call to look for, because you don't have the ball!
Cervelli, however, didn't think that way. He realized he had an opportunity, and he pounced. Good pitch framing is sleight of hand, sleight of whole-body really. Great receivers make umpires see the world slightly differently than it is with subtle movements of hand and body. At its heart, Cervelli's frame-without-ball is an extension of that. It's a big extension though. It's one thing to try to convince the umpire the ball crossed the plate an inch or so higher than it actually did, and quite another to convince him that the ball is in your glove when it's 20 feet behind you.
To me, this play is a shoo-in for best pitch framing of the year. Will it end as the pitch furthest out of the zone that gets called a strike? Almost assuredly not. It will, however, probably be the purest example of the essence of pitch framing. Your job, as a catcher, is to convince the umpire of an alternative set of facts. Cervelli went above and beyond the call of duty here, but he did what catchers do. He convinced a man crouching behind him in a mask that he'd seen a strike, by any means necessary.
Ben is a contributor to Fangraphs. A lifelong Cardinals fan, he got his start writing for Viva El Birdos. He can be found on Twitter @_Ben_Clemens.