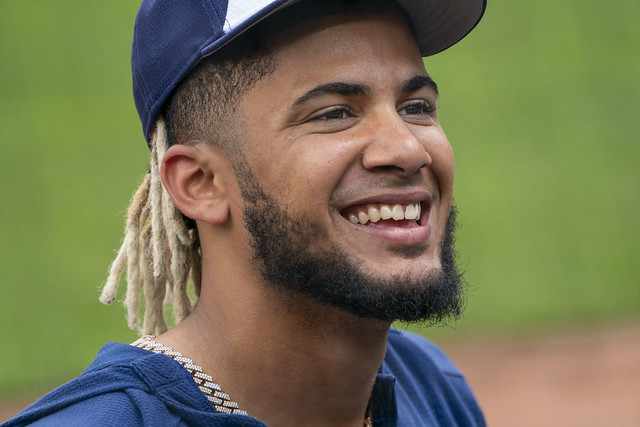 As is the annual tradition at FanGraphs, we're using a week around the All-Star Game — when the industry pauses to take a metaphorical breather — to take stock of the top-50 trade chips in the sport. For more context on exactly what we're trying to do here, see the Honorable Mentions post linked at the top of the page.
For this post, I'll present a graphic (by way of the wizard Sean Dolinar) breaking down each player's objective skill level (represented, in this case, by a five-year WAR projection from ZiPS), contract/team-control details, rank in last year's series, and then year-by-year details of age, WAR, and contract through the end of 2023, although a couple players have control beyond those five years, and some, you'll notice, show projections for fewer years to reflect when those players reach free agency. For those readers who are partial to spreadsheets rather than blocks of text, I'll also include all of the players we've ranked so far in grid format at the bottom of the post.
It should be noted that the ZiPS WAR forecasts influenced the rankings a bit. For players who were bunched together, it acted as an impartial tiebreaker of sorts, but the industry opinions I solicited drove the rankings.
With that said, let's get to the final 10 spots on this year's Trade Value list.
Vladito hasn't been the otherworldly hitter many were hoping for or expected during his first taste of the big leagues, but no one I spoke with is worried. First of all, he's running a .270 BABIP and underperforming his xwOBA by 17 points, suggesting he "deserves" to have a wRC+ over 100, which is still below his lofty pre-season projections, but not by much. And also, it's been 66 games and he's 20 years old.
Given his size and eventual move to first base, Vlad needs to mash, so his profile will be more sensitive to offensive performance than others might be, but the track record of the "that guy looks like a generational hitter" and "gets to the big leagues at 20" profiles is really strong. Vlad has an extra year of control over Gleyber Torres and Walker Buehler, so the projected five-win peak seasons are a push, and I lean to the extra year. Interestingly, there were concerns raised by executives about how all three of these guys will age; history tells us (I mean it feels like it does?) that at least one of them will turn out a good bit worse than we're expecting.
Chapman is on pace for his second-straight 6 WAR season and he's entering his prime, but is still pre-arbitration eligible since he was a college player who had a slower trip through the minors compared to other elite big leaguers. A lot of his value comes from defense, which we know ages quickly since it's so tied to athleticism, but there's also plenty of bat here to support a 3-4 WAR player in his post-prime years. Chapman puts the small market A's in a tough spot, as they'd likely prefer to keep a franchise player around for awhile, but one wonders if they can pay something close to a market rate for seasons in Chapman's 30s. Tampa Bay did this with Evan Longoria and luckily found a taker for his money just before things headed south. Scott Boras is Chapman's agent, so an extension seems unlikely, but Boras just avoided the open market with Xander Bogaerts, so anything is possible.
I made my feelings known about the Albies extension when it happened in April. The Braves can keep him around for $45 million for the next 8.5 seasons, which you could argue is the market rate for one of Albies' post-arb seasons (they're getting four). He's still just 22 and has essentially played two full seasons, accumulating 7.7 WAR with roughly average offense but is at least plus on defense and on the bases.
He has some issues with selectivity, with the swing getting too big (especially from the left side), and there are different theories and explanations floating around about a silver bullet, like his spot in the batting order. The track record of plus-plus athletes with plus-plus bat control who get to the big leagues at age 20 is strong, but I'm mostly thinking of guys with one or two of those qualities, rather than all of them; that's how unique Albies is. When the swing change revolution started, Eric and I theorized that the qualities that let little guys hit bombs are simply elite athleticism and elite bat control (the ball helps, too). For all the talk about what he doesn't do well, nobody seems to mention that this guy is 5-foot-8, 165 pounds, and hitting 20 bombs a year in the TV league when lots of American guys his age were getting ready to go to Cape Cod. Don't worry yourself with picking holes in Ozzie's game — they're always going to be there but guys with this resume and these skills have the tools to adapt.
Over the last two seasons, Yelich is the third-best player in the game and he's still got 3.5 years left on an extension, so he's exactly the kind of player who everyone can agree upon. It's actually somewhat unique in this exercise to find a guy who has done enough to make us confident in how good he is, is in his peak years, is under team control at a low price, has demonstrated consistency, and has all the intangibles like makeup, but has no real injury history, and no red or even yellow flags. A rebuilding club may not be eager to trade assets for an MVP candidate given their competitive window, but I think it's safe to say that all 30 teams would value Christian Yelich in the same range on their individual trade value lists were they to conduct a similar exercise. Yelich is also a great example of betting on projectable athletes with advanced feel to hit to all fields. In 2015, he played 126 games and hit seven homers; in 2019, he's projected to finish with 49.
Soto was initially a bit lower on this list but when I dove in deeper, I could see what's got ZiPS like a kid with a sparkler on the 4th of July. Last year, Soto had to be the most complete 19-year-old big league hitter in a generation, and it still feels like he isn't getting enough credit for that. He's been almost exactly the same this year as a 20-year-old (he's four months older than Vlad Jr.), but because he doesn't have a famous dad, wasn't on prospect lists, and wasn't bored dominating minor leaguers, he flies a bit under the radar. I guess the nitpick would be the Soto is so fully realized so early in his career as a corner outfielder that he has the skills of an older player and may age quickly, but that's really reaching and I think he's going to get better before he gets worse. Do yourself a favor and take five minutes today to appreciate how good Juan Soto is. Here's a video from when I first saw him in the fall of 2014 as an amateur who wasn't even the best prospect at this showcase. And here he is less than four years later, hitting 22 big league homers in a row.
Bregman really turned it on last year and is now a 35 homer guy with more walks than strikeouts who's also a good third baseman. He's be a good candidate to break through the "name an active baseball player that people recognize" haze since he's on a winning team, he dabbles in winning Twitter wars, and he isn't afraid to talk trash or promote himself like famous athletes instinctively do in other sports. He's also a good example of a guy using player development to dial in how to maximize his tools; Bregman wasn't the consensus top talent in his draft class and he wasn't a completely different player then than he is now, he just didn't lift the ball as much. Bregman is under control (he gave up two free agent years at $28.5 million a piece in March) for the same duration as Soto and for a bit more money, but there's also more bulk performance, more defensive value, and a more traditional development path, and Soto hasn't broken into the 6-7 WAR area yet, even if I think he's got a good shot to do it.
Speaking of breaking through into the 6-7 WAR range, Bellinger has done that in just 94 games this year. Bregman may have a louder personality but I've yet to find a human that doesn't enjoy watching this (apart from opposing fans). Having Bellinger on the best team in baseball, that's also a traditional power and in the No. 2 media market, seems like a great way to promote the game to younger fans. I worry that I'll see a bunch of fringy high school players adopting this swing, just as we've seen 11-year-old shooting pull-up 35-footers to emulate Steph Curry, but that's a small price to pay for kids loving baseball. Bellinger has one less year of control than Bregman but will be cheaper, and is also a multi-positional fit, and if he keeps this up, he may also just be better. I would start suggesting a blockbuster extension here but Bellinger is also represented by Scott Boras.
Hey, it's the best player in baseball! You probably knew he wasn't going to be No. 1 on this list given the $400-plus million left on his new contract, which goes through 2030. Trout is already a Hall of Famer and when he's not busy plodding along on a trajectory to be the best baseball player who ever lived, he enjoys rooting for Philly sports teams and (checks notes one more time) being a fan of weather. It's a tough break for baseball to not get a dynamic personality as it's generational talent but Trout's a great player and literally no one other than the commissioner has anything bad to say about him, so let's continue with the theme of today's article and appreciate how much amazingly better Mike Trout is at playing baseball than any of us are at anything. Also, per StatCast's xwOBA, he's actually been pretty hit-unlucky this year. ZiPS has him projected to finish the season with 9.9 WAR, which I guess is an average season for him now.
Placing Trout on this list around a bunch of elite players in their early-to-mid-20s with long-term control and cheap contracts is tricky. The consensus with the execs I spoke with was to take Trout if there was any issue with the other player. Cody Bellinger's ranking hangs on a one-year breakthrough, two pretty expensive arbitration years on the back end, and a high maintenance swing; you can poke some holes in that and the placement of all of the guys behind him. Trout's deal is way under market, with loads of surplus value until the 2026-2030 part, when you're on the hook for $35 million a year. We don't really have any idea how good he'll be then, since he doesn't have any comps.
It still won't be a bad contract, but it does become an ownership issue, and smaller markets would be putting all of their eggs in the Trout basket for almost a dozen years. I'd still have no problem with that — this is the guy you bet on if you're gonna bet on someone — but it may surprise you to learn that some clubs said they'd obviously love to have Trout but aren't positive they could or would both take on over $400 million and trade most of their best prospects in a hypothetical trade scenario. One GM told me "most of the league couldn't even begin to consider taking on that contract … all but a select few teams could even consider acquiring it." There would be enough teams excitedly jumping in to create a bidding war, but the days of Mike Ilitch or George Steinbrenner making impulsive unilateral moves are over, as if the last two winters weren't enough proof.
As we continue down the parade of insanely exciting young players who can make tags and slides interesting, we get to Tatis, who is the newest on the scene. Eric and I had some concerns that he may be a higher-strikeout, lower-contact type due to his power-focused approach and longer limbs. That's mostly been true so far in his rookie season, but Tatis' .433 BABIP is obscuring it for the time being. Even with some regression back to BABIP Earth, he's still somewhere around the Manny Machado-level of talent that was promised: a dynamic 3.5 to 6.0 WAR player who has the ability to jump even higher into rarified territory. So while there are still some concerns, the fact that Tatis is 20 years old and playing a solid shortstop gives him some margin for error in long-term projections.
As I discussed in the introduction, the decision to not leave Tatis down for the first two weeks of the season cost the Padres roughly $50 million in value on paper, but there are all kinds of other benefits that can make up some, if not all, of that value. If Tatis is more inclined to sign a long-term extension, the Padres could actually come out ahead depending on the terms.
And here we are at No. 1. Many of you predicted this in the comments, and it seemed pretty obvious from the start to me and everyone I ran this list by. Acuna was being hyped by very reasonable people last year as the next best player in the game, whenever Trout decides to let that happen. That still seems to be the thought around the game, but it's also important to note that it wasn't so obvious when last year's list was written. On that day, Acuna had a 109 wRC+ and a 30% strikeout rate. Since then, he put up a 141 wRC+, 41 homers, and 6.4 WAR in 163 regular season games, good for ninth in all of baseball in that period, all at ages 20 and 21. He didn't have a great showing in the Braves playoff series loss to the Dodgers but did produce one of the more electric moments in recent memory with a grand slam off Walker Buehler.
On top of being the consensus best young player in the game by just about every measure, Acuna also signed a team-friendly extension before the season, tying him to the Braves through 2028 (his age-30 season) for $124 million if both options are picked up. Tatis would be No. 1 if he had Acuna's extension and Acuna had Tatis' service time situation, but it would take something close to that extreme to close this gap. Here's hoping that this year's No. 1-Ranked Trade Value (by a good margin) has a season better than Jose Ramirez's 2019.
…
Meg and I recorded a podcast that will go up today where I discussed how the list was made, projected some guys to jump onto and fall off of the list, and even offered some names I may want to shift around a week from now. Give that a listen to get the full context for those topics, but I'll run down some of them here.
I thought I understood the Scherzer deal when I placed him 44th on the list, but found out, after talking through it with some rules and admin-focused industry sources, in the days after posting it that the terms would work out a bit differently in a trade scenario, which still seems unlikely. Since Scherzer's short term payments are all non-assignable signing bonuses and all of his remaining salaries are deferred, the real cost is nothing until 2023, then the time-value of money takes the net present value well below the $35 million per year sticker price. With that clarified, I would now move Scherzer into the late-20s to land closer to deGrom, whose deferrals I broke down head-to-head in deGrom's blurb.
I sent various versions of this list to sources the week before publishing, and got some responses back this week after the series had already kicked off. Some thought that Adalberto Mondesi ought to be moved down, while Austin Meadows moving up, to the point that Meadows (who was 54th at press time) now seems like a better trade asset than Mondesi (48th). That low in the rankings, six spots is a pretty small difference, but it appears significant enough that I wouldn't be surprised if Mondesi finds himself on the outside looking in next year, while Meadows seems likely to rank, barring injury or underperformance.
Along those lines, and in the spirit of our preseason Picks to Click column, here are 15 names from the Honorable Mentions that I think have the best shot to make next year's list: Austin Meadows, Eloy Jimenez, Alex Verdugo, Austin Riley, Yordan Alvarez, Lucas Giolito, Jo Adell, Bo Bichette, Keston Hiura, Carson Kelly, Bryan Reynolds, Mackenzie Gore, Dustin May, Gavin Lux, and Michael Kopech.
That concludes the 2019 Trade Value Series. I hope you enjoyed this installment. On to the deadline!
Kiley McDaniel has worked as an executive and scout, most recently for the Atlanta Braves, also for the New York Yankees, Baltimore Orioles and Pittsburgh Pirates. He's written for ESPN, Fox Sports and Baseball Prospectus. Follow him on twitter.