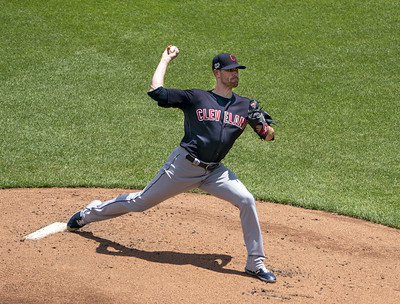 "Overconfidence is a powerful source of illusions, primarily determined by the quality and coherence of the story that you can construct, not by its validity." – Daniel Kahneman
If the 2019 Indians thought they the lone contenders in the AL Central, the Minnesota Twins very quickly disabused them of that notion. Cleveland still fought their way to a 93-69 record, but after a quiet offseason, the loss of some key players, and a final run at the playoffs destroyed by a five-game losing streak, this is a team that ought to be haunted by their what-ifs. Much of the team's core remains intact (at least for now), but with key contributors approaching free agency, these Indians may have peaked.
The Setup
If a baseball season is a marathon, the 2018 Indians were allowed to use a car. They grabbed first place in the AL Central in late April and never relinquished it. The Minnesota Twins ran afoul of the Regression Gods, and the rest of teams in the division were still firmly in the moribund section of their respective rebuilds. With the bullpen not rocking as it had in previous years, Cleveland traded top prospect Francisco Mejía to the San Diego Padres for Brad Hand and Adam Cimber, players who could reinforce the bullpen past 2018. Also added were Leonys Martin and Josh Donaldson, players the team believed could have upside for the playoffs.
The playoffs went as poorly as possible, and Cleveland was swept in the ALDS after only managing six runs in three games against the Astros.
I doubt the Indians would admit it publicly, but their offseason looked a lot like what you would expect from a team over-certain about their divisional superiority. In what was one of the most confusing moves by a competently run team in recent years, Cleveland not only made little attempt to re-sign Michael Brantley but didn't even extend a qualifying offer to him. Admittedly, Brantley's injury record is worrying, but he hit .309/.364/.468 for 3.5 WAR in 2018. Three and a half wins isn't Trout-territory, but it represented nearly two-thirds of Cleveland's value from the outfield. Not even risking a reasonable one-year deal with the qualifying offer was short-sighted, especially considering that the outfield still needed help even if the team had kept Brantley.
Help didn't materialize in the winter. The Indians participated in Jerry Dipoto's revival of Let's Make a Deal and swapped Edwin Encarnación and Yandy Díaz for Carlos Santana and Jake Bauers, moves that were likely to be sidegrades at best. Outside of the usual talk of the team shopping Corey Kluber for prospects, it did little in the offseason outside of accumulating hitters who would've been a lot more exciting a decade ago, including Carlos Gonzalez, Hanley Ramirez, Cameron Maybin, and Dioner Navarro among others.
The Projection
Some of the overconfidence in their 2019 chances were reflected in the projections. Despite a complete lack of faith in acquisitions such as Santana and Bauers, ZiPS projected the Indians to have an overwhelming preseason advantage over the Minnesota Twins, the only team projected to even be a remote threat to Cleveland. The computer was particularly optimistic about the rotation, with the worst projected starting pitcher, Mike Clevinger, ranking 26th among all pitchers in zWAR. ZiPS went all-in on Shane Bieber, who was projected to go 13-8, with a 3.71 ERA and 3.8 WAR, 14th in baseball. (While I'd like to say I was a believer given how the projection worked out, Bieber's was a projection that actually worried me quite a bit.)
But there was a danger hidden in ZiPS' forecast, as the team's projected wins were wrapped up in relatively few players, namely José Ramírez, Francisco Lindor, and that deep rotation. ZiPS wasn't a fan of the team's secondary talent, especially in the starting lineup, and that lack of depth left the team more susceptible than most if they received more than their fair share of nasty surprises. But downside scenarios aren't the mean scenarios, and ZiPS projected Cleveland to win 96 games.
The Results
What was amazing about Cleveland's 2019 wasn't that they lost so many key contributors simultaneously, but how resilient the roster proved to be. They got there by following a very odd path, but their eventual 93 wins was only three off their preseason projection.
If you told me in March that Cleveland would be missing Carlos Carrasco, Kluber, and Clevinger for large chunks of the season, and would trade Trevor Bauer to the Reds, I would have assumed that it was a 67-win disaster that decided to blow everything up. Cookie went on the shelf first with a knee injury, and then a much more serious leukemia diagnosis. Kluber struggled early and then missed most of the year after Brian Anderson hit a ball off his forearm. A sore back and then ankle cost Clevinger most of the first half, but over the second half, sported the third-best WAR in the American League (3.6), behind only Justin Verlander and Gerrit Cole.
With Bauer struggling at times, in the early going, Bieber was the only healthy and dependable pitcher in the rotation. The team was mostly able to keep their heads above .500 but bottomed out at 11 games behind the Twins in mid-June.
The offense shared responsibility and struggled out of the gate, with Lindor starting the season injured and Ramírez repeating his late-2018 struggles. While Lindor got back to his 2015-2017 form quickly, Ramírez didn't rebound anywhere near as well. J-Ram's OPS stayed below .600 well into June, a frustrating situation for a player who spent most of 2018 in MVP contention. In a June piece, my colleague Craig Edwards speculated that Ramírez was suffering the consequences of strike zone laxity.
From June 14 on, Cleveland went 59-36, the fourth-best record in the American League. With the Twins falling off their torrid pace, the Indians even managed to close the 11-win gap, briefly seizing first place in the division. And they did it without getting most of their injured players back. After disappointing in Philadelphia, Santana set career-highs in both wRC+ (135) and WAR (4.4), a development I didn't see coming. None of Aaron Civale, Jefry Rodriguez, Zach Plesac, or Adam Plutko equaled what the Indians exactly matched what the team expected to get from their injured pitchers, but they combined for 3.7 WAR over 59 starts with a 4.02 ERA, roughly two full-season contributions for league-average starters.
Ramírez righted the ship, partially as a result of advice from his agent, but the team had received enough from their spare pitchers that the offense still looked like the larger problem. By the trade deadline, Cleveland had reason to believe that both Kluber and Carrasco would return in 2019 (Carrasco did, Kluber didn't), and the team finally took a gamble in the form of a Trevor Bauer trade. Bauer was shipped to the Reds in a three-way deal that netted Cleveland a short-term offensive boost in Yasiel Puig and longer-term benefits to the team in Franmil Reyes, Logan Allen, Victor Nova, and Scott Moss.
In September, the bullpen (5.00 ERA, 5.00 FIP) and offense (.250/.323/.432, 94 wRC+) went into early hibernation, and it was just enough to cause Cleveland to finish three games behind the Rays for the second Wild Card.
What Comes Next?
While a lot went right for the Indians after the early-season disasters, it's hard to feel that some of the midseason shuffling could have been avoided with a more active approach towards the offense over the winter. No, it wasn't likely they would be in any kind of race for Manny Machado, but Brantley was available at a price that any contender should have been willing to pay. I won't fault the Indians for failing to anticipate that DJ LeMahieu would be a star in 2019, but players like Nelson Cruz and Mike Moustakas received extremely reasonable one-year deals that Cleveland ought to have been interested in besting.
I wasn't thrilled with Cleveland's last offseason, but the team still has a solid enough foundation that they have options this winter. I think Reyes will be fine at designated hitter, but serious issues still exist in the outfield that need to be addressed in a more effective manner than last year. If you peruse our Depth Charts, which are currently use Steamer, you'll see that Cleveland currently has the 23rd-ranked outfield in baseball. I won't start churning out official ZiPS projections until after Thanksgiving, but nobody should expect the system to have a significantly more optimistic outlook.
Cleveland looks a lot like they did after the 2018 season. They ought to approach this winter as their second chance.
The Absitively, Posilutely, Way-Too-Early ZiPS Projection – Shane Bieber
Given that ZiPS already projected Bieber as an All-Star before 2019, I'm admittedly quite fascinated to see what ZiPS thinks after the right-hander actually had that star season. One of the question marks around Bieber coming into 2019 was his platoon split issues. In his debut, lefties hit .316/.362/.547 off him, and it's difficult for a pitcher to be a star allowing that line. In 2019, most of his improvement was due to his improvement against lefties, who struggled to a .228/.271/.414 line. The general thought was that Bieber would need to develop a better changeup to deal with lefties, but while he threw more changes in 2019, what really shifted was his willingness to go after lefties with breaking stuff. Bieber used his knuckle-curve almost like a changeup or a loopy splitter, and it was his most-used pitch when ahead against lefties. And it worked; lefties missed Bieber sliders in 48% of their swings and 51% of the curves.
Oh yeah, I forgot there was supposed to be a projection here, and not just Bieber fanboying. Uh, here you go…
ZiPS Projection – Shane Bieber
| Year | W | L | ERA | G | GS | IP | H | HR | BB | SO | ERA+ | WAR |
| --- | --- | --- | --- | --- | --- | --- | --- | --- | --- | --- | --- | --- |
| 2020 | 13 | 8 | 3.42 | 33 | 32 | 192.3 | 187 | 20 | 32 | 183 | 128 | 4.5 |
| 2021 | 13 | 8 | 3.42 | 33 | 32 | 189.7 | 182 | 19 | 30 | 180 | 128 | 4.4 |
| 2022 | 13 | 7 | 3.39 | 32 | 31 | 186.0 | 176 | 19 | 30 | 178 | 129 | 4.4 |
| 2023 | 12 | 7 | 3.38 | 30 | 29 | 173.0 | 164 | 18 | 27 | 166 | 129 | 4.1 |
| 2024 | 11 | 7 | 3.35 | 29 | 28 | 166.7 | 156 | 17 | 26 | 162 | 130 | 4.0 |
While it's way too early to make such a judgment, I'm willing to bet that 4.5 WAR will be a top 10 pitching projection for 2020. In 2019, this projection would have ranked seventh entering the season. So yeah, ZiPS' love affair with Bieber is still going strong.
Dan Szymborski is a senior writer for FanGraphs and the developer of the ZiPS projection system. He was a writer for ESPN.com from 2010-2018, a regular guest on a number of radio shows and podcasts, and a voting BBWAA member. He also maintains a terrible Twitter account at @DSzymborski.