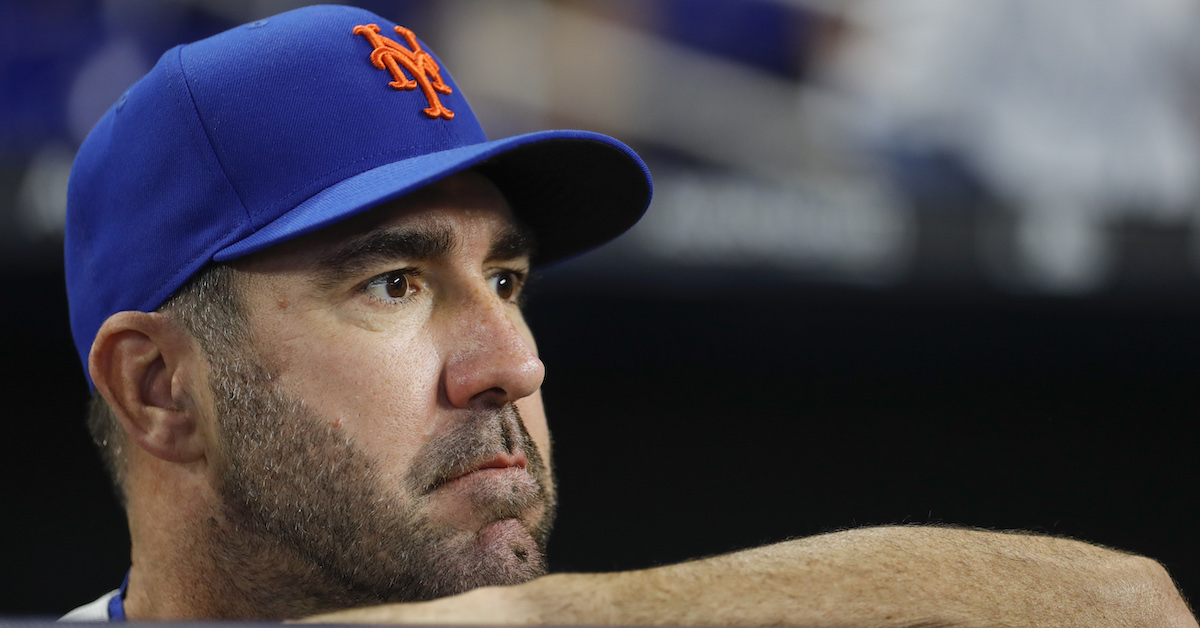 Justin Verlander wasn't scheduled to start on Thursday, but he couldn't even make it to the first pitch of his first Opening Day as a Met unscathed. The 40-year-old righty officially opened the season on the injured list due to a low-grade strain of his teres major, and while his absence isn't expected to be a lengthy one, it comes at the tail end of a spring in which the Mets already lost starter José Quintana for about half the season and closer Edwin Diaz for most if not all of it.
Unfortunately, Verlander isn't the only frontline starter to be sidelined by a teres major strain this week, as the Guardians' Triston McKenzie recently suffered a more serious strain of the same muscle. Likewise, Verlander isn't the only big-name hurler for a New York team who was sidelined this week (the Yankees' Luis Severino is out again), nor is he the only NL East starter to turn up lame on Thursday (the Braves' Max Fried took an early exit), or the only over-40 star whose plans took a turn (the Cardinals' Adam Wainwright missed his Opening Day assignment). If it's not a party until something gets broken, it's not a new baseball season until a star pitcher goes down. Perhaps the only consolation to be had in this round-up is that all of these injuries are muscle strains of some sort rather than ligaments or tendons.
Verlander, the reigning AL Cy Young winner, was slated to start the season's third game on Saturday against the Marlins, with Max Scherzer taking the ball on Opening Day; that arrangement lined up Verlander to start the team's home opener on Thursday, April 6. After connecting a 2-mph drop in velocity during his final Grapefruit League start on Sunday to some discomfort underneath his right armpit that recurred during a bullpen session on Wednesday, he was sent for an MRI, which revealed a strain of the small muscle that connects the scapula to the upper arm, one that's sometimes called "the lat's little helper."
An understandably disappointed Verlander expressed his belief that the strain is minor enough that he could have pitched through it but acknowledged that this isn't the time to risk exacerbating the injury and expressed relief that it isn't more serious. "This isn't a best-case scenario," he said. "But I would think this is probably second-best case. Very minimal."
The hope is that Verlander will only miss a couple of starts on a 15-day IL stay. Doctors have already cleared him to continue throwing, albeit at lower intensity, and they will reevaluate him in a week in order to clarify his timeline. Righty Tylor Megill will take his starts in the meantime; lefty David Peterson is already filling in for Quintana, whom the Mets will be without until July due to bone graft surgery to repair a stress fracture and remove a benign lesion from the fifth rib on his left side. Megill and Peterson, both of whom were in and out of the rotation last year, have joined Scherzer, Carlos Carrasco, and Kodai Senga in the team's starting five.
Where the Mets go from here if anybody from that quintet gets hurt is an open question, though after going up and down the depth chart already this spring, it appears the next man up would be Joey Lucchesi, who threw 38.1 innings in '21 before undergoing Tommy John surgery and who was optioned to Triple-A Syracuse earlier this month. Elieser Hernandez, a 27-year-old righty who spent the past five seasons with the Marlins but was hit hard last year, could be in the picture later this summer but will likely miss all of April after suffering a shoulder strain. Jose Butto, a 25-year-old righty who entered last season as a 40 FV prospect and split the year between Double-A Binghamton and Syracuse, with a very rough spot start against the Phillies on August 21 (four innings, seven runs), might be an option. Beyond that, the team may have to invite Ron Darling to come down from the SNY booth to throw a few innings.
Elsewhere in the NL East, Fried left his Opening Day start against the Nationals in the fourth inning, having strained his left hamstring while running to cover first base on a Dominic Smith grounder. While Fried said afterwards that he believed he suffered just a minor tweak of the muscle, manager Brian Snitker suggested that "more than likely" the 29-year-old lefty would land on the IL. At this point, it doesn't sound as though Fried will be out long, but we are talking about last year's NL Cy Young runner-up and the rotation anchor of the 2021 world champions. Last year, he pitched to a 2.48 ERA and 2.70 FIP with 5.0 WAR — numbers that all ranked among the NL's top four — in 185.1 innings; he's not somebody who can easily be replaced.
That's particularly true at a time when the Braves are already without Kyle Wright, who is still recovering from a bout of shoulder soreness that necessitated a cortisone injection back in January, though the belief is that he could miss just two turns. Without him or Fried, reigning NL Rookie of the Year Spencer Strider and veteran Charlie Morton are the rotation's only established starters, with rookies Jared Shuster and Dylan Dodd — both of whom I took a closer look at a couple of weeks ago, with input from Eric Longenhagen — breaking camp in the rotation after Ian Anderson was again optioned to Triple-A Gwinnett amid recurring control problems.
As of this writing, the Braves haven't decided whether to place Fried on the IL, but if he can't take his next start on Wednesday, either Anderson or Bryce Elder could fill in. The 24-year-old Anderson played a major part in the Braves' 2020–21 success, but he posted a 5.00 ERA and 4.25 FIP in 111.2 innings across 22 starts last year; after being optioned in August, he returned only for a spot start before suffering a season-ending oblique strain. Elder, a 23-year-old righty, entered last year as a 40+ FV prospect and made nine starts and one relief appearance for the Braves, posting a 3.17 ERA and 3.78 FIP in 54 innings, generating enough groundballs to offset his 10.1% walk rate and 20.7% strikeout rate.
Turning to the Cardinals: Thursday was supposed to be Wainwright's day. Heading into the final season of his exceptional career, the 41-year-old righty was slated to make his seventh Opening Day start. Unfortunately, a groin strain sustained during a workout with Team USA before the World Baseball Classic championship game forced him start the season on the IL. He did at least get to sing "The Star Spangled Banner," and no, I'm not kidding:
Now singing the U.S. anthem, Cardinals' Adam Wainwright. ???

(?: @Sportsnet)
pic.twitter.com/6mZnOcI7kF

— theScore (@theScore) March 30, 2023
Wainwright, who last year posted a 3.71 ERA and 3.66 FIP in 192.1 innings (the largest workload for a pitcher in his age-40 season or older since 2015), had split his spring between Cardinals camp and Team USA, for whom he made strong starts in the Pool C opener against Great Britain on March 11 and against Cuba in the semifinal on March 19. Despite first-inning hiccups in both games, he allowed just two runs in eight innings and collected two wins. He wasn't scheduled to pitch again in the tournament, but suffered a groin strain — "between a [grade] 1 and a [grade] 2″ in terms of severity, according to St. Louis president of baseball operations John Mozeliak — while doing split squats in a weight room workout on March 21.
Manager Oli Marmol said that Wainwright will miss "several weeks" due to the injury. As of March 29 he was reportedly playing catch up to 120 feet while the team mapped out a plan for when he was cleared to resume other baseball activities. Given that he'll have to rebuild his pitch count, that probably means he'll miss all of April, a blow to a rotation that placed just 20th in our Positional Power Rankings. Miles Mikolas, who joined Wainwright on Team USA, took the Opening Day start against the Blue Jays but was chased in the fourth inning and charged with five runs.
With Jack Flaherty, Jordan Montgomery, and Steven Matz already part of St. Louis' starting five, the team has identified 26-year-old righty Jake Woodford as Wainwright's fill-in. A groundballer who relies upon a sinker/slider combo and a stellar defense, Woodford has spent parts of the past three seasons with the Cardinals, starting 10 times and making 55 relief appearances en route to a 3.61 ERA and 4.36 FIP in 137 innings. Last year, he started just once from among his 27 appearances, posting a 2.23 ERA and 3.13 FIP in 49 innings. He took a rather extreme route to that FIP, striking out just 12.8% of the hitters he faced, the majors' third-lowest mark among pitchers with at least 40 innings. On the other hand, he served up only one homer; his 0.19 homers per nine was the seventh-lowest among that same group.
If Woodford falters, or if the Cardinals take another hit to the rotation, righty Dakota Hudson and lefty Matthew Liberatore will be just a phone call away at Triple-A Memphis. The 28-year-old Hudson spent most of last year in the big club's rotation but was mediocre (4.45 ERA, 4.34 FIP) to the point of being optioned a few times late in the season. The 23-year-old Liberatore, who fell from no. 65 on last year's Top 100 Prospects list to no. 107 on this year's, was touched for a 5.97 ERA and 5.02 FIP in seven starts and two relief appearances totaling 34.2 innings in the majors.
Turning to the other Central division and an injury that could have even greater consequences, McKenzie not only did not follow teammate Andrés Giménez in agreeing to an extension before Opening Day, but was also sidelined by his teres major strain. The 25-year-old righty left Sunday's Cactus League start against the Reds after he experienced tightness in his triceps and the back of his shoulder.
McKenzie is coming off a breakout season during which he tossed 191.1 innings (sixth in the league) with a 2.96 ERA (ninth), 3.59 FIP (13th), and 3.6 WAR (tied for 10th). The Guardians said earlier this week that he'll be shut down from throwing for two weeks and will be sidelined for up to eight weeks overall — a significant and perhaps even difference-making blow given how tight the AL Central race projects to be. Our Opening Day Playoff Odds forecast the Twins for 82.6 wins and a 38.7% chance of winning the division, the Guardians at 81.9 wins and a 33.9% chance, and the White Sox at 79.7 wins and a 21.4% chance.
Indeed, the loss of McKenzie was enough to bump the Guardians from 18th in our Rotation PPRs at 11.2 WAR to 19th at 10.6, because the dropoff from him and Shane Bieber to the rest of the rotation is steep. The three pitchers slated to round out the rotation (Cal Quantrill, Aaron Civale, and Zach Plesac) project for a total of 3.6 WAR, matching McKenzie's production for last year, and the options to fill in for the 6-foot-5 beanpole are unproven.
The path of least resistance is 24-year-old righty Hunter Gaddis, who was stretched to 70 pitches this spring and slated for a multi-inning relief role. The imposing rookie, who stands 6-foot-6, 260 pounds with flowing locks and a bushy beard, is a 40 FV prospect (37th on Cleveland's list) with "inelegant command" (Eric Longenhagen's words) of a low-90s fastball, screwball-style (and 60-grade) changeup, slider, and slow curve. He was torched for 15 runs in 7.1 innings over two spot starts with the Guardians last year after splitting the season between Double-A Akron and Triple-A Columbus, posting a 4.01 ERA and 32% strikeout rate.
Other near-term options include 24-year-old lefty Logan Allen, 24-year-old righty Xzavion Curry, and 25-year-old lefty Konnor Pilkington. Allen, a 50 FV prospect, placed third on Cleveland's list and 57th on the Top 100; he split last year between the upper two levels but was roughed up for a 6.49 ERA in 59.2 innings at Columbus and has been assigned to return there to start the year. Curry, a 40 FV prospect, placed 23rd on Cleveland's list and made the team as the long man after a 2022 progression that mirrored that of Gaddis, with two rocky spot starts for the Guardians interspersed with time at the two upper levels. Pilkington made 11 starts and four relief appearances for the Guardians and pitched respectably (3.88 ERA, 4.49 FIP); he was also optioned so many times you'd think a special clause exempted him from the new CBA's five-time limit, but via RosterResource's Jason Martinez, enough of those were COVID-19 related that he didn't exceed the official limit. Guess what? He's been optioned again.
Finally — and it's not actually finally, but we've got to get off this injury merry-go-round at some point — stop me if you've heard this one: The Yankees have an injured starting pitcher. No, not Frankie Montas, who's out until after the All-Star break due to arthroscopic shoulder surgery, or Carlos Rodón, who's down with a mild strain of his brachioradialis, a superficial forearm muscle. This time it's Severino. Over the weekend, the 29-year-old righty was diagnosed with a low-grade right lat strain, one that's lower in his back than last year's strain, which knocked him out of action for over two months and resulted in some hurt feelings when he was transferred from the 15-day IL to the 60-day IL without being told before the news broke. When he did pitch, Severino, who had been limited to 18 innings from 2019 to '21 due to Tommy John surgery and other injuries, was excellent, posting a 3.18 ERA and 3.70 FIP in 102 innings.
This time around, the Yankees don't expect Severino to miss more than three or four starts, but in the meantime, their rotation behind Opening Day starter Gerrit Cole looks rather threadbare. Beyond Nestor Cortes (himself recovered from an early-spring hamstring injury), there's Domingo Germán and Clarke Schmidt, a pair of righties who entered the spring as the team's sixth and seventh starters. Jhony Brito, a contact-oriented 25-year-old righty, has broken camp as the fifth starter. A 40+ FV prospect who placed 15th on the team's list, he split last season between Double-A Somerset and Triple-A Scranton/Wilkes Barre, posting a 2.96 ERA, a 20% strikeout rate, and a 51.7% groundball rate in 112 innings.
The latest on Rodón, who signed a six-year, $162 million deal with the team in mid-December after a stellar season with the Giants, is that he threw a 30-pitch bullpen session on Monday. The hope is that he will be cleared to face hitters next week; at best, that maps out to him being built up — either via simulated games or minor league rehab starts — for a return in late April. If the Yankees have to turn elsewhere before he gets back, 23-year-old righty Deivi García, whose career has mostly been in the weeds since he made an impressive debut in 2020, could be the next cowboy out of the chute. Before being optioned in mid-March, he turned heads in Tampa by reaching 97 mph with his four-seamer and showing off a newish cut fastball.
"What about Ranger Suárez's forearm tightness?" you might be asking. "Or Ryan Pepiot's oblique strain?" Without dismissing the concerns of the Phillies, the Dodgers, and their respective fan bases, I'm afraid that we've reached our pitch count. Unfortunately, we haven't heard the last of starting pitcher injuries, but let's hope we don't get another wave like this.
Brooklyn-based Jay Jaffe is a senior writer for FanGraphs, the author of The Cooperstown Casebook (Thomas Dunne Books, 2017) and the creator of the JAWS (Jaffe WAR Score) metric for Hall of Fame analysis. He founded the Futility Infielder website (2001), was a columnist for Baseball Prospectus (2005-2012) and a contributing writer for Sports Illustrated (2012-2018). He has been a recurring guest on MLB Network and a member of the BBWAA since 2011. Follow him on Twitter @jay_jaffe... and Mastodon @jay_jaffe.