Just a few years ago, Wade Miley was a free agent without many teams interested in his services. He had struggled through two seasons in Seattle and Baltimore, compiling an ugly 5.48 ERA and a 4.85 FIP across more than 300 innings in 2016 and 2017. He eventually signed a minor-league contract with Milwaukee in February of 2018 and completely reinvented himself under the tutelage of Derek Johnson, the Brewers pitching coach at the time. Across 16 starts, he cut his ERA in half and dropped his FIP to 3.59. After a season in Houston, Miley will reunite with Johnson, now the pitching coach for the Reds. It's a two-year, $15 million pact with a $10 million club option for 2022 and a few performance bonuses. Miley ranked 32nd on our Top 50 Free Agents list, with Kiley McDaniel expecting a one-year, $9 million deal; the crowd came much closer to his actual contract, projecting two years and $16 million.
The biggest change Miley made with the Brewers was scraping his slow, looping slider for a hard cutter. He actually made the change at the nadir of his season in Baltimore back in 2017, but Johnson helped him hone the pitch and encouraged him to make it a major part of his repertoire. In a 2018 interview with Todd Rosiak of the Milwaukee Journal Sentinel, Miley described the moment he decided to make the change to his repertoire:
"Just made it up in the middle of the game [on July 25, 2017]. Swear to God. I was getting crushed a little bit. Welington Castillo was catching and I just said, 'Hey, look, when (Evan) Longoria comes back up to bat, I'm throwing all cutters.' He just kind of looked at me and laughed. So we did, struck him out and then he grounded out his next at-bat. So I kind of ran with it."
Miley threw his cutter around a quarter of the time after that fateful start in 2017. He ramped that usage up to around 50% in 2018 and maintained that heavy usage this season: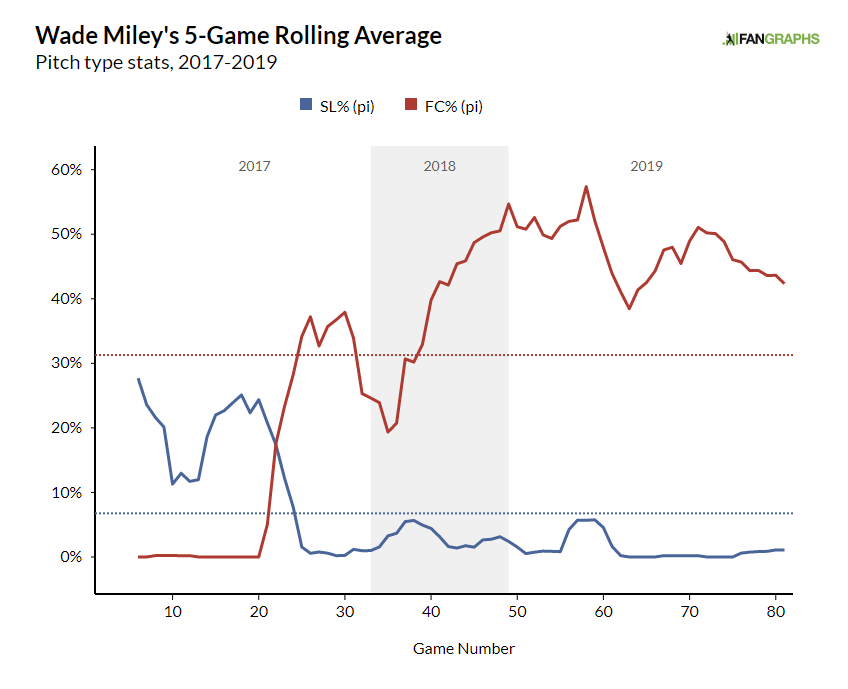 His slider was an effective pitch for him at times, but his command of it wasn't great. He was able to generate a league average whiff rate with it, but it was often left up in the strike zone where it was crushed by opposing batters. His cutter isn't exactly a replacement for his slider, however. He uses it more like his four-seam fastball. Here's how he explained it to Rosiak:
"I throw [the cutter] probably more than I should. I've always thrown fastballs at least 55-60% of the time, and sometimes even more than that earlier in my career. It's just something that I needed — a pitch that would stay in on righties. A while back my four-seamer did but then it started carrying back over the plate so I was like, I can't throw this as much anymore. It took me a while to realize that and so I started throwing a cutter and ran with it."
Unlike his slider, Miley is generally able to locate his cutter exactly where he intends to: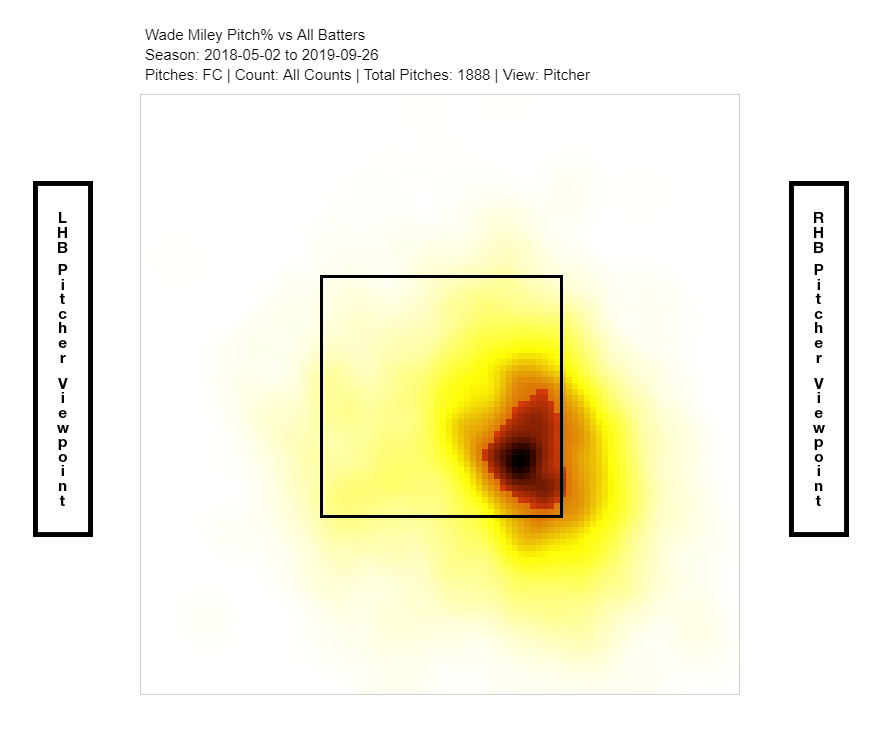 In Milwaukee, his focus was on limiting hard contact with his new cutter at the expense of his strikeout rate. He allowed just three home runs in 80 innings but his strikeout rate dropped to 14.8%, a career low. The Astros took that new foundation and helped him refine his repertoire even further. He returned to using his excellent changeup and trimmed the usage of his sinker and curveball. The result was a three-pitch mix — four-seamer, cutter, and changeup — that helped him regain his strikeout rate while still maintaining the contact management skills he developed in Milwaukee.
Through the end of August, Miley had compiled a 3.06 ERA across 28 starts for the Astros, though his 4.36 FIP was a little less impressive. In September, everything fell apart. He allowed 21 runs in 11 innings and ended up getting left off the Astros' playoff roster. That ugly end to his season could have hindered his ability to find a new deal as a free agent this offseason, but the Reds looked past that month-long slump, likely because of Johnson's familiarity with Miley.
By signing Mike Moustakas and making a number of smaller moves to address their depth, the Reds look poised to take advantage of a weakened NL Central. With Sonny Gray, Luis Castillo, Trevor Bauer, and Anthony DeSclafani already in the fold, adding Miley gives the Reds one of the best starting rotations in the National League:
Top Projected NL Rotations
| Team | ERA | FIP | WAR |
| --- | --- | --- | --- |
| Nationals | 3.95 | 3.95 | 19.2 |
| Mets | 3.97 | 3.88 | 18.1 |
| Reds | 4.12 | 4.13 | 16.7 |
| Dodgers | 3.89 | 3.97 | 16.7 |
| Padres | 4.20 | 4.25 | 13.5 |
Adding Miley wasn't a huge boost to their projected WAR but he does provide some needed consistency. He effectively bumps Tyler Mahle — a league average starter in his own right — from the rotation, but Miley has a long track record of durability. He's surpassed 150 innings pitched in seven of his eight full seasons in the majors with the only exception being his year in Milwaukee where he dealt with a couple of non-throwing arm injuries. Reuniting with Johnson gives Miley the best chance of maximizing his ceiling while he continues to hone his repertoire in the later stages of his career.
Jake Mailhot is a contributor to FanGraphs. A long-suffering Mariners fan, he also writes about them for Lookout Landing. Follow him on Twitter @jakemailhot.