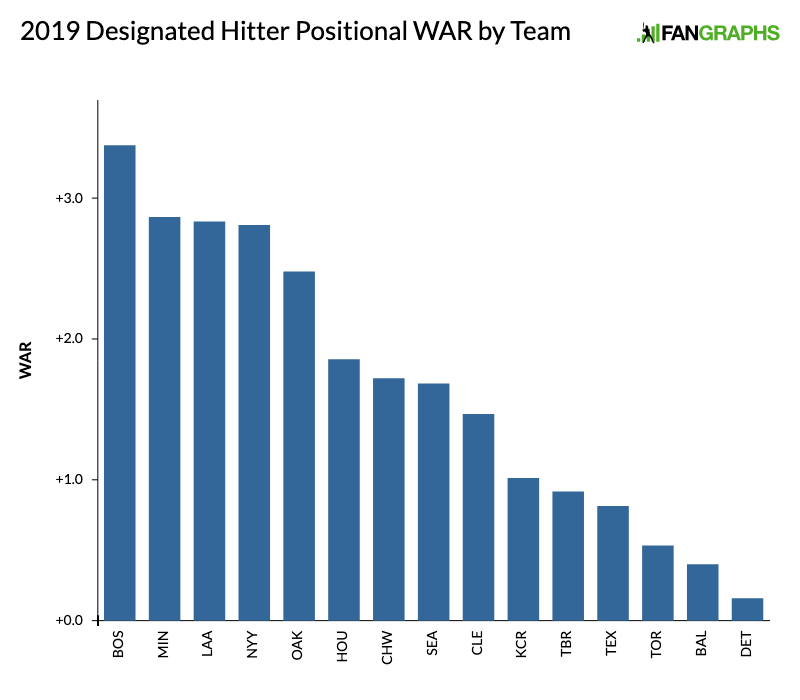 Perhaps no position has been more impacted by the phenomenon of tanking than designated hitter. Teams that fancy themselves contenders splurge on elite bats like J.D. Martinez and Giancarlo Stanton, while teams out of contention rotate light-hitting utility infielders through without regard for the offensive demands of the position. The result is yet another year with a clear divide between the haves and the have-nots – a line that doesn't really correlate well with how much is spent. Yes, the Red Sox, Yankees, and Twins brought in their primary DHs on lucrative contracts, but guys like Khris Davis and Shohei Ohtani cost far less. The Astros embraced the idea of using a homegrown positionless bat, employing Tyler White at a relative pittance. At the other end of the spectrum are teams like the Blue Jays and Orioles, who spent big a few years ago on positionless sluggers and now find themselves with sunk costs.
We can recognize four distinct tiers of DH in 2019. There's the elite tier, which consists of one player alone – albeit one player who is arguably the best pure hitter in the majors. Then we have four teams with near-elite bats. What's most interesting about those top two tiers is that none of those hitters came up as, or have experience at, first base; all but one are, at least nominally, outfielders. Those teams that do utilize erstwhile first basemen form a secondary tier of four well-above average hitters. The rest of the league employs hitters who either aren't something yet, or used to be something, but aren't now. If there's a lesson to be learned from these rankings, it's that spending on elite bats works. Spending on designated hitters doesn't.
Sheryl Ring is a litigation attorney and General Counsel at Open Communities, a non-profit legal aid agency in the Chicago suburbs. You can reach her on twitter at @Ring_Sheryl. The opinions expressed here are solely the author's. This post is intended for informational purposes only and is not intended as legal advice.