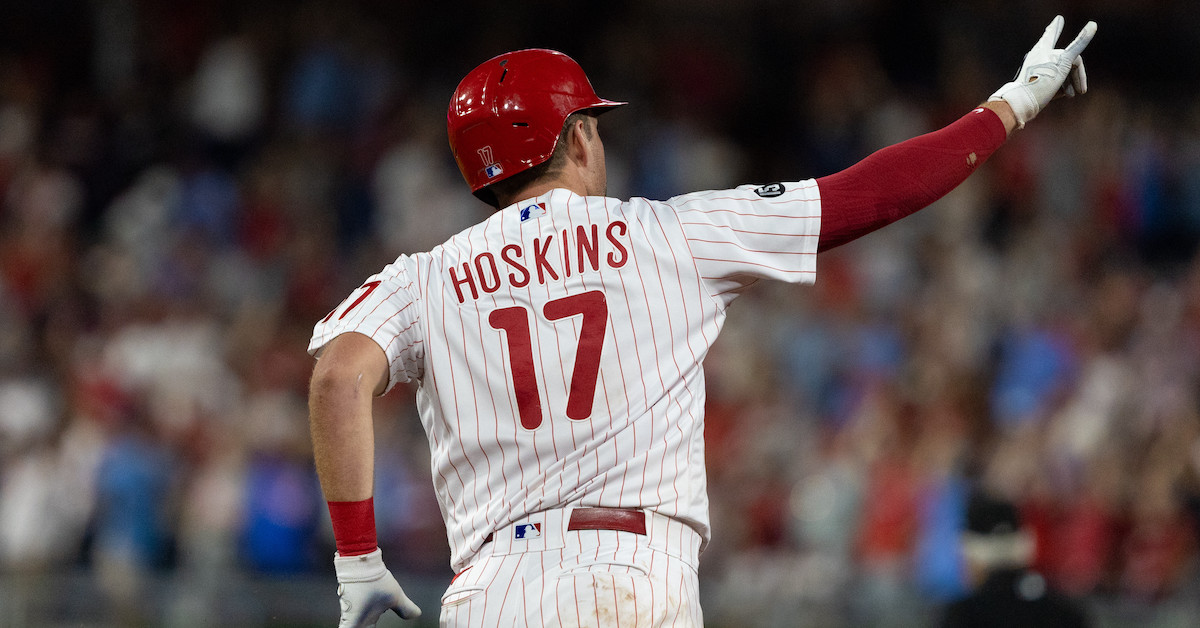 Rhys Hoskins hits for power. The 29-year-old Philadelphia Phillies first baseman went deep 27 times last year in 443 plate appearances; his home run totals in his previous full seasons were 34 and 29 respectively. Moreover, the most notable digits in his career .241/.360/.502 slash line are those of his slugging percentage. And then there is his average exit velocity. Last year, Hoskins ranked in the 83rd percentile for that particular metric.
Slugger bona fides aside, he's no mere masher. Hoskins is a student of the art of hitting, and he has been since his days at Sacramento State University. That's where he learned to hunt the heater, an approach that — as the numbers attest — has served him well.
Hoskins discussed his evolution as a hitter, and the mindset that helps him flourish in the batter's box, at the Phillies' spring training site in Clearwater on Wednesday afternoon.
———
David Laurila: How do you identify as a hitter?
Rhys Hoskins: "I think I'm a hitter with a pretty good understanding of the strike zone. High on-base guy. High power guy with always a chance to hit for more average. That's the way I would describe myself."
Laurila: Many people view you as a power hitter. Do you like that label?
Hoskins: "I feel like when you hear 'power hitter,' there's a little bit of all-or-nothing attached to that. So I don't know if I would necessarily say I'm a power hitter. I think I'd rather say that I'm a hitter with some power."
Laurila: Where, and from whom, did you learn to hit?
Hoskins: "I spent a lot of time with my dad, and with my grandfather, who played in college. Honestly, I just played a ton as a kid. I did [play travel ball], but I also played multiple sports, so there was probably less of that — especially compared to now, where it seems like there's travel ball everywhere."
Laurila: Who else has helped you develop as a hitter? I'm sure there have been several, but does any one person stand out?
Hoskins: "Definitely my college coach; his name is Reggie Christiansen. At Sacramento State is really the first time I looked at hitting as a cerebral thing — the approach aspect, and the way that you can help or hurt yourself with your thought processes and your mindset. He kind of introduced me to that, and I think it helped propel me into the hitter I am now."
Laurila: Can you be more specific about what he taught you?
Hoskins: "He really put an emphasis on hitting the fastball. That, and teaching me, as a hitter, that I don't have to go up there and guess. Guessing can go right — I know there are some guys who take that approach — but I found that I was not good at that. I had to really learn how to hit off the fastball. And that's something that he just harped, harped, harped on. He would kick us out of the cage if we were late on a BP fastball or in an inter-squad [game]. Our at-bat would be over if we swung at something that wasn't a heater with less than two strikes — that type of thing. At the time, I felt like that was a bit much, but it really hammered home the idea that you've got to be able to hit a fastball."
Laurila: You mentioned guessing at the plate. A lot of hitters will say that it isn't guessing, but rather being prepared. With that in mind, do you look for specific pitches, or are you basically just hunting heaters and adjusting from there?
Hoskins: "As a general statement, I would say that it's usually 'hunt heater.' If there's a guy I've faced before, a ton — or if I know that he likes a certain pitch in certain counts — maybe there are times where I'll take chances. But those are pretty few and far between."
Laurila: Is 'hunting a heater' the same thing when you're facing a guy who is throwing 98 mph with ride, and when you're facing someone who is sinking it at 90?
Hoskins: "I think the thought is the same thing. You just kind of adjust your sights on where exactly to look for the ball at release point."
Laurila: I'm guessing that the organization didn't really touch you in your draft year, but instead waited for instructs to make any notable suggestions?
Hoskins: "Right, not until instructs. They kind of let me do what I was doing in college. And I struggled a little bit. I got beat with a lot of velocity. So yeah, we made some adjustments in instructs."
Laurila: You were getting beat by velocity, even though it had been hammered into you not to get beat by velocity?
Hoskins: "Yeah. I went to a smaller school, so some of the competition was not up to the level that professional baseball provides, especially with velocity and how it's become such a prevalent part of today's game. I just hadn't seen it as frequently as I did in pro ball."
Laurila: Does the hitter ever have to 'cheat' to hit a fastball? Some of the pitchers you're going to face have elite velocity.
Hoskins: "I can tell you that there are times where I feel like I have to. But do you ever have to? I would say no. If you are 100% bought into whatever your approach is, I think you can hit anything."
Laurila: Jumping back to your first instructs, what were the suggestions?
Hoskins: "There was some mechanical stuff. I used to be really spread out, with kind of a 'pick my heel up, put my heel down.' Now I have a leg kick — that's kind of where it started — and I'm a little more rhythmic at the plate. That kind of allows me to tap into the big body that I have. [Hoskins said that he is currently 6-foot-4, 230 pounds.]"
Laurila: If I were to compare film of you in your first full season to now, would I see basically the same swing and setup?
Hoskins: "I'm maybe a little more open now than I was, but for the most part it's pretty much the same. That's by design, right? I've been around enough hitters, and talked enough hitting, that I know if you continually chase a change, and small tweaks, that you're never going to know the swing you have — you're always going to be trying to change something. I have made little tweaks here and there, but it's not a day-to-day, or week-to-week thing. If anything, it's more of a year-to-year. That allows me to really know my swing."
Laurila: In talking hitting with guys, has anything stood out to where you definitely wanted to try something?
Hoskins: "Yes. The last couple years, just getting comfortable with… not necessarily getting beat by a heater, but being able to trust the swing to catch a fastball kind of at the back of the hitting zone."
Laurila: What do you mean by 'the back of the hitting zone'?
Hoskins: "So, if the plate is here, you're going to hit pretty much every ball… this ball will go to right field, and this ball will go to left, just based on your contact point. So, just getting more comfortable letting the ball get on me more. That allows me a little bit more time to see it, and a little bit more time to make a decision. I think you end up getting a lot more hits, whereas maybe you used to kind of spin out because you were late. Now you're just kind of trusting the swing. A late barrel, right?"
Laurila: How would you describe your bat path? A lot of hitters have what is commonly referred to as a launch angle swing.
Hoskins: "I've never really worked on that type of swing. I have always just kind of used the swing that I have, and tried to make adjustments with my setup to make sure I'm getting my body in athletic position to fire. My thought, honestly, is that I need to swing down. I know that I don't swing down, but that's the thought I need to have. It's how I produce the plane that I end up having."
——
Earlier "Talks Hitting" interviews can found through these links: Jeff Albert, Greg Allen, Nolan Arenado, Aaron Bates, Bo Bichette, Cavan Biggio, JJ Bleday, Bobby Bradley, Jay Bruce, Matt Chapman, Michael Chavis, Jacob Cruz, Nelson Cruz, Paul DeJong, Josh Donaldson, Rick Eckstein, Drew Ferguson, Justin Foscue, Michael Fransoso, Joey Gallo, Devlin Granberg, Andy Haines, Mitch Haniger, Tim Hyers, Josh Jung, Jimmy Kerr, Trevor Larnach, Doug Latta, Evan Longoria, Michael Lorenzen, Gavin Lux, Dave Magadan, Trey Mancini, Edgar Martinez, Don Mattingly, Ryan Mountcastle, Cedric Mullins, Daniel Murphy, Brent Rooker,, Drew Saylor, Fernando Tatis Jr., Justin Turner, Mark Trumbo, Robert Van Scoyoc, Zac Veen, Mark Vientos, Luke Voit, Jordan Westburg, Jesse Winker, Nick Yorke.
David Laurila grew up in Michigan's Upper Peninsula and now writes about baseball from his home in Cambridge, Mass. He authored the Prospectus Q&A series at Baseball Prospectus from December 2006-May 2011 before being claimed off waivers by FanGraphs. He can be followed on Twitter @DavidLaurilaQA.