Our yearly project of ranking each team at each position continues with center fielders, the position of Mays and Mantle, the position at the crossroads of the offensive and defense parts of baseball's positional spectrum. Let's get straight down to the business of ranking the players who come after Mike Trout.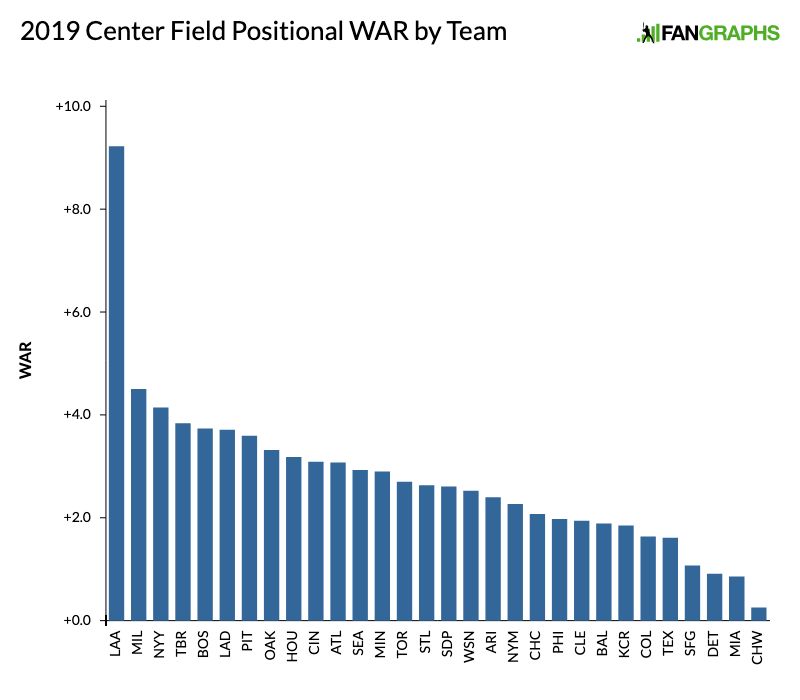 Nowadays, center field is largely seen as a position made up of Mike Trout and Everybody Else. And with a major identity crisis, that conclusion isn't so far off. There's no clash of center field greats, with Trout largely lapping the field. Looking at many of the leaders in WAR at the position over the last five years, a great many won't play center field in 2019 or have already moved off the position: Andrew McCutchen, Charlie Blackmon, Adam Jones, Marcell Ozuna, Christian Yelich, and so on. After Trout and Lorenzo Cain, who jumps out as an all-around star at the position, the way a Carlos Beltran or Jim Edmonds did?
Nor, with baseball's traditional roles changing, can center field claim to be the most popular home for leadoff hitters. In 2018, leadoff hitters played centerfield only 24% of the time, the lowest figure in the Split Leaderboards (which go back to 2002) and well off the 41% mark for 2013, just six years ago. Center fielders hit .253/.319/.407 in 2018, the position's second-worst OPS since 2002, and amassed -3.4 wRAA, also their second-worst.
Where the highs of center field aren't very high after Mike Trout, the position does still have impressive depth, with few teams having truly desperate situations there. Looking at the ranks, if I'm running a contender, I wouldn't be terribly upset about my center field situation until I'm down around No. 21 or so. It's a position defined by workaday adequacy; unless Ronald Acuña reclaims center, by rest-of-career WAR in ZiPS, Trout is the only one in the top 50, with the next 50 only adding Victor Robles and Ramon Laureano. Someday, a new crop of center fielders will challenge an aging Trout in the twilight of his career, but they may be in middle school right now.
Dan Szymborski is a senior writer for FanGraphs and the developer of the ZiPS projection system. He was a writer for ESPN.com from 2010-2018, a regular guest on a number of radio shows and podcasts, and a voting BBWAA member. He also maintains a terrible Twitter account at @DSzymborski.