We wrap up the position player portion of the positional power rankings with a look at the right fielders.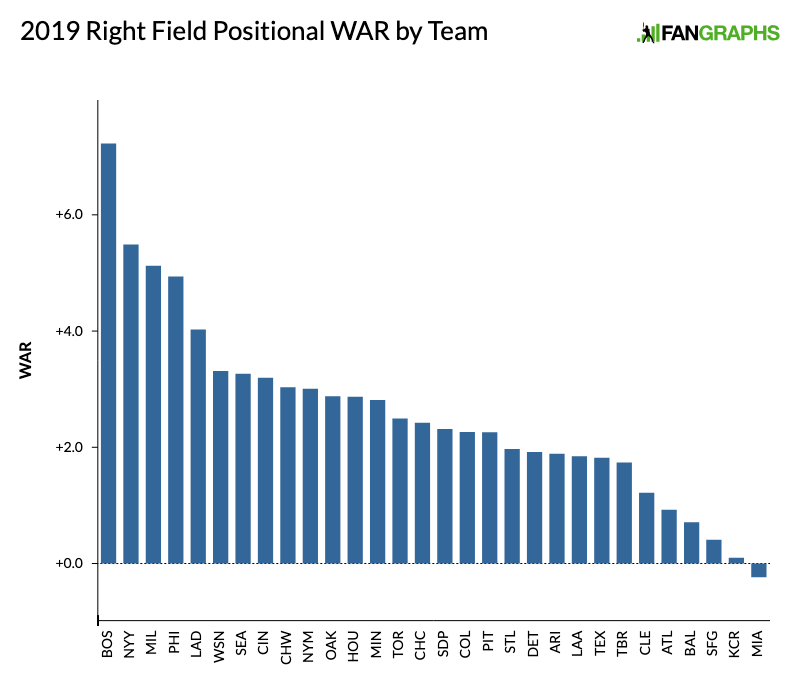 The top half of this list features some of baseball's brightest stars, including two reigning MVPs (Mookie Betts and Christian Yelich), a $330 million man (Bryce Harper), and one of the game's most vivacious personalities (Yasiel Puig), not to mention one of its literal biggest stars (Aaron Judge). There are a number of very talented young guys here (Cody Bellinger, Eloy Jimenez, Michael Conforto, Mitch Haniger) some of whom can boast of hardware of their own, and all of whom could become part of that star tier, even if their wattage isn't nearly as bright as that of the Betts and Harpers of the world. There are also some platoons that could bear fruit, but outside of the top five teams, I'm struck by how much sameness there appears to be in the middle, as many teams are fielding aging veterans playing out the string, some of which are interested in winning, and others of which are decidedly not. An extreme to note: the Marlin's right field situation is the only position player group currently projected for negative wins. Poor Curtis.
Meg is the managing editor of FanGraphs, the host of FanGraphs Audio, and the co-co-host of Effectively Wild. Her work has previously appeared at Baseball Prospectus, Lookout Landing, and Just A Bit Outside.