Just as we all predicted in spring training, Tommy La Stella has taken over the Angels' lead in home runs, surpassing Mike Trout. Wait, what?
You're forgiven if you haven't been paying much attention to the Angels, who are 20-22, haven't been more than a game above .500 all season, and are now more than a month removed from their last time at that plateau. Trout was impossibly hot to start the season, but he cooled off, and Shohei Ohtani only made his 2019 debut last week, albeit without the novelty of double duty due to his Tommy John surgery. The Ohtani-less rotation has been dead-last dreadful, with practically everybody carrying ERAs and FIPs in the 5.00s, 6.00s, and 7.00s, or else on the injured list, and there's been no heroic career turnaround for Matt Harvey, to say the least. Albert Pujols just passed the 2,000 RBI milestone, but he's a shadow of his former self, and who cares about RBI, right?
Into this less-than-compelling spotlight has stepped La Stella, a 30-year-old lefty-swinging infielder who entered this season best known for his pinch-hitting prowess (.278/.397/.386 in 193 PA) and the Cubs' gentle handling of his mid-2016 walkabout, the kind of thing that could have ended his career. The Angels acquired him last November 29 in exchange for a player to be named later (lefty reliever Conor Lillis-White) who has yet to throw a competitive inning in 2019, and are paying him all of $1.35 million. In our preseason Positional Power Rankings, we forecast La Stella to receive just 77 plate appearances as the Angels' second baseman behind David Fletcher, with another 105 at third base behind Zack Cozart, and 14 at designated hitter. Given that he'd hit just 10 homers and produced a 96 wRC+ (.264/.345/.366) and 2.0 WAR in 947 career plate appearances — including just one homer and an 86 wRC+ in 192 PA last year — he wasn't on anybody's radar as a potential impact player.
Thanks to injuries sustained by Cozart and left fielder Justin Upton, and the versatility of Fletcher (not to mention his own), La Stella has secured more playing time than expected, and he hasn't wasted it. He's started a total of 31 games, 26 against righties. He's made 24 starts at second, six at third, and one at DH, while pinch-hitting just three times. In 127 PA, he's hit .278/.366/.574 with 10 homers, matching his previous career total and overtaking Trout, who has nine. Here's Monday night's opposite field shot off the Twins' Jose Berrios, a blow that proved to be the game-winner:
La Stella's 10 home runs are tied for 12th in the AL, while his 154 wRC+ trails only Trout (169) among Halos hitters. So, what accounts for his metamorphosis into a slugger? Mainly, it's the by-now-familiar tale of a player adjusting the plane of his swing to more consistently barrel the ball and hit it in the air. A month ago, shortly after a three-homers-in-two-games outburst against the Brewers, The Athletic's Fabian Ardaya described La Stella's work with the Angels' hitting coaches:
The utility infielder has worked to adjust his bat path with hitting coaches Jeremy Reed, Shawn Wooten and Paul Sorrento, becoming more efficient in getting the barrel to the ball while also adjusting his hands. In a small sample, La Stella has increased his average launch angle from 8.1 degrees to 13.9 degrees, which is more typical of a power hitter.

Instead of gripping the bat tight and "muscling" the baseball, La Stella worked to become more relaxed, using his good eye, solid approach and natural strength to swing at damageable pitches and trust his natural power instead of forcing it.
Now, I'm by no means an expert in breaking down a player's swing mechanics, and with La Stella's limited body of work, matching pitch type, location, hit type, and camera angle for optimal A-to-B comparisons isn't helping, but even so, it's not hard to see some differences between the 2018-model La Stella and the 2019 one. Here are a pair of singles on pitches in Gameday Zone 8 (lower middle):
In the 2018 clip, from May 13 against the White Sox's Bruce Rondon, La Stella starts his swing standing very tall, with his bat quite upright. In the 2019 clip, from May 1 against the Blue Jays' Marcus Stroman, he begins with his knees a bit more bent, and his bat is definitely starting from a lower angle. For what it's worth, I can find 2018 hits where he's less upright, with the bat pointed somewhere between those two extremes; this one's from August, but he's back to being very upright in this one from September.
As noted, La Stella homered once last year, on August 30 against the Braves' Mike Foltynewicz. The knees a bit more bent than the 2018 single above, but the bat is still upright:
And here's his April 9 homer off the Brewers' Freddy Peralta. More crouched, with the bat at the lower angle:
Note that he's a bit more upright in the Berrios homer near the top of this article, but the lower bat angle remains, and the swing path is different from where it was last year.
[Update: Multiple writers caught on to La Stella's powering up at about the same time I did, including Baseball Prospectus' Matthew Trueblood and the Orange County Register's Jeff Fletcher, both of whom had the opportunity to converse with La Stella about his propensity for adjusting his stance. "Over the last few years, even at-bat to at-bat, with my stance and my setup, whatever felt right in the moment, I would go with," La Stella told Trueblood. Via Fletcher, the hitting coaches scoured video to find what they believe to be La Stella's optimal setup, "standing taller, knees hardly bent at all, with his bat at about a 45-degree angle on his shoulder." Said La Stella, "On video, it may not be as athletic of a position, but it's comfortable for me, which allows my swing to work the way I want it to."]
Prior to this season, La Stella, who's listed as 5-foot-11, 180 pounds, had earned a reputation not for his power but for his combination of patience and contact ability, which suited him particularly well off the bench; he walked in 10.6% of his plate appearances while striking out in just 12.6%. He owned a career 45.2% groundball rate and a 1.50 groundball-to-fly ball ratio; last year, he'd set career highs with a 52.8% mark and a 2.27 ratio. This year has been a different story; he's been putting the ball in the air more frequently, and his groundball rate has dipped to 39.0%, with a 1.05 ratio. When he pulls the ball (45.8% last year, 41.0% this year), his rate of doing so on fly balls has more than tripled, from 7.7% to 24.4%.
La Stella's average launch angle through Monday was up to 15.2 degrees; the year-over-year increase was tied for 10th:
Largest Increases in Average Launch Angle, 2018-19
SOURCE: Baseball Savant
Minimum 400 pitches seen in 2018, 250 in 2019. BBE = batted ball events. LA = average launch angle.
For La Stella, that's paid off greatly; through Monday, among players with at least 150 PA last year and 100 this year, his 251-point increase in slugging percentage (from .331 to .583) ranked second to Cody Bellinger's 302-point increase. From the list above, Sanchez was sixth with a 225-point increase, Yelich 17th with a 147-point increase.
What's particularly interesting about La Stella's newfound power is that he's also become even more disciplined and contact-oriented. Of the 187 players with at least 120 PA through Monday, his 18.8% chase rate ranked seventh, his 3.3% swinging strike rate — that's one whiff for every 30 pitches — and 6.6% strikeout rate both third. The Angels dominate that particular region of the leaderboard; Fletcher (1.8%) and Mike Trout (3.7%) also ranked in the bottom four in swinging strike rate, and Fletcher (5.8%) and Andrelton Simmons (6.5%) were the only players with lower strikeout rates than La Stella. Here's a fun scatter plot: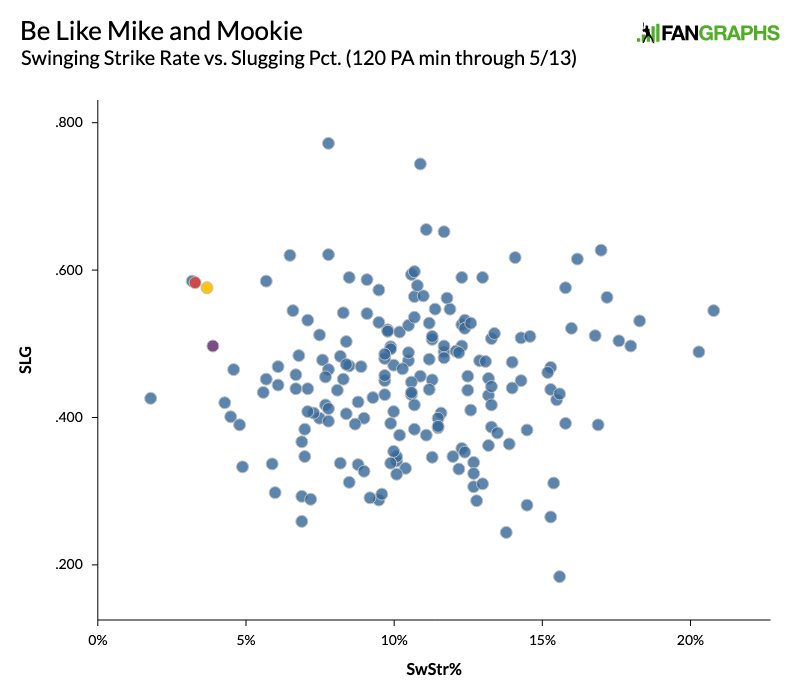 La Stella is the red dot, Trout the yellow one, and Mookie Betts is in purple; Michael Brantley is the blue dot partly occluded by La Stella. That's good company.
Even with sketchy defense (-0.8 UZR split between second and third bases, albeit in ridiculously small sample sizes), La Stella has already set a career high with 1.3 WAR. He's by no means the first journeyman to alter his swing and see a radical improvement in his results, and he won't be the last, but it's nonetheless fascinating to see such turnarounds, one season and one batter at a time.
Brooklyn-based Jay Jaffe is a senior writer for FanGraphs, the author of The Cooperstown Casebook (Thomas Dunne Books, 2017) and the creator of the JAWS (Jaffe WAR Score) metric for Hall of Fame analysis. He founded the Futility Infielder website (2001), was a columnist for Baseball Prospectus (2005-2012) and a contributing writer for Sports Illustrated (2012-2018). He has been a recurring guest on MLB Network and a member of the BBWAA since 2011. Follow him on Twitter @jay_jaffe.