On Monday, Jay Jaffe kicked off our positional power rankings series by evaluating first basemen. If you need a refresher on the process or the concept behind the series, Meg Rowley wrote a handy explainer. Today, we stay on the infield and tackle second base.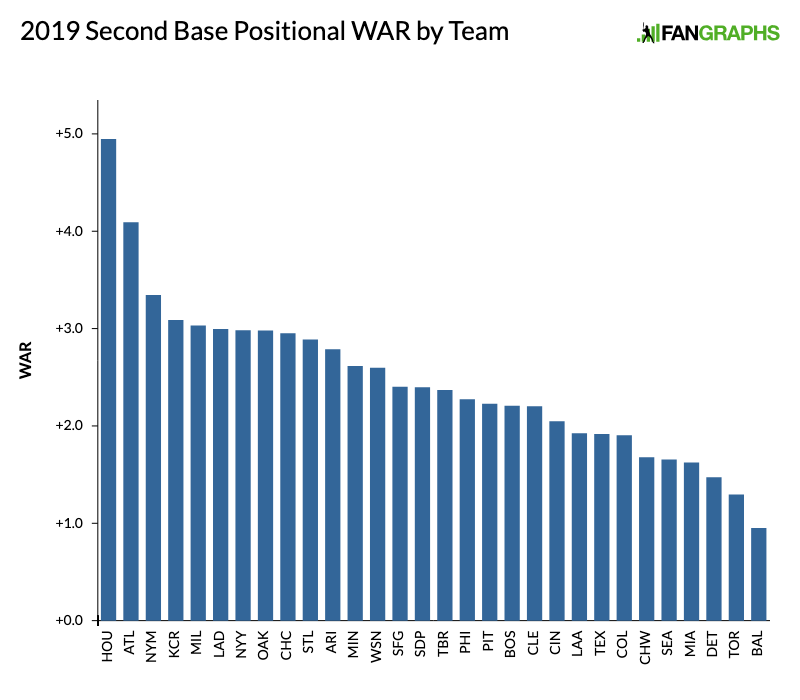 The stereotype surrounding second base is that these players aren't good enough defensive players to man shortstop and aren't good enough hitters to play third base. There are those that defy those conventions. Jose Altuve is one of the best players in the game. Javier Baez and Ozzie Albies can handle short. Robinson Cano has been one of the better hitters in baseball for a decade. Mike Moustakas probably should be a third baseman, but weirdly won't be one this year. There are many, however, for whom those traditional designations fit. Only two teams have four-win projections at the position, with a bunch of high-floor three-win types. That doesn't scream stardom, but there's a lot of hidden upside in these projections. In addition to Albies, we see possible stars in Gleyber Torres and Luis Urias. Javier Baez only gets partial playing time at second. Scott Kingery, Carter Kieboom, Keston Hiura, Bo Bichette, and Nick Madrigal don't play a huge role below, but they do represent talented young players who could help their teams to the top of these rankings in the years to come.
Craig Edwards can be found on twitter @craigjedwards.