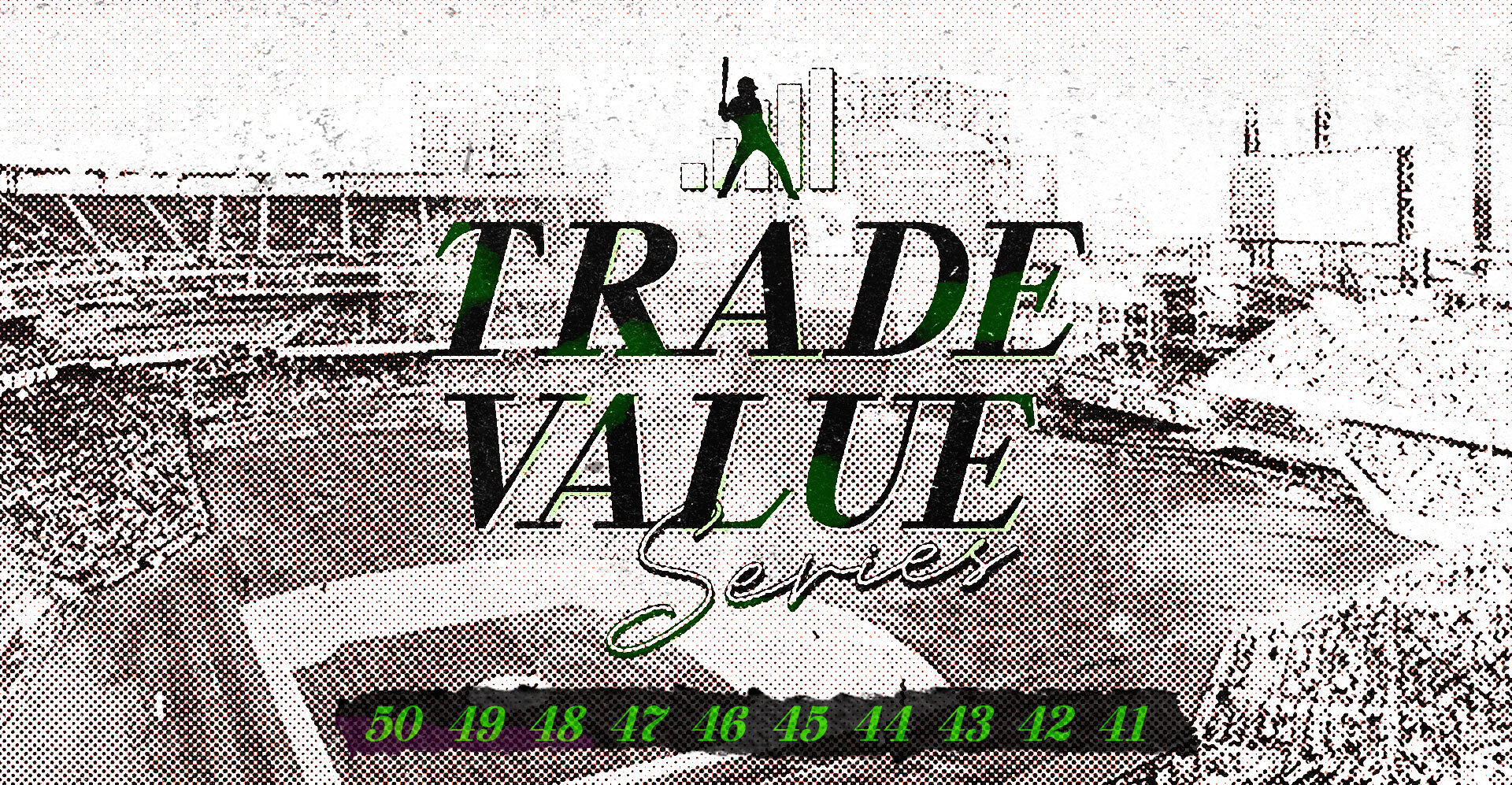 As is tradition at FanGraphs, we're using the lead-up to next week's trade deadline to take stock of the top 50 players in baseball by trade value. For a more detailed introduction to this year's exercise, as well as a look at the players who fell just short of the top 50, be sure to read the Introduction and Honorable Mentions piece, which can be found in the widget above.
For those of you who have been reading the Trade Value Series the last few seasons, the format should look familiar. For every player, you'll see a table with the player's projected five-year WAR from 2023-2027, courtesy of Dan Szymborski's ZiPS projections. The table will also include the player's guaranteed money, if any, the year through which their team has contractual control of them, last year's rank (if applicable), and then projections, contract status, and age for each individual season through 2027, if the player is under contract or team control for those seasons. Last year's rank includes a link to the relevant 2021 post. Thanks are due to Sean Dolinar for his help in creating the tables in these posts. At the bottom of the page, there is a grid showing all of the players who have been ranked up to this point.
One note on the rankings: particularly at the bottom of the list, there isn't a lot of room between the players. The ordinal rankings clearly matter, and we put them there for a reason, but there's not much of a gap between, say, the 35th ranked player and 50th. The magnitude of differences in this part of the list is quite small. Several folks I talked to might prefer a player in the honorable mentions section to one on the back end of the list, or vice versa. I think the broad strokes are correct — but with so many players carrying roughly equivalent value, disagreements abounded.
With that out of the way, let's get to the first batch of players.
Year three of Arozarena's major league career looks to me like a microcosm of what you can expect from him in general. Those muscles he added during lockdown in 2020 are here to stay; he has plus power to all fields, and plus speed to go along with it. On the strength of those two tools alone, he's been a valuable hitter since his debut.
To take advantage of that newfound power, Arozarena rebuilt his swing, and his new one comes with some swing and miss. If that's the cost of doing business, though, it's a worthy tradeoff; power is the currency of the realm these days, and if it takes a few strikeouts to get there, so be it. The result is that Arozarena's on-base percentage will be extremely BABIP-dependent; when the hits aren't falling, he'll be a slug-over-OBP guy, which at the very least means he'll be streaky. His speed doesn't translate to great defense, either, which means he's best suited for an outfield corner, and the Rays give him plenty of time at DH.
Still, he won't hit arbitration until 2024, and he's only 27, so a decline phase feels a ways off yet. The power alone makes Arozarena a bargain at those rates, even if he never posts plus on-base numbers. Teams might not break the bank to trade for Arozarena – but every team in baseball would love to have more cost-controlled contributors like him.
Carlson drew mixed opinions across baseball, though not about his talent level. Pretty much everyone agrees that he's an above-average big leaguer, a plus bat who plays solid corner outfield defense. His recent run in center field suggests that he could even start there if necessary, though he's certainly stretched. Offensively, he does a little bit of everything, and while his batted ball quality is down this year, he still looks like a good bet to post above-average offensive numbers year in and year out.
This much, everyone agrees on. The question, then, is what that means for his value. Is a surefire 2-3 WAR player making deeply discounted salaries one of the top 50 trade chips in the game? I suspect that it is for many teams, because if you're operating on a budget, cost certainty and years of team control are invaluable; a bargain at one position allows you to splurge elsewhere.
Truthfully, there's not much separating Carlson from any number of other young and good players. I think he's a good avatar for this archetype though, and he's a bit younger, a bit better, or has a bit more control than most everyone else in this tier, which explains his place at the back end of the top 50 rather than in the honorable mentions. Your mileage may vary, and again, lots of evaluators' mileage did.
A year ago, we didn't even think Greene was the Tigers' best hitting prospect – Spencer Torkelson held that honor. But all Greene has done since then is hit, to the point where he's reached the major leagues at just 21 years old. Truly, all Greene has ever done in his entire baseball career is hit; after honing his skills at the team's alternate site in 2020, he hit the ground running last season and carved through every assignment the Tigers gave him. Did he strike out a little more than your average premium hitting prospect? Sure, but he made up for it with excellent production on contact, and at a precocious age to boot.
His swing and general in-game motions are in the uncanny valley; there's something about his actions and stride that feels just off of normal. But that seems to work out well for him; he's sometimes looked befuddled by major league breaking balls, but has still put together an average line with impressive underlying contact quality metrics. And again, he's 21, so there's plenty of room to grow. If Greene reaches the heights that some talent evaluators project, he'll be a perennial All-Star in either outfield corner. Even if he falls short of that, his raw power and feel to hit should give him a high floor. Greene looks like the kind of hitter you can build your lineup around, and you'll have time to let that lineup gel; he won't reach free agency until after the 2028 season.
Ranking 47th is a steep drop for Trout, who has basically been in the top 15 of this list since debuting in the majors. But age comes for everyone, and while Trout is still one of the best hitters in the game, he's starting to have trouble staying on the field. He only played in 36 games last year, and he's dealt with nagging injuries this season as well. Sure, he's producing enough when healthy that he's still a good bet to compete for MVP awards every year, but he turns 31 next month, and he's under contract through 2030 at $35.5 million per year.
If Trout were a free agent, he'd probably sign a deal very similar to his current one. He's still Mike Trout; he's still one of the best players in the game's history, and near the peak of his powers, though he's become more strikeout-prone in recent years even as he maintains his excellent overall output. Plenty of teams flat out wouldn't trade for Trout, because they don't make long-term commitments like that. The ones that were still interested, though, would really want him; plugging Trout into your lineup would greatly improve any roster.
Sometime soon – in the next few years, most likely – Trout will fall off this list, and it will feel very strange. Heck, if we named these rankings after anyone, it would be Trout. But the torch has to be passed sometime, so just think of my putting Trout here as a rousing sendoff. The king of trade value is dead. Long live the new king of trade value, (redacted until Friday).
Good hitters are hard to find. Sure, if you ask an armchair GM, they'd tell you that you can plug anyone in at first, and that there's a reason positionless sluggers are always getting non-tendered. They're right – but they're also wrong. You can plug anyone in at first, but they won't hit like France does.
First basemen have a 116 wRC+ this year. That's pretty solid! France has a career 128 wRC+, and a 136 over the past two years. After a strikeout-heavy start to his major league career, he's back to doing what he did throughout the minors: making a ton of contact, plenty of it loud. His hard-hit and barrel rates don't jump off the page, but he hits a ton of line drives and never strikes out, which gives his offensive production an enviable floor. It's easy to have acceptable production at first, but getting premium production there is still a rarity.
Am I worried that a decline in contact rate would push his offensive production down to average given his defensive limitations? Most definitely. But there's nothing indicating an imminent decline; he has an excellent approach, hunting juicy pitches without chasing excessively, and a simple swing that covers the whole plate. Getting that kind of offense at arbitration prices for the next three years is something every team would jump at. After all, they all have plenty of worse-hitting corner-only guys they can replace.
Gallen is a great lesson in why pitchers are so hard to place on this list. Last year, we had Gallen ranked quite highly, and for a pretty obvious reason: he'd been excellent since his 2019 debut and won't be a free agent until after the 2025 season. After some early-season injury issues, though, he came back and looked diminished. His 2022 season has been uneven, mixing flashes of brilliance with stretches where he can't seem to strike anyone out.
Look, evaluating pitchers is difficult. Gallen bullies hitters with his fastball, which he doesn't throw particularly hard. It's one of those high-spin four-seam jobs, but he doesn't miss many bats with it. It just avoids hard contact, and he complements it with a nasty curveball that he commands extremely well. It's really hard to describe why Gallen is so good, which makes it especially difficult to peg his value when he's scuffling.
It's entirely possible that Gallen shouldn't appear on this list at all. It's also possible that he'll peel off a sub-3.00 ERA the rest of the season and make me look like a pessimist. This rating is the equivalent of throwing my hands up in the air. I think that teams would treat Gallen as better than his 2022 season, but still offer little enough in trade that they'd feel like big winners in the deal if he returns to his 2019-20 form. That leaves him at 45th, but with rather large error bars.
There's no such thing as having too many pitchers. Every year, teams learn that the hard way when what looked like a solid rotation turns into three good starters and a grab bag of Triple-A arms. Even worse, pitchers break all the time, which means most teams hate to pay top-end salaries for their starters. In essence, every team could use more pitchers like Garcia, who doesn't reach arbitration until 2024 but has established himself as a mid-rotation starter.
The jury is out on whether Garcia will ever be more than that. He has a dizzying array of good secondary pitches; the cutter/slider/curveball spectrum he throws is the stuff of batters' nightmares. He's held back by a middling fastball, though; it doesn't miss many bats, which is not what you'd like to see out of a four-seamer with so-so velocity. The result is plenty of loud contact and shorter outings as he tries to pitch backwards whenever possible.
If Garcia ends up as a roughly league-average pitcher, that's still great! Again, every team needs those, and his track record is long enough at this point that I'm not terribly worried about a sudden decline. Not every player can be Gerrit Cole or Zack Wheeler; some are merely excellent baseball players who will be on your team for a long time yet.
Controllable pitching is cool and all, but home runs are great too. Alonso absolutely bops. He has more homers than anyone else in baseball since his 2019 debut by a comfortable margin, and he's a top 20 overall hitter in the game over that span. Sure, it doesn't come with much defensive value, though Alonso has sharpened his fielding at first base over the years. But offense is offense, particularly now that the universal DH gives teams more flexibility in combining Alonso with whatever other defensively limited slugger they already have.
It's not just homers; Alonso has quietly improved his plate discipline over the years. He's swinging more often at good pitches to hit and making more contact without sacrificing quality when he does connect. He may never have the keenest eye, but he works to his strengths; when you do so much damage on contact, swinging makes plenty of sense. The only thing holding his value back (other than the aforementioned defense) is his impending free agency; he'll make his second trip through arbitration this winter. That does cap what a team would give up to acquire him, but for his remaining two-plus years of team control, he'll continue to launch balls into the stratosphere at a tremendous rate.
I had a really hard time pinning down Arraez's place on this list. He's the best hitter for pure average in the game, bar none. This season has been a breakout year for him; he's walking more than ever, striking out less than ever, and lacing line drives to all fields. It might be the most beautiful 150 wRC+ season you'll ever see; watching Arraez hit feels like watching a great artist paint.
Why isn't he higher on the list? Because he's mostly incomparable, and mostly-incomparable players are hard to evaluate. He doesn't really have a defensive position – he's played a mix of first and second base this year, and has sprinkled left field and third base into the mix in the past. But he's below average everywhere but first (and even there, he's short for the position), so it's not really positive utility, so much as a lesser-of-two-evils situation. And it's hard to get by one base at a time in today's game; pitchers are so good that someone on your team will eventually strike out, meaning hitting balls over the wall is more necessity than luxury.
I think Arraez will provide more value in the coming years than his spot on the list indicates. But teams are risk-averse, as I'll mention many times throughout this exercise. Arraez is a risky player; he gets to his value thanks to one skill where he's several standard deviations above anyone else in baseball, and if that one skill changes, he'll be much worse. Every team would love to have him, but in my estimation, they'd all try to buy low.
I'm hesitant to make all these blurbs "you would not believe how hard it was to rank this player," but c'mon! Marte is in the middle of his second straight solid offensive season. He's playing nearly every day after missing a chunk of each of the last two seasons with injury. He's on a team-friendly contract that never eclipses $17 million per year. He could remain in Arizona until as late as 2028 if the Diamondbacks exercise their team option – oh yeah, his contract has a team option.
He's also a butcher at second base, and really everywhere he's played in the field. He should probably play a corner defensive position somewhere, though I'm not quite sure which one. And talk about an injury risk – "long-term contract" and "hamstring issues" go together as poorly as peanut butter and jelly go well. Modern GMs would just as soon douse themselves in kerosene as take a zero on a big contract, and there's always that lingering possibility with Marte. That's why his deal is reasonable. What other 28-year-old with a 135 wRC+ over the past four seasons do you know who is under contract for the next four-plus seasons at a good rate?
Even accounting for the injury risk, I think Marte will be a comfortably above-average player for the majority of his contract because he hits so well when healthy. But here's a spot where the contract hurts more than it does for most players, reasonable as it is. As I mentioned in the introduction, breadth of market doesn't matter for stars; if a few teams are competing to trade for one, they'll fetch a premium even if the small-market teams are out. But Marte is more nice player than star, and many of the clubs that wouldn't mind taking on his deal are awash in above-average corner types. To me, this is the spot where a lack of suitors most hurts a player's value in trade.
Ben is a writer at FanGraphs. He can be found on Twitter @_Ben_Clemens.