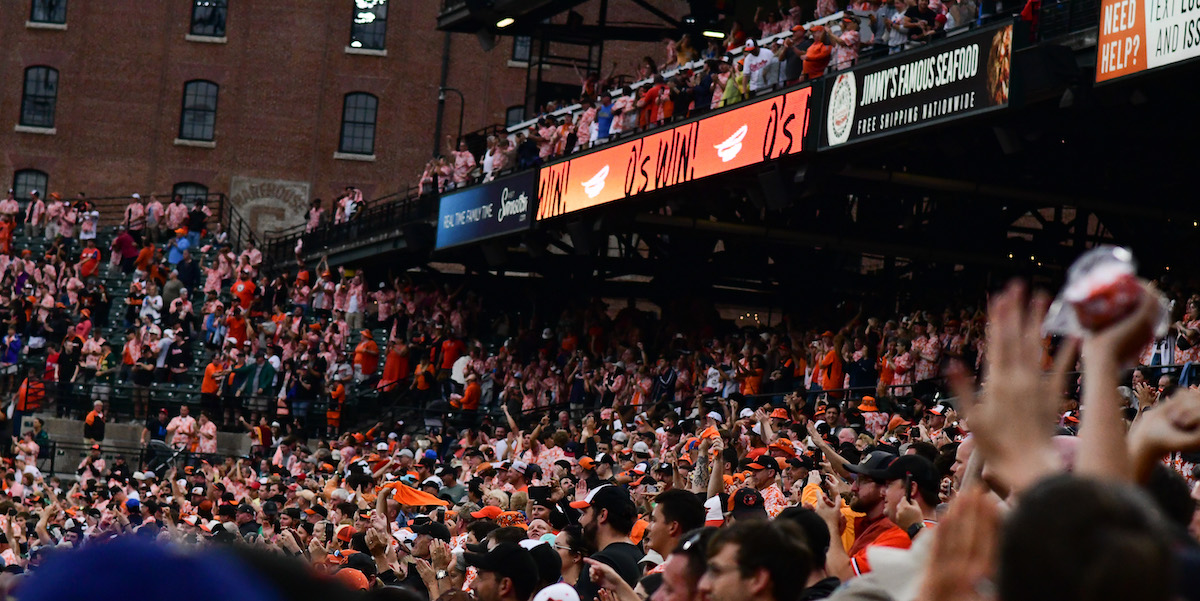 The Baltimore Orioles have been exceeding expectations this season, and an improved offense is one of the reasons why. Second from the bottom in runs scored last year, the Birds went into yesterday's off day tied with the Chicago White Sox for seventh-most in the American League. While improved pitching and defense has arguably had a bigger impact, plating more runners has greatly benefitted the team's fortunes.
Ryan Fuller has played a key role in the offensive uptick. A former University of Connecticut infielder who joined the Orioles organization as a minor league hitting coordinator in 2019, Fuller was promoted to big league co-hitting coach, along with Matt Borgschulte, last November.
In the latest installment of our Talks Hitting series, Fuller discussed the club's new school meets old school philosophy — and some of the notable players who embrace it — when Baltimore visited Boston earlier this season.
———
David Laurila: What is your approach — the Orioles approach — to hitting?
Ryan Fuller: "Organizationally, what we believe in starts with making great swing decisions, swinging at the right pitches in the zone, and taking pitches that aren't in the zone. If we do that, hard contact is going to come. And if we make hard contact, OPS, scoring runs — whatever metric you want to look at — is going to heighten.
"From there, how do we teach it? Obviously, we have educational sessions. We have daily advance meetings. But really, it comes down to meeting the players where they are — having different tools in the toolbox — of how to connect with them. We want to make sure they understand that the values we're teaching them as an organization matters to each guy individually, as well."
Laurila: If this were 1960, and not 2022, would those principles be all that different?
Fuller: "It's very objective — everything we do here — whereas in 1960 you didn't have the data to say, 'If you swing in this zone, your numbers will skyrocket.' You can be objective, given the visuals, being able to give them heat maps… whatever they need to have it connect. I think we have every resource available to the coaches, and then are able to take it to the players and have them go, 'Man, this is really important. This is something I should be focusing on.'"
Laurila: That said, hitters have always understood that pitches on the black are hard to handle, and cookies down the middle can be crushed…
Fuller: "It's very intuitive. All of the things we are teaching have been synonymous with success since the game began. If they leave a mistake over the heart of the plate, you're going to hit it hard. We just have more research, more tools, more data points to back it up now. But yes, what they were preaching back in the day is largely what works today. Hitting is very cyclical. It comes back around to really focusing on balls and strikes, controlling the zone, hard contact. That's going to play in any era."
Laurila: You're still young [32 years old]. Even so, were you taught hitting in an "old school" manner?
Fuller: "I was. It wasn't until I was in college and a couple of guys like Josh Donaldson, when he was working with Bobby Tewksbary up in New Hampshire… I mean, all I knew about hitting was trying to be really direct — which we still want to be — but instead of pushing your hands, losing space, being able to turn the barrel, get behind it and work it up through the pitch plane. Those are things that didn't really click in my head until the end of my playing career, unfortunately.
"Looking at it now, reading Ted Williams' book, they had it figured out ahead of time. We just didn't have his ideas come into play until a little too late. Now they're all around baseball.
"When I was at UConn, we would look at George Springer's swing like, 'Man, how is he so good? He hits everything.' You'd see the barrel… instead of staying very vertical, and steep in the contact… all of the great players have the ability to turn it behind them, get on plane with the pitch, and have the ability to cover the top half, middle, and bottom. It wasn't this one perfect swing, but rather many swings that cover different problems that the pitchers are throwing at hitters."
Laurila: I've talked to a lot of hitters about A-swings, and having different swings for different pitches and situations. How do you approach that?
Fuller: "We want that A-swing, especially before two strikes, whenever you pull the trigger on balls over the zone that you could do damage on. But we talk about trade-offs, too. How can we have a little more contact here? Maybe we turn down the dial on the effort level, especially with two strikes. OK, is this a situation that lends itself to going all out for damage, or is this one where we turn it back a little bit and play a little line-drive pepper around the field to score with that runner in scoring position?
"So, we talk about doing damage, but also the trade-offs in different situations. You want to have swings in your toolbox where you can say, 'OK, I'm going to be more geared toward contact here.' I think that's super important."
Laurila: A hitter recently told me that with a good swing, you'd be surprised at how hard and far you can hit a ball without much effort. To the extent that that's true, should more hitters take a less aggressive swing?
Fuller: "It depends on the hitter. We have a few guys on the team where that 100% swing still plays for line drives, and still allows them to make contact. We have other guys where maybe they turn down the dial a little bit and the contact goes up. They feel like they need a little more control of the bat head. So it really depends on the player, and having those conversations to say, 'Is this comfortable? Are you able to do that?' That's whether it's a mental adjustment with two strikes, or a physical adjustment where maybe they choke up the bat a little bit to have more bat control. Maybe they widen out a little bit. Whatever it may be, it's about having those conversations, because we want results out there, rather than just a good theory in the cage."
Laurila: Talent level aside, which factors hinder a hitter's ability to make hard contact when he's taking a more controlled swing?
Fuller: "There are a plethora of things. The way pitchers are attacking us, the way our swings match up with the pitcher's tendencies, the stuff he has. If a guy has a really hoppy fastball, do we have the ability to flatten out at the top of the zone? If he has a really wipeout slider, can we be a little bit more vertical with our bat angle?
"You're going to look at, 'What are his strengths? Where are my weaknesses? Where can I hedge my bets in the best way possible?' For each guy, it's going to be different. It's that cat-and-mouse game with a pitcher and hitter, and hedging those bets in the right direction."
Laurila: Preparation is obviously important…
Fuller: "It is. I think it really comes down to, are we training it? I don't want these guys to ever go in the game and say, 'Hey, let's try it out for the first time.' Say there's a great closer out there, or a great setup guy. That's something you want to train in the cage — facing nasty stuff — so that you're able to transfer it to the game. You want them to be able to say, 'I've trained it. This is comfortable. I feel like I can turn the dial a little bit,' whether it's down or up. Having that in the toolbox makes hitters more comfortable in those situations."
Laurila: You mentioned that there are hitters on this Orioles team who don't need to dial up or down. Can you give any examples?
Fuller: "Trey Mancini is one. He does a great job of staying consistent with his loading patterns [and] his timing the whole way through. It doesn't feel like he's ever out of control, or having to turn it up. It's a really consistent stroke. But then there's a guy like Ryan Mountcastle. He's played around with widening it out a little bit, choking up on the bat, especially with two strikes. He's working really hard at making great swing decisions and putting the ball in play. "
Laurila: Why the difference between the two? Is that explainable?
Fuller: "They're both incredibly talented. Trey has been in the league a little longer than Mountie, and that experience to go out there and have an idea of how pitchers are going to attack you — that Rolodex you have in your head — is a factor. Experience lends itself to being more confident, and having success builds on it too. So it's gaining experience and trusting the work you put in in the cage, and also trying things out. We talk about it all the time. We're not afraid to swing and miss. We're not afraid to get a little funky in the cage, with the objective being success on the field."
Laurila: With "funky" in mind, is there a Jeff Francoeur on the team — a hitter whose mechanics are atypical, yet they work for him?
Fuller: "I don't know that there is, although Trey has bigger movements. But he's still very consistent with the positions he gets in. I think that's true for a lot of the guys. There aren't too many on the team where you're like, 'Man, it looks really funky or different.' At the same time, each guy has his own flavor."
Laurila: Adley Rutschman is a player we should touch on…
Fuller: "I've been with Adley my whole tenure with the Orioles. After he got drafted, we were together at the alt site where he was facing major league pitchers from our organization. Then I had him last year in Double-A. I know him really well.
"It's been impressive to see Adley come up here and be the same guy that he was in the minor leagues. He's taking his walks. He's taking really good swings on pitches in the zone that he knows he can handle. He's making good swing decisions. I've been incredibly impressed, but that's to be expected with a guy — and person — of that caliber."
Laurila: Who would you say he comps to? Not necessarily in terms of talent level, but more what his swing looks like?
Fuller: "I mean, you'll see a little bit of an uppercut and a good finish, so Bryce Harper is a comp we'll use every now and then. But he displays so many… there is the ability to cover different pitch types. We feel he is pretty matchup proof in terms of the guys he's seen in the minor leagues. Obviously he's going to be exposed to better stuff up here at the big league level, but he's a really quick learner. He has the ability to hit low missiles, high bombs, and also the ability to take a walk when he doesn't get his pitch. He has a really mature approach for a young hitter."
Laurila: Any final thoughts?
Fuller: "I think a lot of credit should go to this team, and to our entire coaching staff, because guys are maybe doing things a little bit differently than they had before. The buy-in has been incredible. The messaging has been terrific from Matt Borgschulte, our co-hitting coach, and from everyone on the staff. The same goes for the pitching side. The group we have in here is really fun to be around every day. We can also see the older guys leading the way for the young guys, like Adley, to come up and have a really good culture right away. We're really excited about the direction this organization is going."
——
Earlier "Talks Hitting" interviews can found through these links: Jo Adell, Jeff Albert, Greg Allen, Nolan Arenado, Aaron Bates, Alex Bregman, Bo Bichette, Cavan Biggio, JJ Bleday, Bobby Bradley, Jay Bruce, Matt Chapman, Michael Chavis, Jacob Cruz, Nelson Cruz, Paul DeJong, Josh Donaldson, Brendan Donovan, Rick Eckstein, Drew Ferguson, Justin Foscue, Michael Fransoso, Joey Gallo, Devlin Granberg, Andy Haines, Mitch Haniger, Robert Hassell III, Rhys Hoskins, Eric Hosmer, Tim Hyers, Josh Jung, Jimmy Kerr, Trevor Larnach, Doug Latta, Evan Longoria, Michael Lorenzen, Gavin Lux, Dave Magadan, Trey Mancini, Edgar Martinez, Don Mattingly, Ryan Mountcastle, Cedric Mullins, Daniel Murphy, Brent Rooker, Drew Saylor, Fernando Tatis Jr., Justin Turner, Mark Trumbo, Josh VanMeter, Robert Van Scoyoc, Zac Veen, Mark Vientos, Luke Voit, Jared Walsh, Jordan Westburg, Jesse Winker, Nick Yorke, Kevin Youkilis.
David Laurila grew up in Michigan's Upper Peninsula and now writes about baseball from his home in Cambridge, Mass. He authored the Prospectus Q&A series at Baseball Prospectus from December 2006-May 2011 before being claimed off waivers by FanGraphs. He can be followed on Twitter @DavidLaurilaQA.