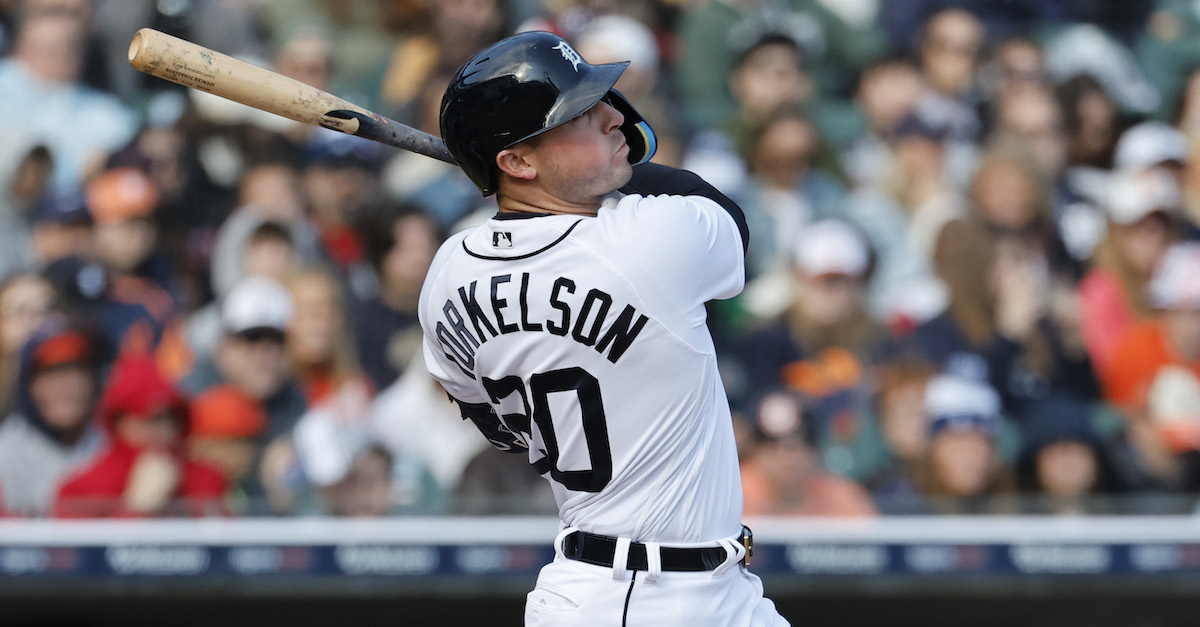 There's no disputing that Spencer Torkelson had a disappointing rookie season. Drafted first overall by the Detroit Tigers in 2020 out of Arizona State University, the 23-year-old first baseman went into last year with sky-high expectations only to finish with a 76 wRC+ and just eight home runs in 404 plate appearances. Moreover, he was demoted to Triple-A in mid-July and proceeded to put up a middling .738 OPS with the Toledo Mud Hens before returning to Motown for the final month of the campaign.
Last February, our lead prospect analyst, Eric Longenhagen, had written that "Torkelson's bat is his ticket to the big leagues, and it's hard to find anyone who doesn't think he'll be a terrifying presence in the box for years to come." Despite his abysmal debut, the potential for Torkelson to become that terrifying presence remains strong. Rejuvenated after an offseason of reflection, the confident slugger logged an impressive hard-hit rate during spring training — my colleague Davy Andrews wrote about it in late March — and he's continued to scorch a fair number of balls in April, albeit without much to show for it; of the 12 balls he's hit with an exit velocity of at least 98.2 mph, seven have gone for outs. Belying his slash line — a hard-luck .235/.250/.353 that seems bound to improve once squared-up balls start falling — his average exit velocity ranks in the 74th percentile, his max exit velocity in the 90th. Last Tuesday, Torkelson torched a 424-foot home run off of a 98.9-mph Ryne Stanek heater when the Tigers played in Houston.
Torkelson talked about his history as a hitter, and the keep-it-simple approach that comes with it, during spring training.
———
David Laurila: When did you learn to hit?
Spencer Torkelson: "Gosh. I learned at a pretty young age. I kind of just fell in love with hitting the ball over my backyard fence when I was two. I'd walk around asking everybody to throw to me. I'd say that my uncle and my dad had the biggest influence on my hitting. My dad always preached to use the whole field, and my uncle always preached quick hands, quick hips. I had a lot of repetitions with both of them and those things kind of clicked."
Laurila: Did your father and uncle have baseball backgrounds?
Torkelson: "Not really. Both just played amateur, and not even college. But my uncle throws great batting practice — he has a rubber arm — and my dad was actually… my hometown is Petaluma [California], and he was the Petaluma long-ball champion in slow-pitch softball. He has a pretty sweet lefty swing."
Laurila: How do the two of you compare as hitters?
Torkelson: "He would have four infielders on the right side of the infield — they were shifting against him in softball — because he was very pull-dominant. He preached using the whole field to me, but he didn't really implement that into his approach."
Laurila: Did he or your uncle teach you a specific swing?
Torkelson: "Nothing super mechanical that I can think of. I remember that one day my uncle was like, 'Put your bat here,' and again, he wanted me to have quick hands and quick hips. That's it, really."
Laurila: What about hitting instruction beyond that?
Torkelson: "I would say the actual hitting instruction came my freshman year of high school. I went to a hitting coach — Andrew Vaughn went to him, as well — in Sonoma County named Joey Gomes. He's Jonny Gomes' older brother. He really just preached getting the ball in the air, and I give him a lot of credit. Once I got to college, my hitting coach, Mike Earley, helped me clean up my mechanics, making them as repeatable as possible. I give him a lot of credit as well."
Laurila: If I compared video of you in high school, college, and now, what would I see?
Torkelson: "You'd see the same guy with fewer moving parts. That's because you've got to be adjustable as the pitching gets better. Your eyes can't be moving or whatever. For me, hitting is about balance, rhythm, and timing. That's pretty much it. Slow rhythm, and then just my hands. I like to keep hitting simple."
Laurila: That said, what have you learned from hitting analytics?
Torkelson: "They don't really dive in depth with me on that, but there are some things I can take away from what they do say. Like hitting the high fastball: you've got to get on plane early. For me, that really just means getting my hands above the ball. To hit a fastball that's down the middle, you can put your natural swing on it, but to hit a fastball at the top of the zone… if you put your natural swing on it, you'll swing under it, or foul it off. So, I'd say that getting on plane would probably be the biggest thing that hitting analytics have told me."
Laurila: Basically, a hitter needs more than just a natural swing. It's necessary to have an adjustable swing…
Torkelson: "Yes, but I think it comes naturally. You can't be up there, like, 'On a heater I'm going to swing like this, and then on a breaking ball I'm going to change my swing and do that.' I'm just up there looking to be on time for the fastball — I'm going to put my swing on that — and then if it's a breaking ball, I'm going to adjust."
Laurila: Your basic approach is to hunt fastballs middle and adjust from there?
Torkelson: "It has to be. I like to keep it super simple. It's having a good foundation and timing up my hand rhythm with the pitcher. I'm staying on the fastball and trying to drive it to the center fielder's left shoulder. If it's not a fastball… I mean, I've hit a baseball for the last 20 years. It's instinct."
Laurila: What tends to be the issue when you're not going well?
Torkelson: "I'm either getting off the fastball or being in-between pitches. Or there is just too much in my mind at the plate. When you're going good, you can't really describe that feeling other than the ball feels like it's in slow motion. You feel like you can hit absolutely everything that's thrown.
"To get out of the struggles, you've got to… I like to go up there and get jammed. That way I'm seeing the fastball deep, and everything just kind of falls after that. If you're 0-for-10 and go up there trying to hit a home run, you can dig yourself into an even deeper hole. So, don't try to get it all back in one swing, but rather work on your process."
Laurila: You like letting the ball travel…
Torkelson: "All the time. I like to feel like I'm hitting it right next to me."
Laurila: What about catching the ball out front to drive it in the air with authority?
Torkelson: "You'll do that naturally with timing and instinct."
Laurila: Looking back at last year's struggles, did you often find yourself thinking too much?
Torkelson: "Yeah. Sometimes you fall into that trap, and I definitely did last year. There were times I didn't trust my process, trust my mechanics, and it obviously showed. I took that into the offseason, reflected a lot on it, and decided that I just need to be myself and trust my swing, trust my ability. I've come back with a clear and uncluttered mind, ready to just mash baseballs."
——
Earlier "Talks Hitting" interviews can found through these links: Jo Adell, Jeff Albert, Greg Allen, Nolan Arenado, Aaron Bates, Alex Bregman, Bo Bichette, Cavan Biggio, JJ Bleday, Bobby Bradley, Jay Bruce, Matt Chapman, Michael Chavis, Gavin Cross, Jacob Cruz, Nelson Cruz, Paul DeJong, Josh Donaldson, Brendan Donovan, Donnie Ecker, Rick Eckstein, Drew Ferguson, Justin Foscue, Michael Fransoso, Ryan Fuller, Joey Gallo, Devlin Granberg, Andy Haines, Mitch Haniger, Robert Hassell III, Nico Hoerner, Rhys Hoskins, Eric Hosmer, Tim Hyers, Josh Jung, Jimmy Kerr, Heston Kjerstad, Steven Kwan, Trevor Larnach, Doug Latta, Evan Longoria, Michael Lorenzen, Gavin Lux, Dave Magadan, Trey Mancini, Edgar Martinez, Don Mattingly, Hunter Mense, Owen Miller, Ryan Mountcastle, Cedric Mullins, Daniel Murphy, Vinnie Pasquantino, Brent Rooker, Drew Saylor, Trevor Story, Fernando Tatis Jr., Mark Trumbo, Justin Turner, Trea Turner, Josh VanMeter, Robert Van Scoyoc, Chris Valaika, Zac Veen, Mark Vientos, Matt Vierling, Luke Voit, Anthony Volpe, Christian Walker, Jared Walsh, Jordan Westburg, Jesse Winker, Mike Yastrzemski, Nick Yorke, Kevin Youkilis
David Laurila grew up in Michigan's Upper Peninsula and now writes about baseball from his home in Cambridge, Mass. He authored the Prospectus Q&A series at Baseball Prospectus from December 2006-May 2011 before being claimed off waivers by FanGraphs. He can be followed on Twitter @DavidLaurilaQA.