Earlier this week, FanGraphs' lead prospect analyst Eric Longenhagen and former FanGraphs prospect writer Kiley McDaniel released their book Future Value: The Battle for Baseball's Soul and How Teams Will Find the Next Superstar.
In this excerpt from the chapter "Everybody Wants a Job in Baseball (But Nobody Wants to Die)," presented with permission from Triumph Books, Eric and Kiley discuss the different paths to working in baseball, and how to become a scout – from the tools and skills you'll need to the people who can help clear the way.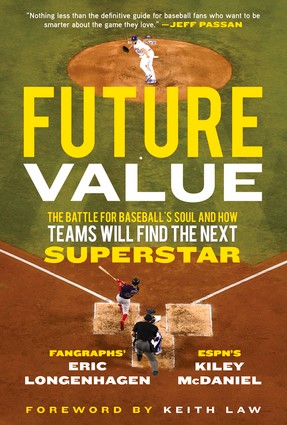 …
Plotting a Path
Depending on what your career goals and timetable are, and despite the fact that everyone in baseball took a unique path, there are lanes to place yourself in to increase your odds at success.
If your goal is to be a GM (this is the most common dream), then you need to figure out what your separating skill will be (you don't have one right now) and go down the path to be an expert in that area. Increasingly, being an ace scout isn't a recipe to run a team, so that's not the smartest way to position yourself for a move up the ladder to GM. You can come up in scouting departments or player development, but be based in the office so you have a management point of view, are getting face time around those people, and are in those meetings. You may need to be a coach or scout as a first step, but know that your path needs to get you into the office sooner than later.
More commonly, GMs come from people who are office-lifer types, who come up as assistants in baseball operations (general contributors across departments), a step up to coordinator or assistant director (managing schedules and interns or entry-level employees, introduced to decision-making meetings), then becoming director of baseball operations (in charge of budgets, rules, running the office day-to-day, pitching in on hiring and higher-level decisions) then assistant GM, where your specialty (running the office, rules, overseeing a scouting or player dev department) is the flavor that your job takes, along with the thing that can headline your résumé for GM.
A sitting GM once described to us that he and his three AGMs are in charge of servicing the various departments (analytics, big league operations, international scouting, domestic scouting, pro scouting, player development). There's more departments than the four of them, so they're playing a zone coverage, constantly going between all the areas, making sure each department has what they need to succeed and, ideally, not needing further direction or correction. Read the rest of this entry »