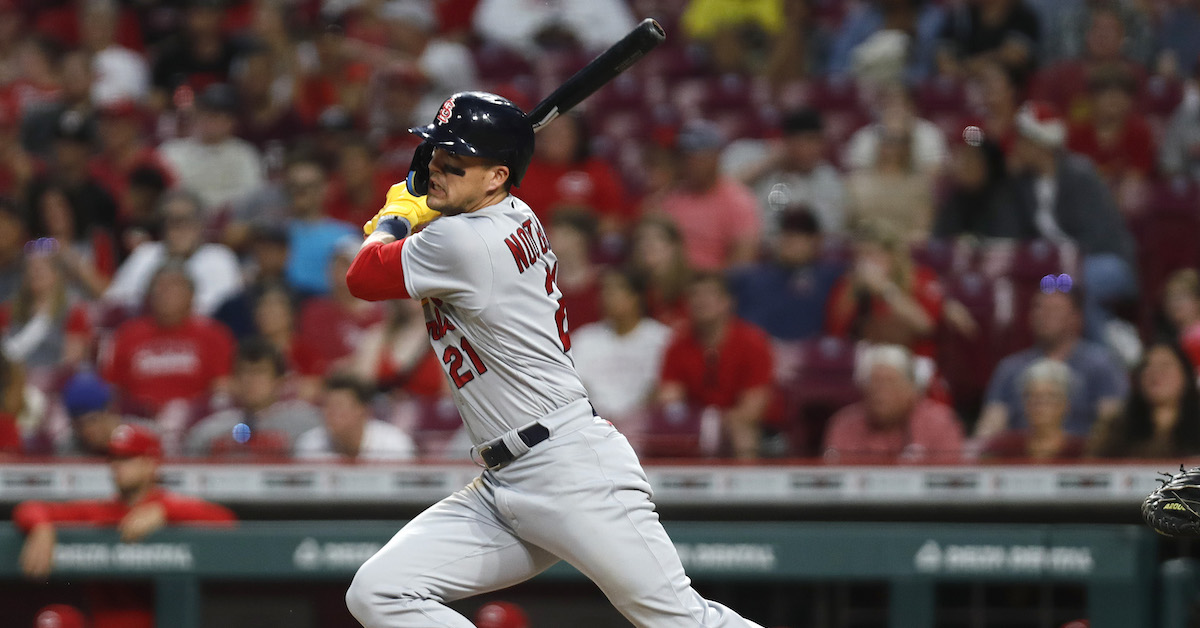 Lars Nootbaar aspires to drive more balls in the air, and understandably so. The 25-year-old St. Louis Cardinals outfielder has a 120 wRC+ this season — his career mark is one point lower — but he also has a 55.7% groundball rate, which ranks sixth highest among qualified hitters. Not coincidentally, his slash line is an OBP-heavy .267/.390/.382.
Nootbaar does possess the ability to make hard contact. His average exit velocity was in the 90th percentile a year ago, although he has admittedly backslid this season to the less impressive 53rd percentile. And again, he's killing too many worms. Moreover, not only has his groundball rate risen — last year's mark was 43.8% — the percentage of balls he's hit pull side has dropped from 42.4% to 32.3%. While his plus plate discipline has remained as good as ever, Nootbar needs to find a way to up his power production in order to do meaningful damage.
Nootbaar discussed his still-in-progress identity as a hitter, and his efforts to develop more pop, when the Cardinals visited Fenway Park earlier this month.
———
David Laurila: How would you describe yourself as a hitter? In other words, what is your identity at the plate?
Lars Nootbaar: "I don't really know. I guess I'm still kind of searching to figure out what kind of hitter I am. In the meantime, I'm just trying to do the best I can to compete up here. So yeah, right now I guess I'm not exactly sure."
Laurila: I've had guys tell me that it's necessary to know who you are as a hitter in order to succeed at the highest levels. That said, you have had success in the big leagues…
Nootbaar: "Like I said, I'm just trying to compete, and whatever happens happens. I mean, obviously, I would like my power numbers to go up. But I'd like my on-base to go up as well. I'd like my hit totals to be higher. I'm not satisfied, by any means, with where I am in any facet of the game. More than anything, I just want to keep getting better as a hitter."
Laurila: How did you first learn to hit?
Nootbaar: "I remember my mom would always say 'level swing.' My dad was kind of the same; he would say, 'level swing.' So yeah, unfortunately… I mean, not unfortunately, but I've kind of always had a flat swing. Now I'm getting into the habit of trying to get out of that."
Laurila: I understand that you went to Driveline a few years ago. What did you focus on there?
Nootbaar: "It was mainly about adding bat speed. That was the main focus. I knew going in that was something I wanted, because I'd worked with somebody who was close to them at the time. His name is John Soteropulos — he works for the Red Sox now — and he was telling me, 'You can add bat speed.'"
Laurila: How much were you able to increase it?
Nootbaar: "It was a gradual thing, but eight to 10 miles an hour."
Laurila: How did you go about increasing your bat speed?
Nootbaar: "Swinging weighted bats was a big thing for me. There were a lot of drills I combined with that, but yeah, primarily weighted bats. We did 20% overload, 20% under load, and then 20% overload in the handle."
Laurila: What do you swing in games?
Nootbaar: "A 33-and-a-half, 31, Lindor model."
Laurila: Circling back to your swing plane, is creating more loft something you've talked to your coaches about?
Nootbaar: "Yes. We've talked about it, how there would be more value in doing that, for sure."
Laurila: How hard is it to make that adjustment?
Nootbaar: "It's pretty tough. I've taken a lot of swings with my flatter swing, so trying to create more loft is a challenge. It takes a lot of work in the cage. One thing is simply catching the ball out front more, but I kind of grew up letting it travel. Hitting the ball deep is a natural tendency for me. Putting more balls in the air pull side would be of value, but I think the first step would be just getting more in the air."
——
Earlier "Talks Hitting" interviews can found through these links: Jo Adell, Jeff Albert, Greg Allen, Nolan Arenado, Aaron Bates, Alex Bregman, Bo Bichette, Cavan Biggio, JJ Bleday, Bobby Bradley, Jay Bruce, Matt Chapman, Michael Chavis, Gavin Cross, Jacob Cruz, Nelson Cruz, Paul DeJong, Josh Donaldson, Brendan Donovan, Donnie Ecker, Rick Eckstein, Drew Ferguson, Justin Foscue, Michael Fransoso, Ryan Fuller, Joey Gallo, Paul Goldschmidt, Devlin Granberg, Andy Haines, Mitch Haniger, Robert Hassell III, Nico Hoerner, Rhys Hoskins, Eric Hosmer, Tim Hyers, Connor Joe, Josh Jung, Jimmy Kerr, Heston Kjerstad, Steven Kwan, Trevor Larnach, Doug Latta, Evan Longoria, Michael Lorenzen, Gavin Lux, Dave Magadan, Trey Mancini, Edgar Martinez, Don Mattingly, Hunter Mense, Owen Miller, Ryan Mountcastle, Cedric Mullins, Daniel Murphy, Logan O'Hoppe, Vinnie Pasquantino, Brent Rooker, Drew Saylor, Trevor Story, Fernando Tatis Jr., Spencer Torkelson, Mark Trumbo, Justin Turner, Trea Turner, Josh VanMeter, Robert Van Scoyoc, Chris Valaika, Zac Veen, Alex Verdugo, Mark Vientos, Matt Vierling, Luke Voit, Anthony Volpe, Christian Walker, Jared Walsh, Jordan Westburg, Jesse Winker, Mike Yastrzemski, Nick Yorke, Kevin Youkilis
David Laurila grew up in Michigan's Upper Peninsula and now writes about baseball from his home in Cambridge, Mass. He authored the Prospectus Q&A series at Baseball Prospectus from December 2006-May 2011 before being claimed off waivers by FanGraphs. He can be followed on Twitter @DavidLaurilaQA.