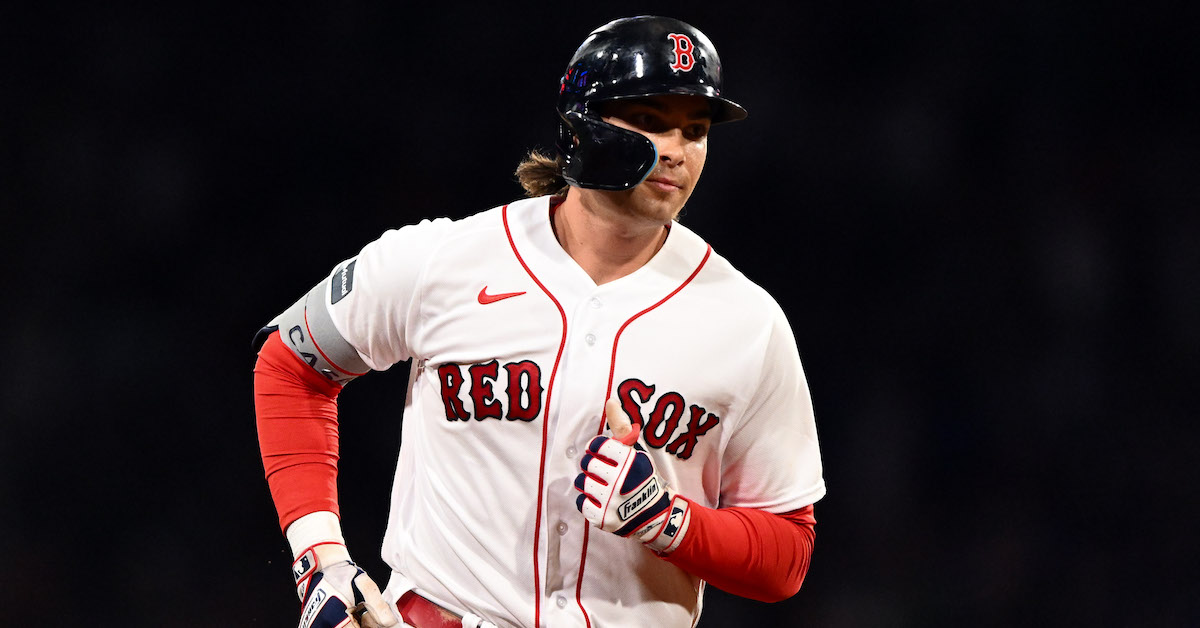 Triston Casas is a studious hitter. He's also an impactful one, as evidenced by his 19 home runs and 124 wRC+ — this after an abysmal April and a less than stellar May — in his first full big-league season. At age 23, the 6-foot-4, 250-pound first baseman profiles as a cornerstone in the Red Sox lineup. As our lead prospect analyst Eric Longenhagen wrote back in June, the left-handed-hitting slugger "should become a middle-of-the-order force capable of hitting 35-plus annual homers."
Casas, whom Boston drafted with the No. 28 pick in 2018 out of Plantation, Florida's American Heritage High School, discussed his scientific approach to hitting prior to a recent game at Fenway Park.
———
David Laurila: Let's start with one of my favorite ice-breaker questions: Do you view hitting as more of an art, or as more of a science?
Triston Casas: "It's more of a science. There are numbers involved that can help you, and if you know how to use them accurately, they can pretty much give you a formula for how to have the most success at the plate. Every pitch has a certain characteristic based off the vertical and horizontal movement and the vertical entry angle. Your swing has a certain attack angle into the zone that has to match that pitch characteristic. If it does perfectly, you're going to have a really good result. More importantly, if you match it, you don't have to be perfect in terms of the timing, because you're matching that plane."
Laurila: A lot of hitters I've talked to, including Justin Turner just recently, have stressed the importance of timing.
Casas: "I think hitting is more about being on plane. To me, on plane means matching the plane of the pitch coming into the zone. Being on plane gives you a lot of margin for error. If your swing is too direct or too steep, your timing is going to have to be perfect to match the vertical entry angle of the ball into the zone, as opposed to matching it and being able to hit the ball within that 90-degree angle that allows you to hit it fair."
Laurila: Different pitchers have different attack angles and movement profiles. With that in mind, are you always taking the same swing — your A-swing, so to speak — or do you actually have multiple swings?
Casas: "That's a big question. There are thousands of different swings. Everybody has seen the chart of The Science of Hitting that Ted Williams put together, and within that strike zone are about 60 to 65 different balls with, let's say, a 30-mph range of velocity between 70 and 100 moving in every single direction. So you're looking at thousands of different possibilities of an entry angle into the zone at different velocities.
"Every swing is different, which is why it sometimes frustrates me when I see hitters go to video and try to compare one swing to another, or try to break down their in-game swing and find something that they can work on in-game. That's because every single pitch is different. Even in batting practice, every single pitch is different. Having a variety of swings to match those planes is what makes great hitters great, and leaves good hitters to just be average."
Laurila: You obviously have plus power. To the extent that you have one, is your A-swing built for loft?
Casas: "I work on a bunch of different swings. I work on a lofty swing. I work on a more direct swing. I work in an inside-out swing, I work on a backspin to right field swing and a groundballs to the left side swing. I think all those different combinations of swings can help me when I go up to the plate, because ultimately you've got to kind of pick a hole where you want to try to hit the ball. That's based off of, like I said, the pitcher's characteristics, as well as the conditions of that day, like where the other team is shifting you.
"You've got to make your best assessment as to what your best chances are of getting a hit. I mean, it's about hitting the ball hard. It's about having a good process and wanting to stay in the middle, but ultimately it's about results. It's about finding holes, about finding grass and getting hits."
Laurila: You mentioned video. What are you focusing on when you look at video — not of the pitcher you'll be facing, but rather yourself?
Casas: "Just that first movement, making sure things are working in the way that I want them to. After that initial move of me 'getting on my highway,' it's all about adjustability and athleticism. I'm not a very dynamic player, per se. I'm never going to be on top-10 highlights, making diving plays in the hole and throwing guys out or robbing home runs. That's not my game. The most athletic part of my game is my swing. That's my time to display my athleticism, my bat speed, my strength, Those are my calling cards for this game. That's where I break parameters.
"So I'm making sure that it's not a mechanical warfare to where I'm fighting myself. I mean, I want it to be effortless. I want it to be fluid. I want it to be smooth yet quick, powerful, and precise. I want to make sure that starts with my first movement, and after that, it's wanting to be relaxed throughout while also maintaining my barrel in the zone for a really long time and staying on plane."
Laurila: Some hitters basically hunt heaters middle and adjust from there, while others are more nuanced. What is the your core approach?
Casas: "It starts with a good entry into the zone and letting my swing work from there. I think it's an anticipative feeling of wanting to hit a ball. It can't be a decision made halfway. It has to be one that's anticipative of a spot, so you almost have to start your swing before the ball is released, then you make your decision as the ball is coming into the zone. Hopefully you can check your swing if it's not in the zone you're looking for.
"I like to relate it to a highway. I'm getting on the highway the same way, and then I'm taking the exits depending on where the ball is thrown. For the most part, the beginning of my swing is the same. But the finish, the contact point, and the degree of my hip hinge, or my chest over my hips, is different on every single swing, just depending on the height. My contact points are different depending on the pitch velocity. But I do want the initial start to my swing to be the same. I'm making a conscious effort to stay balanced. That comes from having a good base and using the ground correctly."
Laurila: Have you always approached hitting this way?
Casas: "I go through a lot of phases as a hitter, as does every single good one. If I go over and talk to Justin Turner about hitting, he'll be able to relate, in a sense, but he's fighting his own battles right now. You never master hitting. That's the beautiful thing about it. You go in phases with your swing as to what challenge to overcome in that moment or for that day just to survive that game. He might be able to relate to me, because that's something he's gone through and worked through, but at the same time, we can't relate. We're not on the same wavelength, because he's had thousands more at-bats than I've had. Eventually, hopefully, I will get to that level. For now, I'm just working on the phase of figuring out my swing, knowing that it's going to continue to change and morph."
Laurila: When I ask hitters what the primary issue is when they're scuffling, they routinely pointed to timing. What is typically the issue for you?
Casas: "It's pitch selection. The main components to hitting, the three I think are most important are recognition of the ball out of the hand — that's number one — and then hand-eye coordination is second, and timing is the third-most important thing. Recognition of the ball out of the hand sets up everything else.
"The pitcher isn't a robot out there. He has to do something different to manipulate the ball, to make it move a certain direction or at a slower velocity. He's going to tip whatever pitch it is with his body and with his wrist and his hand right as he lands and throws the pitch. So again, recognizing out of the hand is the most important thing. Hand-eye coordination, that contact point of making sure you're hitting it on the right part of the barrel, is the second-most important thing. Then timing is the third-most important thing, just because you have to be within a range to be able to hit the ball, or else you're going to swing and miss."
Laurila: Are you thinking when you're in the box, or are you more trying to shut off your mind?
Casas: "I try to shut it off and focus on breathing, I feel like breathing is maybe the most overlooked part of life. We all do it unconsciously, but if you do it correctly, it can influence your mind and your muscles. With the way that your diaphragm works, you can actually send energy to different parts of your body through your breath. Along with those great things, it quiets my mind.
"So I focus on my breathing and I hear my breathing. I don't focus on a physical cue or getting into a position. Like I said, I just want my athleticism to take over. And it all happens so quick. I heard a quote from Yogi Berra one time. He said that you can't think and hit at the same time. I take that to heart and try to quiet my mind as much as I can."
Laurila: You do your thinking before you step in the box.
Casas: "Yes. I develop my approach to an at-bat when I'm on deck. What is the best way to go about this at-bat to put my team in the best position to succeed? Maybe I want to grind it out and I'll be taking the first pitch. Maybe I'll be trying to take my whack on the first pitch, trying to drive the ball into a gap, hit a double, hit a home run. Sometimes the game calls for a walk. I also look at where I'm at in the lineup; who am I protecting, or who is protecting me? A lot goes into it.
"When I step into the box, I know what I want to do. I know what I'm looking for. I know what part of my swing I want to get to. I focus on what I intend to do based on my feel for the game and the situation. From there, it's all about reaction."
——
Author's note: My colleague Esteban Rivera wrote about adjustments Casas has made this season earlier in the month. If you missed it, the piece is well worth your time.
——
Earlier "Talks Hitting" interviews can found through these links: Jo Adell, Jeff Albert, Greg Allen, Nolan Arenado, Aaron Bates, Jacob Berry, Alex Bregman, Bo Bichette, Cavan Biggio, Charlie Blackmon, JJ Bleday, Bobby Bradley, Will Brennan, Jay Bruce, Matt Chapman, Michael Chavis, Garrett Cooper, Gavin Cross, Jacob Cruz, Nelson Cruz, Paul DeJong, Josh Donaldson, Brendan Donovan, Donnie Ecker, Rick Eckstein, Drew Ferguson, Justin Foscue, Michael Fransoso, Ryan Fuller, Joey Gallo, Paul Goldschmidt, Devlin Granberg, Andy Haines, Mitch Haniger, Robert Hassell III, Nico Hoerner, Rhys Hoskins, Eric Hosmer, Tim Hyers, Connor Joe, Josh Jung, Jimmy Kerr, Heston Kjerstad, Steven Kwan, Trevor Larnach, Doug Latta, Evan Longoria, Michael Lorenzen, Gavin Lux, Dave Magadan, Trey Mancini, Edgar Martinez, Don Mattingly, Marcelo Mayer, Hunter Mense, Owen Miller, Ryan Mountcastle, Cedric Mullins, Daniel Murphy, Lars Nootbaar, Logan O'Hoppe, Vinnie Pasquantino, Luke Raley, Brent Rooker, Drew Saylor, Marcus Semien, Giancarlo Stanton, Spencer Steer, Trevor Story, Fernando Tatis Jr., Spencer Torkelson, Mark Trumbo, Justin Turner, Trea Turner, Josh VanMeter, Robert Van Scoyoc, Chris Valaika, Zac Veen, Alex Verdugo, Mark Vientos, Matt Vierling, Luke Voit, Anthony Volpe, Joey Votto, Christian Walker, Jared Walsh, Jordan Westburg, Jesse Winker, Mike Yastrzemski, Nick Yorke, Kevin Youkilis
David Laurila grew up in Michigan's Upper Peninsula and now writes about baseball from his home in Cambridge, Mass. He authored the Prospectus Q&A series at Baseball Prospectus from December 2006-May 2011 before being claimed off waivers by FanGraphs. He can be followed on Twitter @DavidLaurilaQA.